The People's Hall
('Stoke Hall')



Not to be confused with the lost 1744 Stoke Hall which once stood on the nearby site of Stoke Hall Road, off Belstead Road, this rather grand-looking hall has become known to passers-by as 'Stoke Hall' because of the lettering which appears twice. Many still refer to it as The People's Hall. One wonders if the change to 'Stoke Hall' occurred quite late. We recall visiting the building in the early 1980s when the sizeable hall was occupied by The Wolsey Theatre Costume Hire business.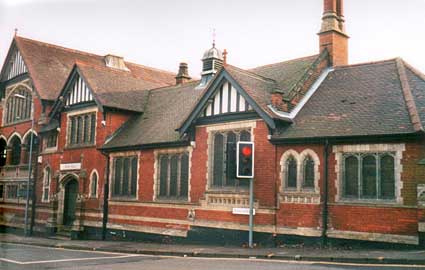 2004 images
The People's Hall [Methodist Mission] was designed by local architect Edwin Thomas Johns in 1898 for an association of local Methodist Churches. To paraphrase Simon Knott (Simon's Suffolk churches see Links): Cotton Methodist Church (on the edge of the Suffolk village of Bacton) is similar in style to the Methodist People's Hall with "walls banded with red and white brick and the windows are in the transitional plate tracery style of the late 13th century, when Early English was becoming Decorated".


'STOKE HALL'


appears above the two sets of double doors onto Stoke Street.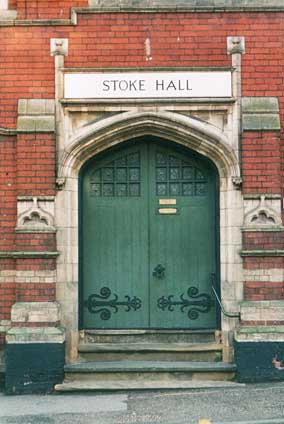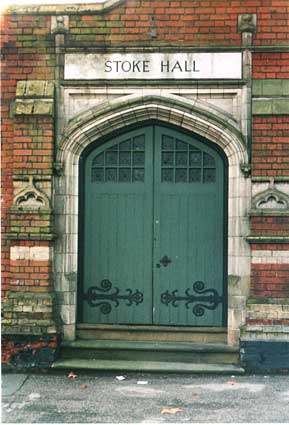 Stoke Street rises from The Old Bell to the junction with Burrell Road, and appears to narrow in the middle because of the dominance of the massive brooding presence of the somber, but well articulated and highly individual Tudor-Revival, People's Hall. This building was erected through the combined efforts of collective local Methodist congregations to provide several halls for religious worship and social ministration. There is a long frontage to the street with a massive mock-Tudor gable and a first floor open gallery balcony facing the street. This is flanked by the entrance doorways pictured above. The right hand entrance has a smaller half-timbered gable over and it was originally intended that an identical entrance treatment would also be built on the left. Further flanking wings were to extend on either side but only the right hand section was completed. The site for the left-hand wing has remained vacant. There is extensive use of polychromatic brick detailing and plain coloured stained glass. The traffic pollution, dark pointing and north facing orientation contribute to the slightly forbidding external appearance. The main part of the building is now converted to flats (although this has not significantly altered its street facade), while the small hall to the west end remains in religious use.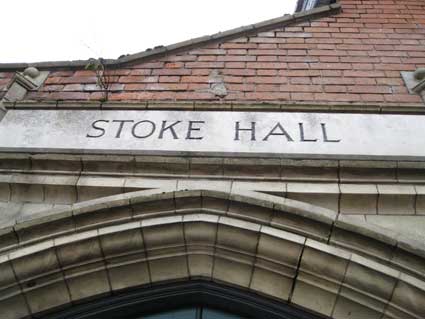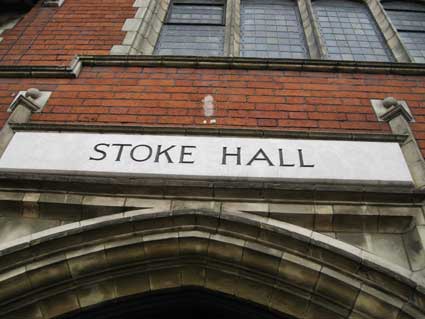 2013 images


Close to ground level, among the Suffolk white bricks and towards the west side of the building are a range of foundation stones in varying states of erosion.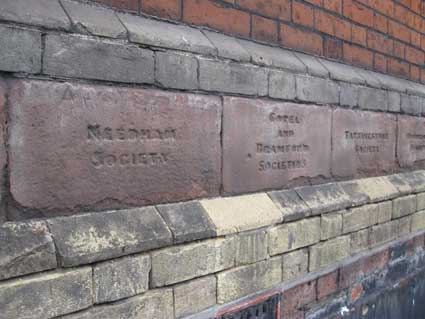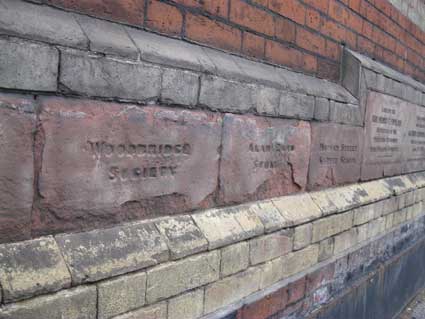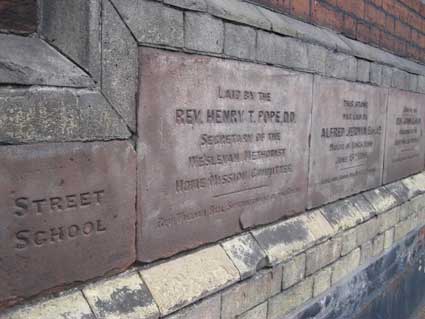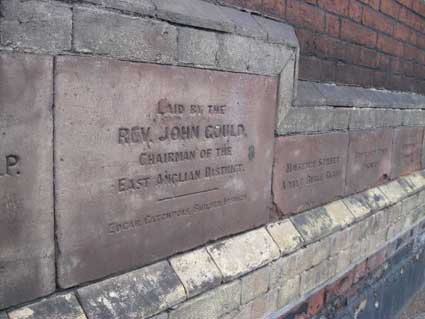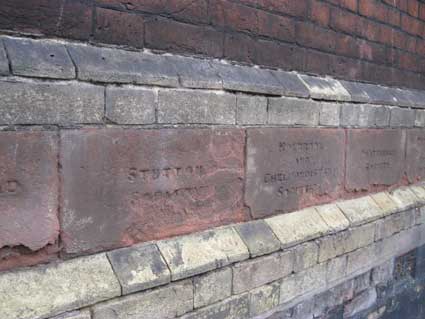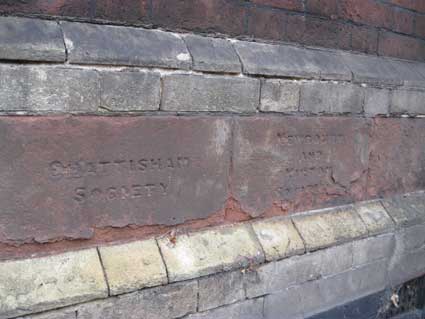 'NEEDHAM
SOCIETY
CAPEL
AND
BRAMFORD
SOCIETIES
TATTINGSTONE
SOCIETY
WOODBRIDGE
SOCIETY
ALAN ROAD
SOCIETY
MUSEUM STREET
SOCIETY SCHOOL
LAID BY THE
REV. HENRY T. POPE, D.D.
SECRETARY OF THIS
WESLYAN METHODIST
HOME MISSION COMMITTEE.
-
REV. WILLIAM BELL. SUPERINTENDENT OF THE COMMITEE.
THIS STONE
WAS LAID BY
ALFRED JERMYN ESQ. J.P.
MAYOR OF KINGS LYNN
JUNE 15TH. 1898.
-
EADE & JOHNS ARCHITECTS, IPSWICH.
LAID BY THE
REV. JOHN GOULD
CHAIRMAN OF THE
EAST ANGLIAN DISTRICT.
-
EDGAR CATCHPOLE BUILDER IPSWICH.
MUSEUM STREET
ADULT BIBLE CLASS
MUSEUM STREET
ADULT BIBLE CLASS
BRAMFORD ROAD
SOCIETY,
STUTTON
SOCIETY

HOLBROOK
AND
CHELMONDISTON
SOCIETY
CHATTISHAM
SOCIETY

NEWBOURNE
AND
KIRTON
SOCIETY'
The characters on the tablet to the far right have eroded away.

E.E. White's map of 1867 shows the area with Stoke Bridge at top right running southward to the pinch of Bell Lane. Stoke Street comes off the crossroads to curve left past the future site of the People's Hall, uphill and round to the right to become Belstead Road. The People's Hall appears to fairly accurately occupy the footprint of housing at this time. Perhaps we should not be surprised that the hall was converted into housing in the late twentieth century.

Retouched image


Down the road from The People's Hall is The Old Bell public house, up the hill is Stoke Hall Road with its hidden tunnels. Between 1898, when The People's Hall was built, and 1915, when the Stoke Hall behind St Mary at Stoke church was demolished, there were two 'Stoke Halls' within a few hundred yards of one another.



A note about the history of Methodist Mission Halls.


From the University of Manchester website (3 October 2012): 'A University of Manchester historian has discovered how the Methodist Church built some of Britain's most important and successful community buildings in the early twentieth century - now mostly forgotten. Dr Angela Connelly says that 99 'Methodist Central Halls' were built costing an equivalent of £90 million in today's terms. Today, the Methodist Church owns only 18 of the original buildings, many of which have been substantially altered. Twenty seven have been completely demolished or bombed in the war. Nineteen are protected as listed buildings and all, she says, were large buildings designed not to look like a church.

Dr Connelly, who is based at Manchester Architecture Research Centre, said: "Nearly everyone in the UK will have seen a Methodist Central Hall: Pavarotti performed at Kingsway Hall and the UN Declaration was signed in Westminster Central Hall. But few of us know what they are, how they are used or what has happened to them. Because they do not look like churches or cathedrals, the public aren't aware of those that remain at all – especially those which have been converted into other uses such as bars and pubs. But in their hey day they attracted big crowds: the Manchester and Salford mission headquarters once boasted 2000 volunteers." The decline, she says in a Bulletin of the John Rylands University Library of Manchester paper next month, is down to a long period of drops in Methodist congregations nationally, as well as even steeper losses through inner-city demographic and economic changes. Her Arts and Humanities Research Council funded study shows how the Missions promoted cultural activity to make their religion relevant to everyday lives and tempt people away from the lure of alcohol.

These included popular entertainment such as film shows, concerts and variety performances. Joseph Rank – of Rank Hovis – provided much of the capital to build the Central Halls. His son, J. Arthur Rank, the film producer, was also a prominent Methodist who became interested in the movie industry after seeing the pioneering use of religious films at the Methodist Missions in the 1920s. The wife of the

Methodist Times

founder and reformer Hugh Price Hughes, also established the nation's first ever crèche for working girls at the West London mission in the 1880s. Dr Connelly said: "As numbers dropped and maintenance costs spiralled, rooms were let out to other organisations and the Halls were used for a wide variety of events. Through the twentieth century, more space was rented out to other organisations for theatres, libraries, social services and even school exams. Grimsby and Southampton are now theatres, Liverpool's Central Hall on Renshaw Street now hosts a collection of independent traders. At Bristol and Bradford, the Central Halls are converted into flats.

"These halls were, and in several cases still are, the best venue in town. But it's sad how many of these important buildings are no longer standing - quite moving when you read of the struggles the Methodists had to keep them going. But I would rather these buildings are used by the public - even as a bar rather than lose them altogether as they are such an important part of Britain's urban history." Cities where at least one Methodist Hall was built included (in alphabetical order): Ashington, Bargoed, Barking, Barrow-in-Furness, Birmingham, Bolton, Blackburn, Bradford, Brighton, Bristol, Carlisle, Chester, Coventry, Edinburgh, Gateshead, Glasgow, Great Yarmouth, Grimsby, Hartlepool, Hull, Ipswich, Leeds, Leicester, Liverpool, London, Manchester, Newcastle, Nottingham, Paisley, Portsmouth, Plymouth, Rochdale, Salford, Scarborough, Southampton, Sheffield, Slough, Stoke-on-Trent, Stockton-Upon-Tees, Swindon, Tonypandy, Walsall, Wigan, Wednesbury.' [http://www.manchester.ac.uk/aboutus/news/display/?id=8772]




Home

Please email any comments and contributions by clicking here.
©2004 Copyright throughout the Ipswich Historic Lettering site: Borin Van Loon
No reproduction of text or images without express written permission