The Suffolk CAMRA (see
Links
) entry for The Old Bell shows the licensees: 1952- Stanley Chas. Sharman; 1956- Stanley Chas. Sharman, so this sign perhaps refers to his widow, who took on the licence?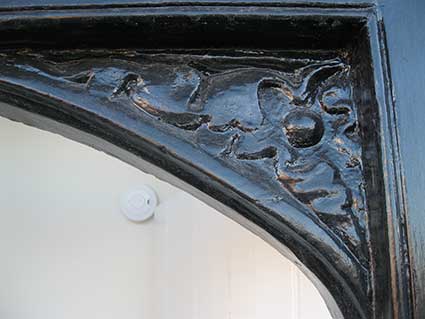 Close-up of the spandrel
[
UPDATE
2.11.2013: "Hello.....just a small correction to your very interesting site. Ref the licensee sign and the name 'Sharman'. Carol Sharman was the last licensee and the sign , even though it looks old and hand painted, was made by Danielle Hopkinson, Who runs the stained glass studio at 5 - 7 Stoke Street, in about 1999. I don't know if she was a relative [of the earlier Sharmans] but she was in her early forties at the time. Hope this helps. You may also be interested to know that our premises at 5 Stoke Street was a pub called the Maltsters in 1837. With a Cobbold and Tollemache connection.We have a huge pile of the original deed documents dating back to this time and up to current day. These were passed onto me by prettys solicitors when I purchased the building in 1998 approx. Ian Davies. the stained glass studio."
Many thanks to Ian for the information.
]
Suffolk CAMRA (see
Links
) tells us that The Maltsters Beerhouse (on the site of the blue-painted building in the long shot above), previously known as Maltster's Arms, stood on the corner of Bell Lane and Stoke Street. Earliest records found show it operating from 1861; it closed January 31, 1912. "Must have stood in Bell Lane, as the Borough Police licensed premises register shows that beat bobby number 9 would walk past the Old Bell, then the Maltsters, Little Wonder, New Anchor and on to the Boar's Head. This is confirmed by an article in the
East Anglian Daily Times
(March 2012) which mentions it standing on the corner opposite the Old Bell (though confusing the beerhouse with the Maltsters' Arms which was actually in Quay Street)."
[
UPDATE
27.12.2017: "I have just seen the film
Showman
, and it brought back memories of dancing with my friend Sally Sharman of the Bell Inn, on the benches in the bar area, around the year 1948-1950. My mother had a baby shop in Vernon Street at the time. Nice to see the pub still standing, but lost touch with Sally Sharman about 1955. Would be interesting to know where the family went to. I have lived in New Zealand for many years now, but return to Suffolk about every two years. Regards, Gillian Johncock (née Jill Firman )."
Many thanks to Jill for getting in touch.
]
The Old Bell finally closed its doors in 2007. The door to the right features a frosted glass panel.