The Golden Key

438 Woodbridge Road, Ipswich. The public house on the corner of Woodbridge Road and Cauldwell Hall Road was been the subject of closure proposals by the owners Green King and a petition and demonstration against it. In 2013 the pub closed, to be demolished or converted to make way for a supermarket. See
The Emperor
for a similar and contemporaneous story. The Golden Key is a building with little apparent promise for historic lettering, but the windows are of some interest.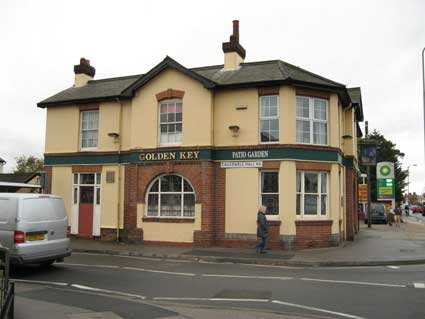 2012 images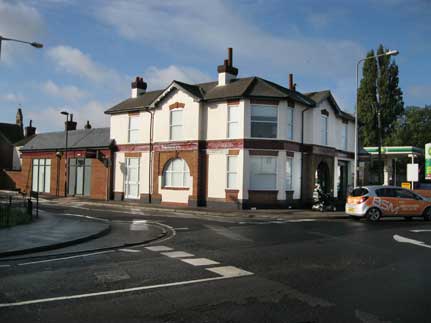 Late 2013 image
On the corner window some deco-style leaded lights embody lettering in marbled, opaque blue glass which recalls pre-smoking ban fug-filled bars:


'SMOKE
ROOM'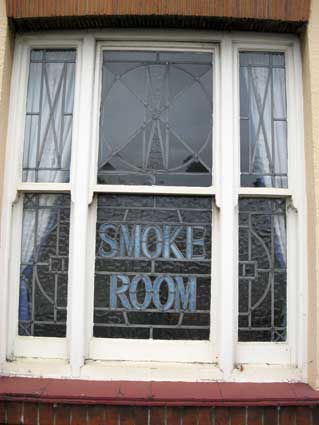 The equivalent widow is at the rear of the pub:


'SALOON

BAR'

Unusually for stained glass, these signs are designed to be read from outside the building.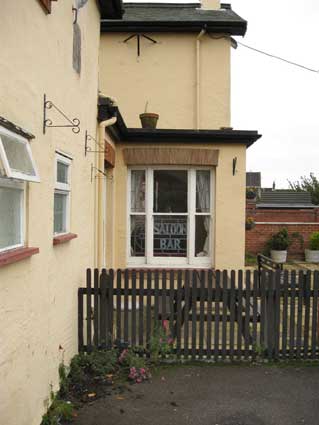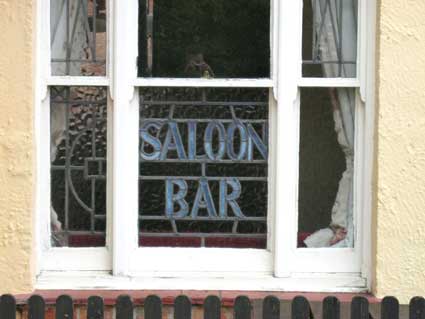 As so often for local public house information the Suffolk CAMRA website (see Links) tells us that the earliest listing of this pub is 1855, as The Key Inn. The Golden Key is a reference to St Peter: "I will give unto thee the keys of the kingdom of heaven" (Mathew 16:18) and this source is reflected in the pub sign image.

[

UPDATE

: September 2013. Sadly, this public house and two other locals (The Emperor and The Heathlands) are all being converted into supermarkets. This has resulted in the loss of the lettered deco windows, so they join the 'These we have lost' section.]

The Duke of York has engraved glass lettering and The Old Bell frosted glass lettering. See also our Pubs & Offlicences page for more examples.




Home

Please email any comments and contributions by clicking here.
©2004 Copyright throughout the Ipswich Historic Lettering site: Borin Van Loon
No reproduction of text or images without express written permission