Lancaster & Nottidge Roads
street name signs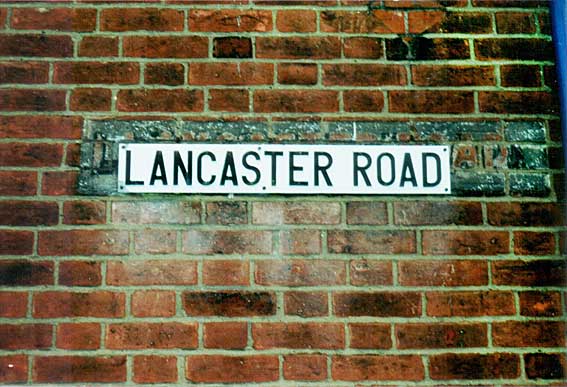 2001 image
Lancaster Road: a sign screwed over the original paint on brick . The condensed capitals are rather unusual, the sign probably dating from the time when heavier cast iron street signs with chunkier characters (see Parliament Street for other examples) were replaced by thinner embossed steel signs such as this one. See the nearby St Helens Church Lane for a similar example. The 'L' and 'AD' can be seen at each end, with the tops of the capitals appearing over the top edge of the metal sign.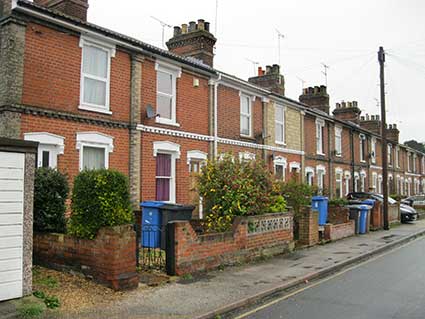 2016 image of the north side


Lancaster Road is a short street running between Palmerston Road and Warwick Road. It is of interest because the houses in it were the first to be built in Ipswich by the Freehold Land Society in 1866. The terraced dwellings were described at the time as 'high quality, 2-bedroom, workman's houses'. At this early stage the FLS didn't put name/date plaques on the terraces.
[

UPDATE

2.10.2016: The Lancaster Road nameplate hangs away from the wall, presumably because of vandalism rather than weather...]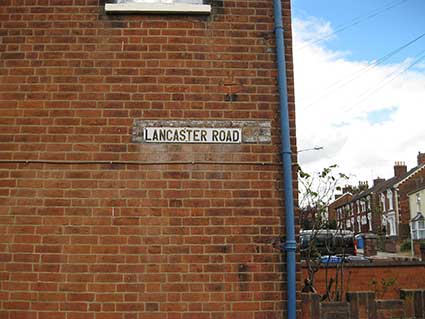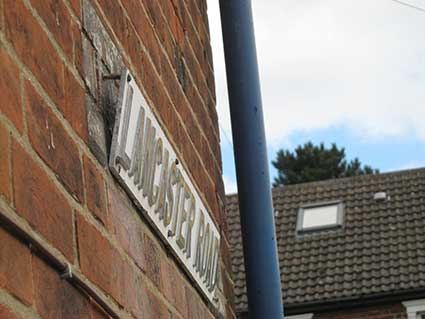 2016 images

See our Cavendish Street page for a large map detail from 1867 of the eastern part of the town. Lancaster Road is notable inthat its terraces are already built at this time, although with no housing in either Palmerston or Warwick Roads, they look a little isolated. Many other parts of the Freehold Land Society land are hardly plotted out.

Nottidge Road
Not far away, and even more mysterious, are the traces of lettering on the wall of the building at the corner of Nottidge Road and Alexandra Road.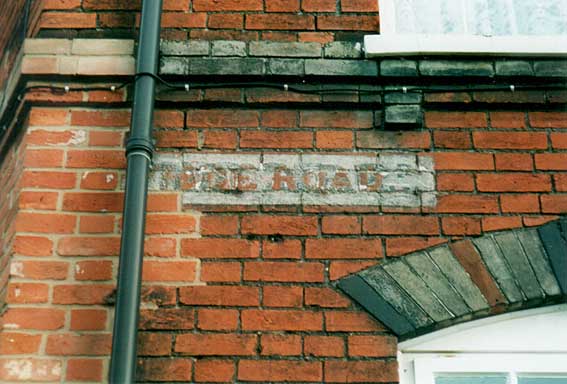 2000 image
Here the words 'NOTTIDGE ROAD' and 'NOTTIDGE RD.' are still traceable in two previous painted versions, the first part removed/obliterated by new brickwork and a plastic downpipe. The building carried an extension which formed a grocery shop until about twenty years ago (there was a tiny hidden Tolly Cobbold off-licence behind it in Alexandra Road which was open in the evenings). For some time it was a yacht chandlery – a number of years before the Wet Dock was developed as a marina - and has now been converted into flats, the way of so many of our corner shops.


Related pages:
Street nameplates;
Cauldwell Hall Road house names; Rosehill house names; Cavendish Street house names; Marlborough Road house names;
Ipswich & Suffolk Freehold Land Society (F.L.S.)
Named buildings list
Dated buildings list; Dated buildings examples;
Origins of street names in Ipswich; Streets named after slavery abolitionists;
Street index.


Home

Please email any comments and contributions by clicking here.
©2004 Copyright throughout the Ipswich Historic Lettering site: Borin Van Loon
No reproduction of text or images without express written permission