'KERRISON.
In 1856 Sir Edward Kerrison of Brome Hall purchased Pool Farm for the purpose of establishing a Reformatory. There were 235 subscribers towards the cost of the purchase, but the main cost was borne by Sir Edward. Pool Farmhouse was a very dilapidated building with a barn and other farm buildings with 11 acres 1 rood and 1 perch in Thorndon and approximately 5 acres in Stoke Ash. It was owned by the Hammond family and had two tenants, Miss Charlotte Hammond and Mr Berry who were kind enough to vacate the premises.
Between 8th February and 13th March the necessary alterations were made and after inspection by the Prison Inspector of the district a certificate was granted by the Home Office for the 'Suffolk Reformatory'. On 1 1th February Mr and Mrs Robert Gill were elected by the committee as Master and Matron at a salary of £100 and £50 allowance for rations. On the 31st March the first boy, committed at Bury Sessions, was admitted. A Labour Master, at labourers wages, to assist in all outdoor employments, had been engaged. At Sir Edward's death in 1886, his widow, Lady Caroline Kerrison, desired to perpetuate his memory by naming the Suffolk Reformatory as Kerrison Reformatory and in June 1887 the Trust was formed.
Khartoum Villa
, 30-32 Palmerston Road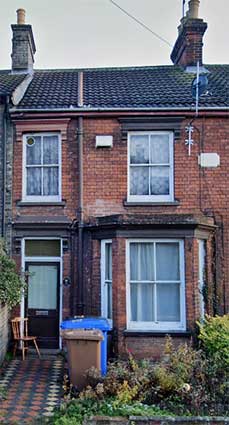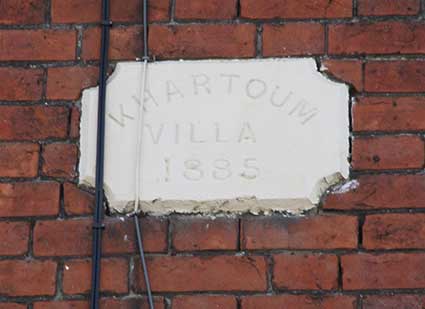 2021 images
The enhanced image above right shows the house plaque with ubiquitous cables on the outside of the house:
'KHARTOUM
VILLA
1885'

The Battle of Khartoum was the conquest of Egyptian-held Khartoum (1884-5) by the Mahdist forces led by Muhammad Ahmad. Egypt had held the city for some time, but the siege the Mahdists engineered and carried out from 13 March 1884 to 26 January 1885 was enough to wrest control away from the Egyptian administration. After a ten-month siege, when the Mahdists finally broke into the city, the entire garrison of Egyptian soldiers was killed along with 4,000 Sudanese civilians. General Charles George Gordon, a popular figure in Great Britain and former Governor-General of Sudan in 1876-79, was appointed to quell the rebellion in 1884. Gordon favoured an aggressive policy in Sudan but was killed in the fighting in 1885. This event clearly resonated in Britain and was commemorated in the house name.
General Gordon and Khartoum are mentioned elsewhere in Ipswich: Khartoum Road (see
Street name dreivations
) and Omdurman Cottages on our
Baden-Powell Cottages
page; also in relation to
St Helen's Barracks
.
Home Cottage
, 24a Palmerston Road