Tomline Road maps 1882 & 1879


The plot now occupied by Rosehill Library is coloured orange. Note the very sparse housing in the area.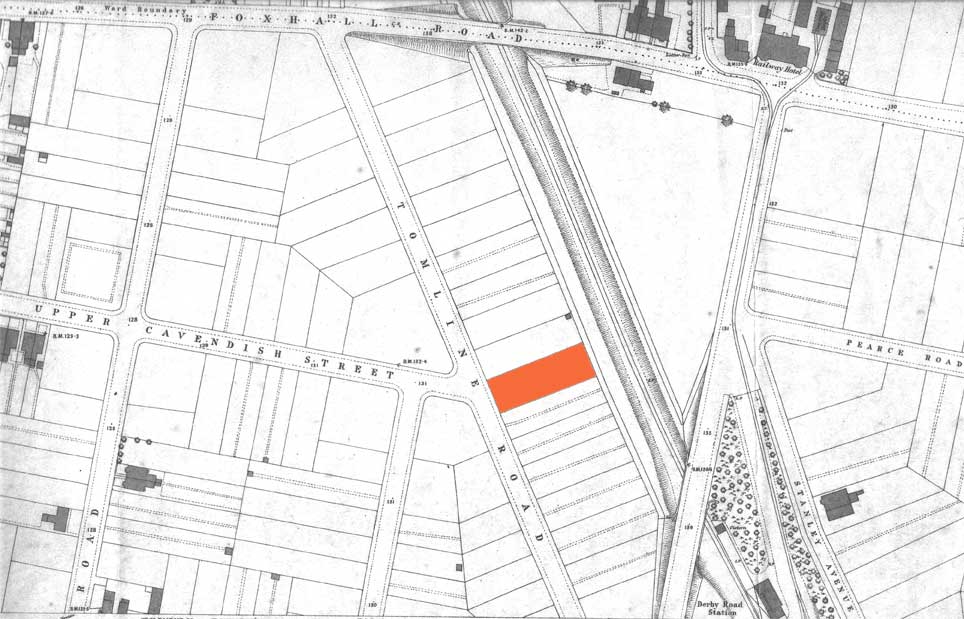 1882 map



The Ipswich & Suffolk Freehold Land Society map of Derby Road Estate, Ipswich, 1879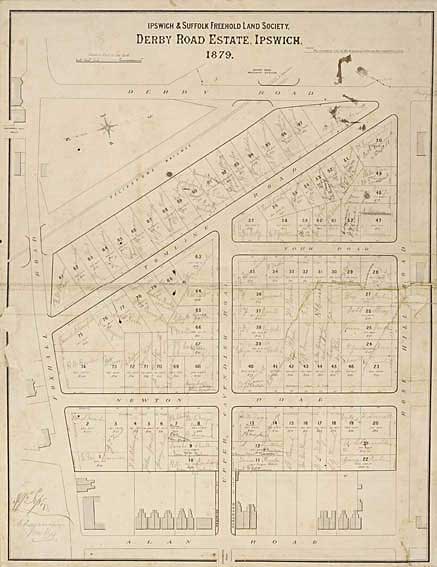 1879 map courtesy Ipswich Building Society archive


The large sheet map above shows Derby Road at the top, running east-west. South of this, at an angle, is the line of the Westerfield to Felixstowe railway; this angle is echoed by Tomline Road. Here, in 1879, the land has been laid out as empty plots and the names of the F.L.S. ballot-winners are hand-written into the numbered boxes on the map.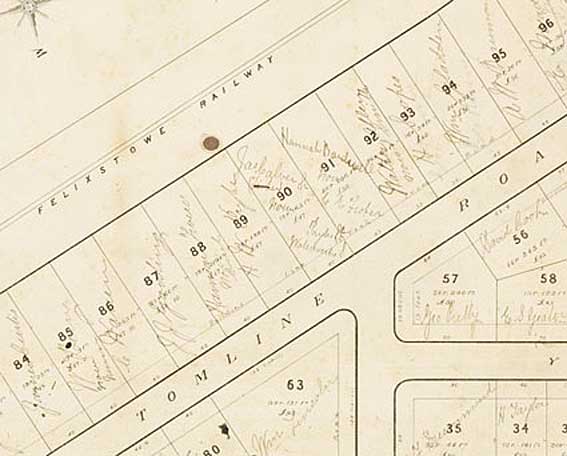 Detail
Above: detail of the F.L.S. map showing the wider Plot 91 which is opposite the jaws of Upper Cavendish Street, with the 'Felixstowe Railway', which Colonel Tomline – hence the name of the road (see Street name derivations) – opened in 1877, behind it. The handwritten owner of Plot 91 is:
'Hannah Bardwell, now C.E. Fisher'. This is the future site of Rosehill Library, opened in 1905.

Margaret Hancock, archivist of the Ipswich Building Society, tells us: "It wasn't particularly unusual for plots to change hands fairly quickly after balloting especially for some of the very popular FLS estates. [For example] in York Road there were over 1000 applicants wanting to buy one of the 98 plots on Derby Road Estate! … I was once told that women owning land could allocate their vote to their husband or son to use but I'm not sure if that's true*."
*N.B. the Representation of the People (Equal Franchise) Act giving the vote to all women over the age of 21, was not passed until 1928.

It is not clear yet if C.E. Fisher, having acquired the land from Hannah Bardwell in 1879, made any used of it (for example, as a smallholding). From the text of Ed Button's email (shown on our Rosehill case study page): "the land was acquired by the Mayor Aldermen & Burgesses of Ipswich in 1897". Presumably, Plot 91 lay unused for a further eight years until the building of Rosehill Library, which opened on 24 May 1905.





Home

Please email any comments and contributions by clicking here.

Search Ipswich Historic Lettering


©2004 Copyright throughout the Ipswich Historic Lettering site: Borin Van Loon
No reproduction of text or images without express written permission