Sherrington Road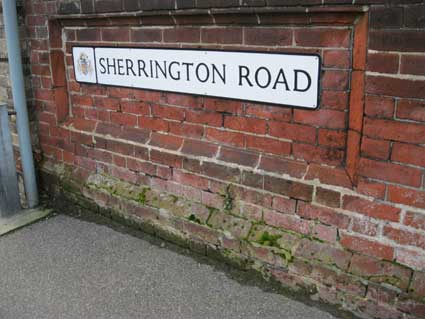 Sherrington Road runs north-east from Norwich Road (see our Street name derivations and the Plaques pages for a commemorative blue plaque).
[

UPDATE

13.4.2016: "Great website. REALLY great. Useful and enjoyable. Just one nitpick : you say that Sherrington Road is named after Charles Sherrington the Nobel prizewinning neurologist. I believe the land belonged to his brother George, who was a lawyer and part of a property consortium which sold the land for housing. He was also, incidentally, the captain of Ipswich Football Club. So why would the road be named after his brother, who had left Ipswich decades before the land was sold, and who was not particularly famous at that time. Do you have any documentary evidence that it was named after Charles?... [There were] sales of land by the FLS in Sherrington Road in 1902, so the road name seems to have existed at least 20 years before Charles Scott Sherrington was knighted. Anna Cordon (great great niece of the Sherrington brothers)."

Thanks to Anna for the contribution: research continues.

]

Not far from that junction we find an echo of previous times:


'H&I

HOME & INDUSTRY (CONTRACTORS) LTD.'

This little workshop and business premises is locked and boarded up, the sign screws onto the old brickwork, but we include it here for its resonance. It is difficult to say what the exact address is here. The nearest numbered house, way up the road on the other side of the Kensington Road junction, is number 3, so this may be 1 Sherrington Road.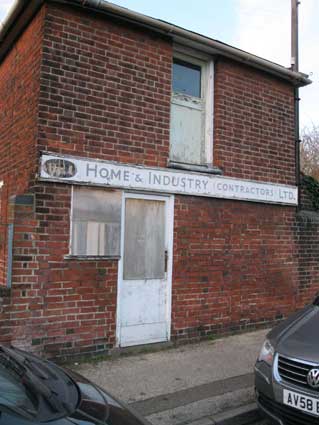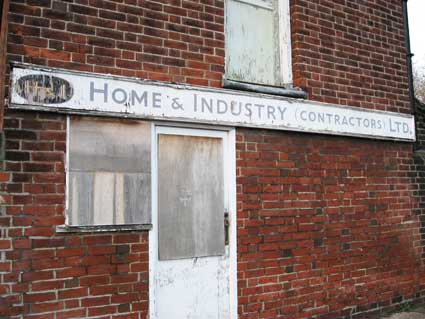 [

UPDATE

7.11.2023: Photographed in c.2014, these small L-shaped premises (with loading door at first floor level) were the home of this general builders. Perhaps ironically, the whole thing was demolished and, by the look of it, a modern dwelling built on exactly the same footprint. They called it '1c Sherrington Road'.]

Broomhill Pool ('71 Broom Hill Road' is the location shown on

British Listed Buildings

– actually, that is the address of the end-of-terrace house at the top of the adjacent Broom Hill Road)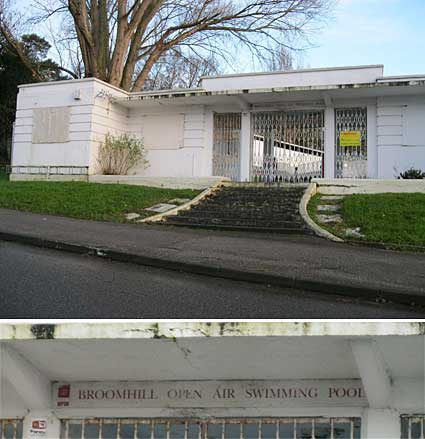 Under the peeling art deco porch is the lettering:


'BROOMHILL OPEN AIR SWIMMING POOL'


with the old Ipswich Borough Council Recreation & Amenities logo, all in corporate dark mauve, redolent of the days of Randall Bevan, its Director. Although named after the parallel road of Norwich Road, the pool structure forms a high wall blocking off the top of Broom Hill Road. The access is via Sherrington Road, as it is for Westbourne Library, a former air raid shelter and decontamination unit, now Listed Grade II, as is the pool. Opened in 1938, its heyday was clearly the 1960s when Ipswich had an Olympic size outdoor pool at Broomhill. It last opened to swimmers in 2002. Early photographs show a deco clock tower as part of the lido entrance.

The details from British Listed Buildings (see Links):-
"Lido complex with two swimming pools. 1938 with some later C20 alterations. By Ipswich Borough Surveyor's Department. Reinforced concrete with flat roofs. Moderne style. Rectangular plan with entrance block angled to align with Sherrington Road. Entrance block is single storey a 4-window range in all with a small projecting wing on either end and a recessed centre with hood across (a clock tower over the entrance removed 1965). Steps up to triple opening entrance screen emphasised by slightly raised roof line with a 3-light metal window either side and a 2-light window in the wings. The line of the windows is continued all round by a panel of channelled rustication. Rear is similar except that doors replace windows in the recessed centre. Area beyond leads to lower end of the pools surround which is concave canted and has a three-stage canted planter, originally a water cascade. The children's pool above has a canted end. Then there is the main pool with sloping sunbathing area to left and stepped grandstand to right. Behind the sunbathing area are the present changing cubicles (originally only male, now both either side the entrances, and still with mainly individual cubicles, though with roofs renewed 1966). There is also a basket kiosk and a service kiosk each with metal-framed windows. At the top of the grandstand in the centre is the top storey of the services building with toilets. This is 3-storey and continues down and forms the entrance to the former ladies' changing cubicles and the filtration plant area which has the original filtration tanks. Grandstand has seating for 700, the concrete seating renewed 1989. The 165' x 60' main pool has a deep end large enough for water polo and a 15' deep pit for diving. The tubular steel 4-stage diving boards are original. The area beyond has an end wall with continuous canopy and a central refreshment kiosk with curving corner windows. There has been some renewal of boundary walling and replacement of other walling by metal balustrading.
Broomhill Pool is well-detailed and carefully integrated example of an urban lido which remains little altered in its principal features. It was built at a cost of 17,000 pounds, more than twice the cost of the since demolished Pipers Vale lido opened in the town the previous year."





Home

Please email any comments and contributions by clicking here.

Search Ipswich Historic Lettering


©2004 Copyright throughout the Ipswich Historic Lettering site: Borin Van Loon
No reproduction of text or images without express written permission