St Peter's Church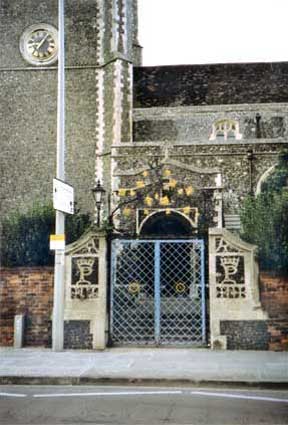 2011 image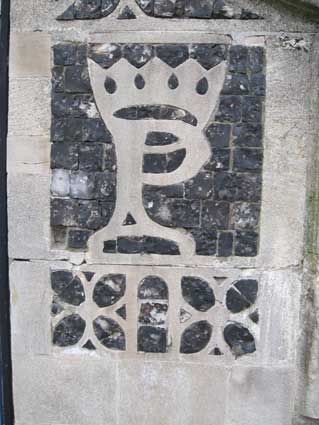 Flushwork 'P'
St Peter's is one of twelve medieval churches in Ipswich, and was built in Romanesque style as the church of the Augustinian Black Canons of the Priory of St Peter and St Paul. The existing aisles were added in 1400 and the west tower in 1470. Cardinal Thomas Wolsey refurbished the church in 1528 to serve as the chapel of his short-lived Cardinal College of St Mary, and ten years later St Peter's became an ordinary parish church. Strange to think that, if Wolsey hadn't poured so much of his money into Oxford University and if he hadn't fallen out with Henry VIII, this area could now be the centre of a complex of colleges to rival Oxford and Cambridge. The 'watergate' to what would have been the College - the Wolsey Gate in College Street next to the church - features (partly) in our photographs of the disappearing 'Burtons' sign. As one of the most important historic buildings in Ipswich, it's easy to miss the flushwork (knapped flint and stone) lettering flanking the west door gateway (see note 1. below) and the crowned initial 'P' either side of the College Street entrance (see note 2. below). A lottery grant in 2006 enabled restoration of the run-down church as a home for the Ipswich Hospital Band and an excellent performance venue.
Wolsey's Gate is only a few yards down College Street from here.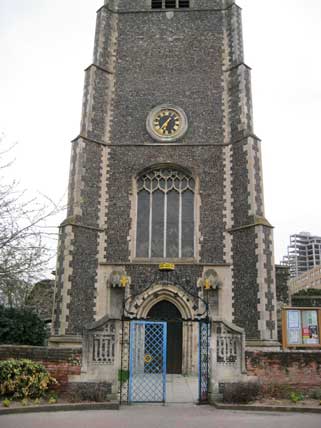 2013 images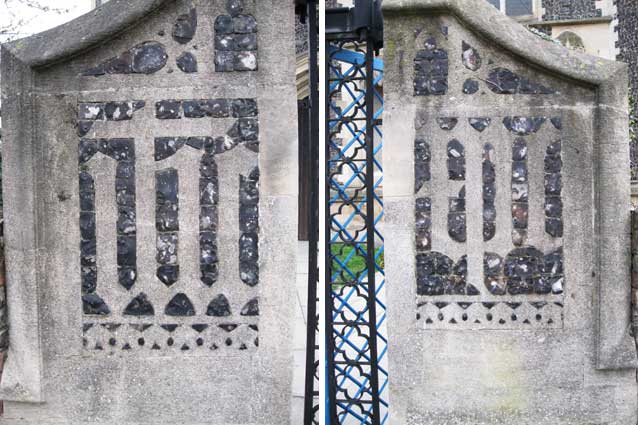 Ipswich's resident expert on all things architecturally ecclesiastical, Simon Knott opines:
1. "These are both examples of the so-called 'sacred monogram', the letters 'IHC', the first three letters of the Greek word for Jesus IHCOYC. The bar across the top shows that it is an abbreviation (and, incidentally, forms a cross). It is more usually found in its Latin form IHS, although the Greek form was popular among 19th century church restorers because Greek was considered less 'popish' than Latin.
The monograms may date from George Gilbert Scott's restoration of 1878 - but in fact I think that they are probably later, perhaps 1890s. Having them on the gates would have been considered quite demonstrative in the 1870s."
2. "...I recall that it is a monogram of SP for Sanctus Petrus, the Holy Rock, that is to say Saint Peter, a 19th century restoration of what may, or may not, have been there before..."
Thanks to Simon.

St Peter's Hall, which we assume is the Victorian red brick hall related to the church, is sited in St Peter's Street. And if you ever wondered where St Peter's Vicarage was, it was once to be found in Over Stoke.

See our Links page for Simon's famous Suffolk Churches website.





Home

Please email any comments and contributions by clicking here.
©2004 Copyright throughout the Ipswich Historic Lettering site: Borin Van Loon
No reproduction of text or images without express written permission