The ghost of 'Ales & Spirits' in capitals can be seen below and leads us up, beneath the stylish 'Gil Sans-style' three-dimensional Tolly Cobbold trade name, to the ghost sign "Cobbold's" (the pre-1957 brewery to which this pub was a tied house). This echoes the ghost sign of the same lettering visible on the
Rose Inn
in St Peters Street and
The Globe Inn
in St Georges Street.
The famous white horse sculpture above front door of the
Great White Horse Hotel
in Tavern Street, Ipswich is well-known to passers-by. However, an original 18th century white horse was removed from this location and now stands on top of a column outside the White Horse Inn at Tattingstone, which is a 17th Century Grade II listed building.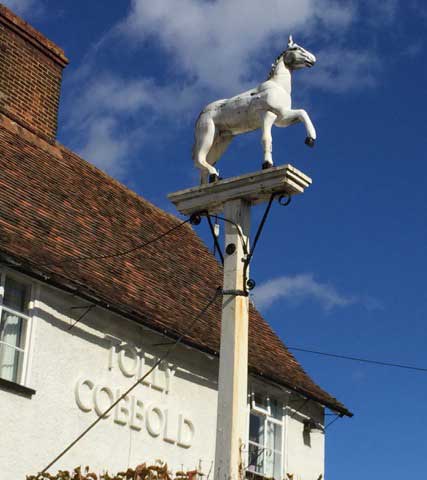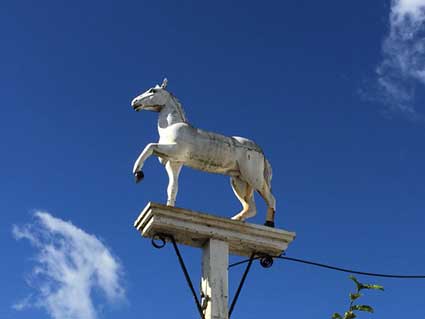 The situation of the White Horse is curious. It stands a little off the beaten track of the through road. However, it once stood on a main road through the village which, down the hill from the pub and past some houses, is now a cul-de-sac with a path leading round the Alton Water reservoir. The road was lost, as was the nect village of Alton, during the creation of the reservoir in 1987. Due to a shortage of water in the Ipswich area in the 1960s, a list of twenty potential sites for reservoirs was made, with Alton being the chosen site. The land was mainly farmland, but was also home to a mill and Alton Hall. The mill was dismantled and reconstructed at the Museum of East Anglian Life in Stowmarket. Construction and the filling with water took 13 years to complete; the dam was contructed in 1974 from local London clay. Alton Water is fed from the River Gipping and bore holes on the north side of the River Orwell.
See also our
Pubs & off-licences
page for more Tolly Cobbold signs.
Home
Return to Historic Lettering from outside Ipswich
Please email any comments and contributions by clicking here.


Search Ipswich Historic Lettering




©2004 Copyright throughout the Ipswich Historic Lettering website: Borin Van Loon
No reproduction of text or images without express written permission