Whitby (& Carlisle)
The fine town of Whitby on the east coast of Yorkshire was built on three industries, all of them rooted in the landscape. Farming (particularly of sheep), fishing and jet manufacture. This last, perhaps surprising, activity has left its mark on buildings in the form of trade lettering.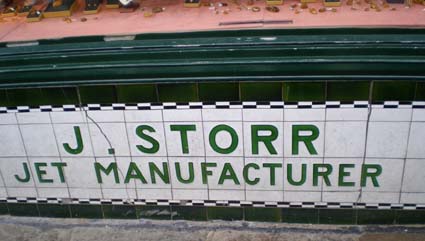 [Photograph courtesy Richard Attenborrow.]

'J. STORR
JET MANUFACTURER'


in ceramic tiles with chequerboard frieze: you can just see the jet display at top. This shop is on Church Street, near the foot of the 199 steps up to the abbey ruins on the cliff top. Further down is the White Horse & Griffin: see below.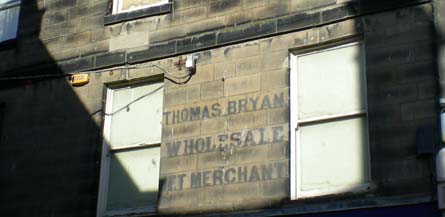 [Photograph courtesy Richard Attenborrow.]
'THOMAS BRYAN
WHOLESALE
JET MERCHANT'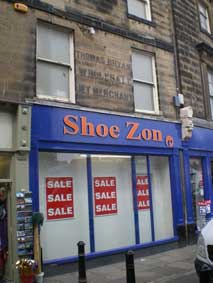 The Thomas Bryan sign in situ above an abandoned shoe shop in Baxtergate, summer 2010.
Whitby Jet is known the world over for its beautiful soft texture, dense black colour and very high polish. There are two theories as to the origin of jet: either a form of carbon - a coal, not unlike lignite, or that trees in the era of the dinosaur grew to great heights and the sap from some of them flowed down the trunks and filled hollows nearby. Covered by earth, leaves and other natural debris, these seams of sap hardened through the long years until they were exposed as jet. Amber is formed in a similar manner; indeed as jet is to Whitby, so amber is to Aldeburgh in Suffolk, where an amber shop is still in business in the main street. Jet is found in seams in the bituminous shales, between Robin Hood's Bay and Boulby, which extend under the sea and often pieces broken away by bad weather yield jet, which is washed up in various sized pieces as far afield as Bridlington and Saltburn.

The craft skills involved in jet manufacture started in Whitby around 1800 and by 1840 to 1860 there were quite a number of jet workers who sold their jewellery, to families of deceased persons. When Albert, the Prince Consort, died, Queen Victoria bought and wore masses of jet and as a result the trade received much publicity and entered a boom period. By 1870 there were fifteen hundred men, women and children employed in the jet industry, and Whitby Jet was sent to all parts of the world. But mourning, which gave the trade its boom, killed it. People associated it with death and funerals and gradually found it distasteful to wear. They lost sight of the fact, realised more today, that jet is an excellent foil for red, green, gold and other colours.

Also a factor in the decline of the popularity of jet was the unscrupulous manner in which certain people exploited the demand by importing cheap, inferior jet from France and Spain, as well as offering for sale large quantities of spurious imitations, such as ebonite, wood, glass and others which are still being mistaken for jet today. You can still find jet artefacts for sale in Whitby, but it is a small tourist-based trade nowadays.

Just accross the road from the Thomas Bryan sign is the cobbled Angel Yard which leads back to the dockside. Here is the Singing Kettle cafe with its old-looking 'ENTRANCE' lettering above the doorway (see detail).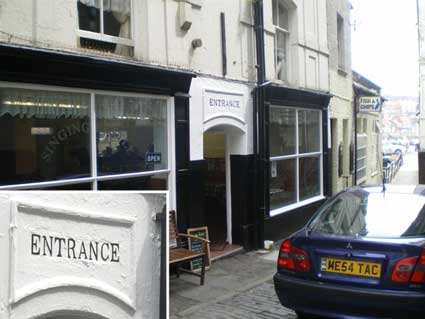 Further along Baxtergate we find an attractive building: 'TALBOT HOUSE' in big, white, blocky capitals, although the name doesn't seem to have much significance nowadays: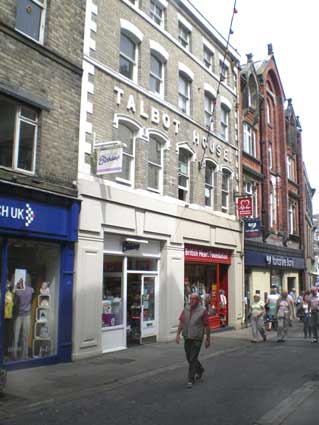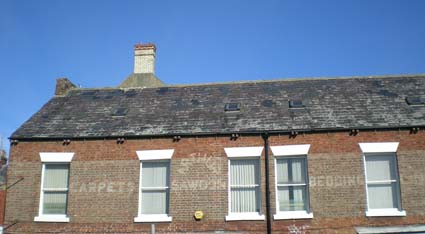 [Photograph courtesy Richard Attenborrow.]

'CARPETS... ARTHUR SAWDON... BEDDING'


Arthur Sawdon sold carpets and bedding on the corner of Whitby's Wellington Road and New Quay Road and he proclaimed this in lettering on a wide painted strip matching the height of the first floor sashes down the wall of New Quay Road. Squeezing the hemispherical 'Arthur' between the second and third windows was quite a feat. The same configuration appears above the shop front in Wellington Road (see below) with a rather odd capital 'S'.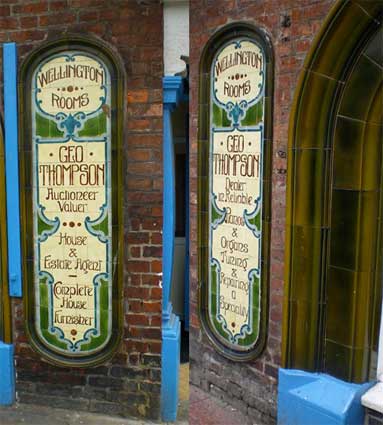 The shop front, now an estate agent/solicitor business, boasts bottle green ceramic fittings and door and window surrounds, but even better: two fine, vertical cartouches in ceramic with art nouveau'ish design and lettering. The spacing in the second cartouche struggles a little, but you have to admire Mr Thompson's versatility:


'WELLINGTON ROOMS
.GEO.
THOMPSON
Auctioneer
Valuer
.
House
&
Estate Agent
.
Complete
House
Furnisher'

'WELLINGTON
ROOMS
.GEO.
THOMPSON
Dealer in
Reliable
Pianos
& Organs
Tuning
&
Repairing
a
Speciality'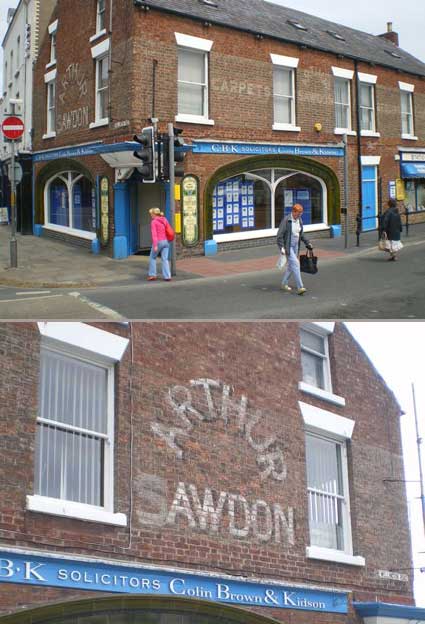 Only a short distance away from this fine shop is the railway station. Once boasting a pitched over-roof covering both tracks and platforms, now only one line and platform is in use. For some time a mere three main line trains from Middlesburgh arrived and departed from the station each day, but these have been supplemented from (often) steam-powered trains from the Grosmont-Pickering North Yorkshire Moors Railway (a wonderful preservation through breathtaking scenery). The ceramic map which adorns the interior wall of the station commemorates the many railway lines which once criss-crossed this North Eastern Railway region.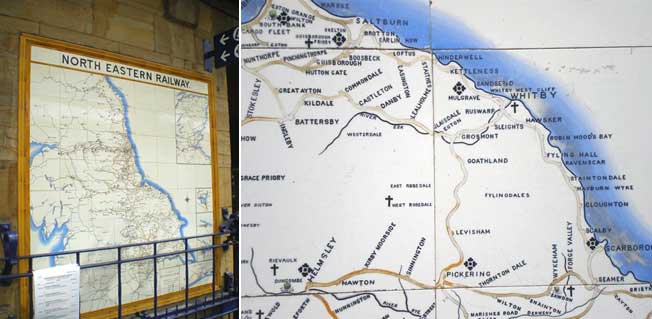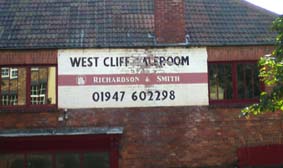 [Photograph courtesy Richard Attenborrow.]
'WEST CLIFF SALEROOM
RICHARDSON & SMITH
0197 602298'
Situated at 8 Victoria Square, this is not perhaps the most "historical" sign on this website (the 'phone number gives that away), but it's certainly seen better days. The lettering sits on a large white-painted rectangle of brickwork. Perhaps some stone-throwers or even basketball shooters have been practising their craft against the middle section.
Crossing the swing bridge (an intriguing sight when it's opening) over the river Esk which divides Whitby we find our way through the throngs of tourists and candle shops to the White Horse & Griffin Hotel in Church Street. This 320 year old building must have one of the narrowest street frontages we've ever seen for an ancient coaching inn. What draws the eye of the historic lettering spotter is on the bare wood lintel above the coach entrance:
'GOOD STABLING'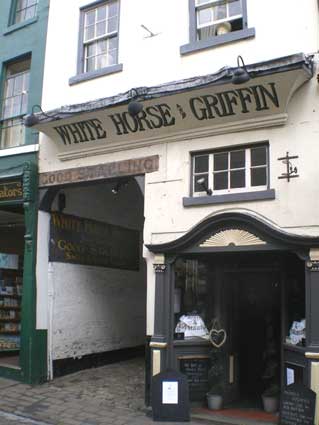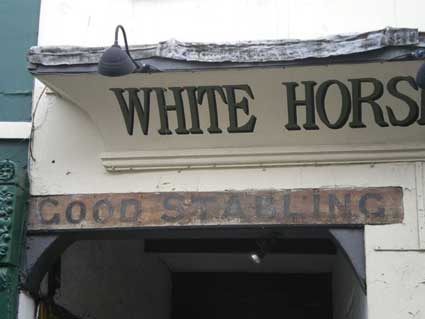 On the left side wall beneath this - just visible on the first photograph - is the sign in yellow paint on grey-painted rendered stone:
'WHITE HORSE HOTEL
FULLY LICENSED.
GOOD STABLING.
SMOKE & CLUB ROOM' [followed by a pointing hand]

This sign is rendered in an exuberant large and small caps letterform, but you can see from the word 'ENTRANCE(?)' which runs behind the words "GOOD' and 'SMOKE' that it is painted on earlier lettering.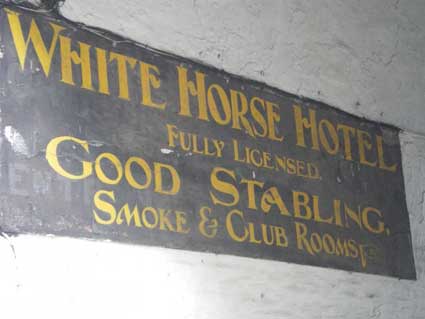 Accross Church Street from the White Horse is one of those enigmatic painted advertisement walls on the side of what once was a tobacconist's shop which certainly shows the 'Players Please' cigarette slogan in its once familar letterform with a circle below it. Any other lettering is lost.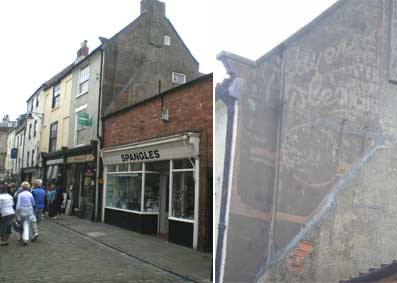 Follow your nose back towards the bridge and you might stumble accross the Captain Cook Memorial Museum in the tiny Grape Lane. This building has the characters:
'.D.
M:S
16.88.'
on a raised tablet on the fascade of the building, though we don't know what the initials stand for.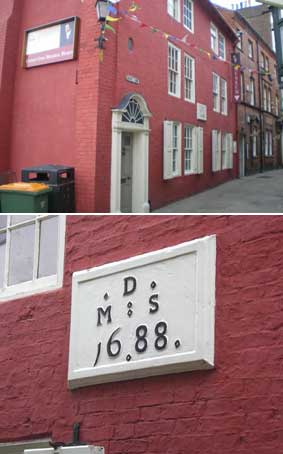 Opposite the famous craft bakery E Botham & Sons Ltd 35-39, Skinner St is this attractive shopfront currently of Clarkes of Whitby, an off licence. It was once a more comprehensive grocers:
'PROVISIONS ... GROCERIES'
These very low-lying ceramic tiles panels of bottle green have decorative borders and an fine font. They compare with the 'J.Storr' ceramic lettering in a similar situation which is shown at the top of this page.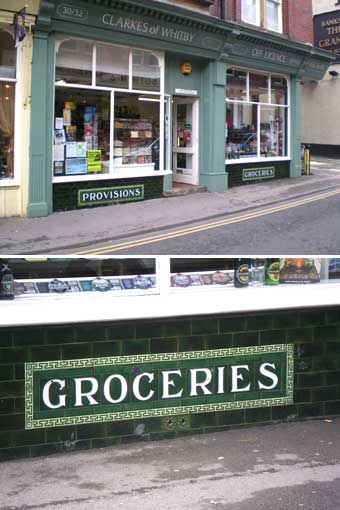 ---
Carlisle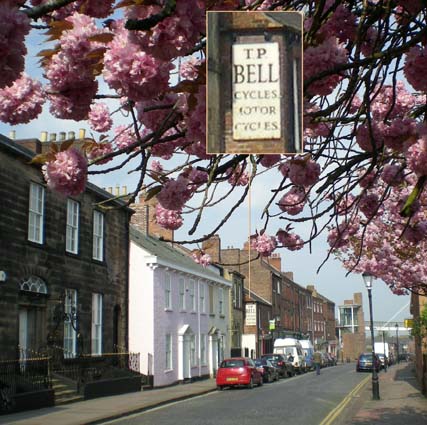 [Photograph courtesy Richard Attenborrow.]


Finally, here's a nice trade lettering example from Carlisle (inset shows enlargement). This photograph, taken in Spring 2009 close to Tullie House, shows the typical 'leading edge' of a shop being used to advertise the business to passers-by:


'TP

BELL

CYCLES

MOTOR

CYCLES'