Winchcombe and Upton-On-Severn, Glos.
During Anglo-Saxon times, Winchcombe was a chief city of Mercia favoured by Coenwulf, the others being Lichfield and Tamworth. Subsequently, during the 11th century, the town was briefly the county town of Winchcombeshire. The Anglo-Saxon saint St. Kenelm is believed to be buried in the town. Today Winchcombe is almost too twee for its own good, but has lots to interest the visitor including a fine enthusiasts' Railway Museum and a rebuilt station on the preservation line to Cheltenham Racecourse. Sudely Castle is nearby.

North Street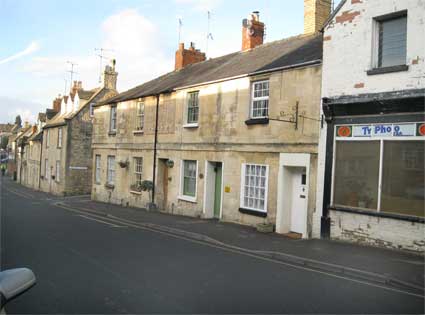 'NORTH STREET
BREWERY'
There are curlicues decorating this obliterated sign in North Street, presumably the rain downpipe is a later addition. We cannot trace any information about this former brewery.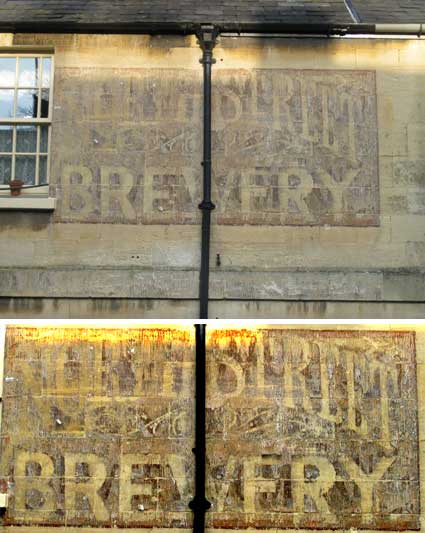 Gloucester Street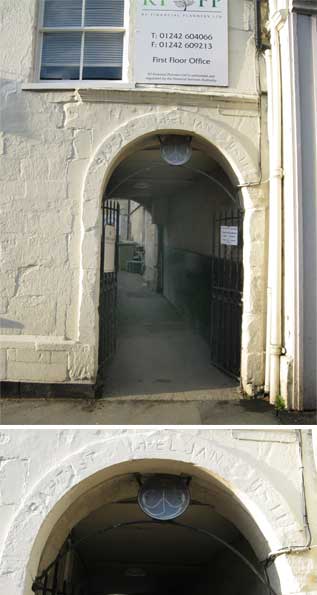 'BAPTIST CHAPEL JAN 1 1811'
This Chapel was founded in 1811, though it is now closed, but it is not known when. Mentioned in
Non-Conformist Chapels and Meeting Houses, Gloucestershire
(1986) where it is described as on the north side of the street, and "approached through a passage with semicircular arch at the south end inscribed 'Baptist Chapel Jan 1 1811' ... the church appears to have united with Congregationalists about 1878 when Union Chapel was built although a separate Baptist congregation may have resulted from the merger and continued to meet here".
This is appears to have been the case at least until 1923, as Kelly's Directory of that year lists both a Baptist Chapel founded in 1811, with seats for 150, and the Union Chapel, founded in 1878. The Union Chapel referred to is in Gretton Road, and is now Cotswold Christian Centre, but the former Baptist Chapel is now in secular use. The space after 'JAN' is a puzzle: it is too large for a mere '1', surely? It has had filler roughly slapped over it.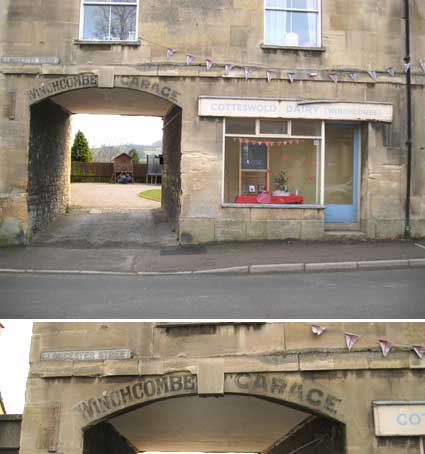 'WINCHCOMBE GARAGE'

Opposite the church on Gloucester Street. The different fonts used either side of the keystone are intriguing: condensed serif'd caps on the left and heavier, fatter sans-serif to the right; perhaps it was just a matter of the signwriter filling the available spaces. Winchcombe Garage still appears to trade from other premises in the town. Cottteswold Dairy (Winchcombe) was founded in 1938 and is based in Tewkesbury. The metal street name, rather pale, is: Gloucester Street.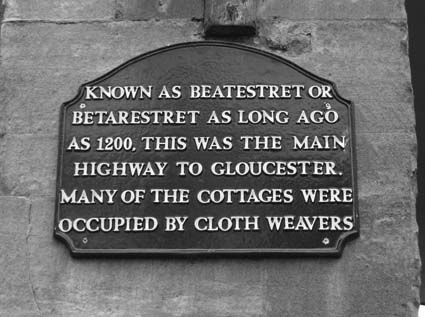 This was one of several informative plaques to be found in Winchcombe, but when these photographs were taken in February 2013, the plaque had been removed from its position to the left of the archway.
'KNOWN AS BEATESTRET OR
BETARESTRET AS LONG AGO
AS 1200, THIS WAS THE MAIN
HIGHWAY TO GLOUCESTER.
MANY OF THE COTTAGES WERE
OCCUPIED BY CLOTH WEAVERS'

Incidentally, there is a CTC 'winged wheels' painted metal sign on the wall of the 16th century coaching inn, The White Hart in High Street. A similar sign can be found in
Upper Brook Street
, Ipswich.
Upton-On-Severn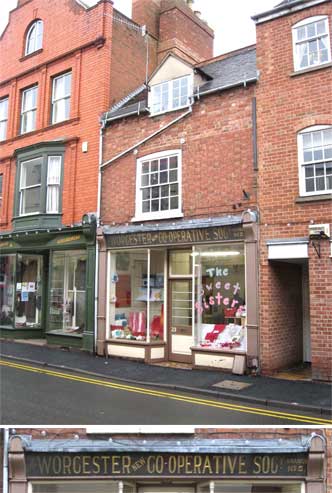 'THE WORCESTER NEW CO-OPERATIVE SOC
Y
BRANCH NO. 5'
23 Old Street. No longer a Co-op (that's a few doors awayto the left) but a shop that preserves the past by revealing this lovely old Co-op sign in gold condensed capitals; the small tilted 'THE and 'NEW', the superior 'Y' floating above a dot and the 'BRANCH No. 5' are a joy. One can only ask if there was an 'old' Co-op in Upton, or was this an early branch of a newly formed Co-op when the movement was young. This tiny shop with its classy sign is a signifier of the huge national movement which was to follow.

Upton's local historian (see http://www.upton.uk.net/history/coop.html) tells us that The Worcester Co-operative Society was founded in March 1881. In June 1901, after pressure from their existing members in Upton, the committee was persuaded to open the Society's fifth branch: it was on the west side of Old Street and was in premises which were leased for three years. Members increased: in one month over sixty joined from Upton. In the first year's trading there was a turnover of £1,480 at the Upton branch with £132 being returned to members as dividends. In June 1904 the new shop was opened with a flourish. The steamer The Duchess of York was hired for £6.6s.0d. to bring the visitors from Worcester, the band played and Mr Roy, a long serving member of the Committee who performed the opening ceremony, was presented with a silver gilt key. The outside of the shop was redecorated in 1906 by G. H. Price for the sum of £3.9s.Od., and in 1909 he also repainted the sign for £1.7s.6d. This is probably the sign which can be seen today. By October 1926 the Co-op activities were concentrated in larger premises a few doors away and No. 23, although considered as a Co-op pharmacy, was eventually sold.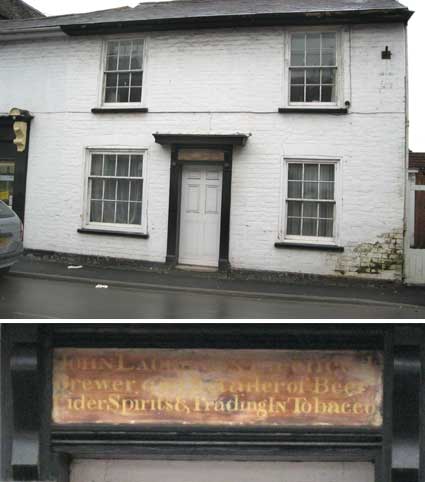 'JOHN LAUGHTON[?] Licenced
Brewer and Retailer of Beer
Cider Spirits & Trading in Tobacco'
42(?) Old Street.
This anonymous, unnumbered, double-fronted house on the street out of Upton bears a fugitive lincencing sign showing that it was once a public house and brew house.
©2004 Copyright throughout the Ipswich Historic Lettering website: Borin Van Loon
No reproduction of text or images without express written permission