Christ's Hospital School & other charity schools

A riot of colours: Grey Coat Boys, Blue Coat Girls, Blue Coat Boys, Redsleeve Boys and Greensleeve Girls schools... all Ipswich charity schools (not to mention Tooley's red and blue colours)

---
Christ's Hospital Buildings

, 15 Wherstead Road
Ipswich was one of the first towns to adopt a compulsory poor rate to finance the care of the 'indigent' poor who would formerly have been cared for by the dissolved religious houses*. In 1568 it was decided to build a poorhouse to complement the work of the Tooley Foundation; it was named Christ's Hospital. Attached to this was a workhouse where 'vagrants and idlers' were put by the local beadle. "Christ's Hospital School" was run from some of those buildings. Tireless documenter of Ipswich history, Simon Knott (see Simon's Suffolk Churches on our Links page) has discovered the grave of the headmaster for 27 years of Christ's Hospital School, William Platt Crossley: "In 1871 and 1881 he was living with his wife Martha and their children in the School House, Shire Hall Yard off of Foundation Street in the middle of Ipswich, and his occupation was given as 'head teacher, boys day school (endowed)'. Our Foundation Street page shows the location of the school in School Street on a 1902 map. The school itself had moved to grand new premises on Wherstead Road in 1841, but the coming of the railway and the rise of dockside industry led to its closure and demolition in the early 1880s. By 1891 the Crossley family had moved to Tavern Street where William Platt Crossley now owned and ran a tobacconist's shop. Shire Hall Yard remains as a street name between Foundation Street and Lower Orwell Street."
[*The Dissolution of the Monasteries, sometimes referred to as the Suppression of the Monasteries, was the set of administrative and legal processes between 1536 and 1541 by which Henry VIII disbanded monasteries, priories, convents and friaries in England, Wales and Ireland, appropriated their income, disposed of their assets, and provided for their former members and functions. He was given the authority to do this in England and Wales by the Act of Supremacy, passed by Parliament in 1534, which made him Supreme Head of the Church in England, thus separating England from Papal authority, and by the First Suppression Act (1536) and the Second Suppression Act (1539).]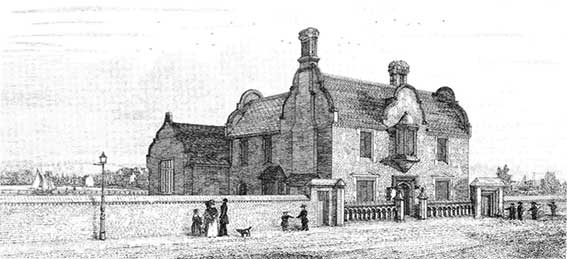 The above etching, made by Henry Davey, is dated 10 February 1843: "Christ's Hospital School, Ipswich. Originally, founded by charter of Queen Elizabeth, 16th May, 1572, it stood in the Shire Hall Yard, St Mary-at-the-Quay, and was removed to this spot in 1841 ... There is now accomodation for 40 boys who are educated, boarded, lodged and clothed &c. from the funds of the charity." In August 1840 the charity trustees had appointed John Medland Clark, designer of the 1844 Custom House, as their architect to provide an improved Christ's Church Hospital School. Eventually Chenery's Farmhouse in Great Whip Street was adapted for the purpose. This despite plans drawn up by Clark to remodel the Friars' Dormitory in Foundation Street (still used by the grammar school, but in poor condition) as a new home for Christ's Hospital School.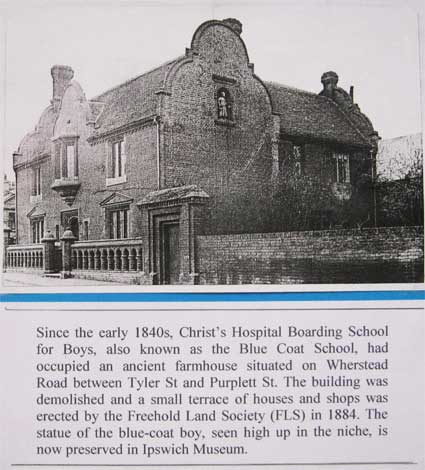 Photo and caption by Over Stoke History Group


There is ideed an 'FLS' (Ipswich & Suffolk Freehold Land Society) plaque above numbers 13 the former newsagent's shop and number 15 in Wherstead Road which reads:


'CHRIST'S HOSPITAL
BUILDINGS
F.L.S . 1884'


This stood on the site of the school which was demolished in the 1880s and, given the former Head's proprietorship of a tobacconist's mentioned by Simon Knott, perhaps the newsagent's shop is appropriate.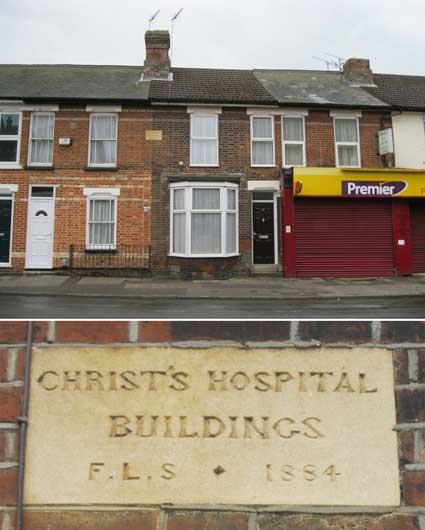 2013 images
See our Felaw Street page for the detail of White's 1867 map showing 'The Blue Coat School' (Christ's Hospital) on the corner of Wherstead Road and Tyler Street

;

so, definitely on the site of the terraced houses shown here.

Christ's Hospital School (1572-1881)
Henry Tooley, merchant, died in 1551 and left the bulk of his considerable fortune to a charitable foundation whose main purpose was to provide almshouses for ten ex-servicemen. They were to receive clothes (a livery incorporating

Tooley's red and blue colours

), firewood and medical care together with sixpence a week (more for those who couldn't work), provided that they attended morning and evening service at St Mary-at-the-Quay. After disputes over the will delayed things for eleven years, five almshouses were eventually built, each house either to accommodate a married couple or two men sharing. They were probably in the half acre orchard off Star Lane – then a much shorter, narrower thoroughfare than today – which Tooley and his wife had leased from the Blackfriars (dissolved by Henry III in 1538) in the 1530s. In order to deal with rising poverty, the town acquired the Blackfriars premises and set up Christ's Hospital in the southern portion of its ample buildings, the friars' church having been demolished soon after dissolution so that building materials and furnishings could be used elsewhere. This is the church whose ruins are today still visible between Lower Orwell Street and Foundation Street: the only visible remnants of the five monastic establishments in the town today.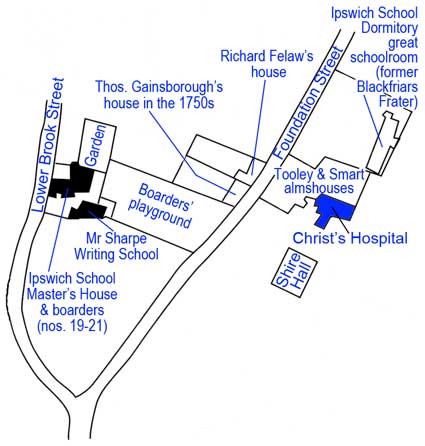 Early to mid-19th century sketch map


See also the detail from Pennington's 1778 map of this area, showing the school features.

The name 'Christ's Hospital' can be confusing, doubly so in that the nearby Robert Felaw's house and the Blackfriars Frater across Foundation Street were occupied subsequently by the educational establishment which was to become The Ipswich School (sometimes called Ipswich Grammar School among other things). The above sketch map shows the layout between Lower Brook Street and Foundation Street which had slowly developed since the sixteenth century and led eventually to the move of Ipswich School to the new Christopher Fleury-designed buildings Henley Road in 1852 (see our Plaques page for a photograph). "Hospital": during the Middle Ages hospitals served different functions to modern institutions, being almshouses for the poor, hostels for pilgrims, or hospital schools. The word hospital comes from the Latin hospes, signifying a stranger or foreigner, hence a guest. Another noun derived from this, hospitium, came to signify hospitality, that is the relation between guest and shelterer. The Latin word then came to mean a guest-chamber, guest's lodging, an inn.

Hospes

is thus the root for the English words host (where the p was dropped for convenience of pronunciation) hospitality, hospice, hostel and hotel. "Christ's": it was not Christian, as such.

Christ's Hospital in Ipswich has been described more as a workhouse for forty inmates, both deserving and undeserving poor, both sexes and all ages. It was also described as a 'seminary of thieves'; vagrants were rounded up and sent there as a punishment. Within a generation children predominated. This was all funded by a poor rate of £170 per year, a penny or tuppence a week from most of the 312 taxable householders; the richest, Edmund Withypoll (at Christchurch Mansion) paid 16 pence. Half of this amount went to Christ's Hospital and half to 'outdoor relief' to, in the 1570s, around eighty impoverished families in their own homes. Oddly, actors, witches and rabbit-skin salesmen were specifically excepted from this outdoor relief. By 1597 there were nearly twice as many on such relief and extra funds were made available by Tooley's trustees who were also town officials.

An incomplete census of the poor for 1597 mentions 400 men, women and children from nine parishes, 80% being in St Matthew's and St Clement's in the suburbs and St Nicholas' is in the town. The actual total, including the three unrecorded parishes plus Christ's Hospital and Tooley's and Daundy's almshouses (the latter founded by Edmund Daundy on Lady Lane) would have been nearer 600 this is comparable to the figure in 1297 at the time of the wedding of Edward I's daughter Princess Elizabeth when, despite the many intervening plagues, the population as a whole is likely to have been smaller. By 1600 Christ's Hospital and the almshouses of the Tooley Foundation, though separately managed and set up with rather different intentions, were moving towards an ever-closer union. The road running beside the Blackfriars western wall soon acquired its present name of Foundation Street.

Christ's Hospital, some time after the last of the Elizabethan Poor Laws in 1601, gave up its role as the municipal workhouse and eventually became a school. The will made in 1670 by Nicholas Phillips, portman, enabled the foundation of the school in Christ's Hospital, adding education to the other provisions of Tooley's and Smart's Foundation, a century after the 1572 Letters Patent had by implication required it. It was not a grammar school because the blue coat boys there were never more than about twenty in number, and at fourteen, they were usually sent to sea as apprentices.

"[Grammar school headmaster] Leman's troubles began when, in September 1605, the corporation ruled that Felaw's house and endowments were no longer to be used for the grammar school as had surely been that benefactor's intention. In fact, some of Felaw's endowments had been diverted since the re-foundation of the school after Wolsey's College failed. Ever since the charitable Christ's Hospital had been established in 1572, it had been on the collective conscience of the borough hierarchy that provision had still to be made there for educating poor boys. Revising their view of Felaw's intentions retrospectively, the corporation would found a charity school, without dipping into town finances or their own pockets. Grammar school places were free to the sons of the town's burgesses who entered as foundation scholars, but that was not something which needed to be changed. Leman was to leave Felaw's House as soon as possible, finding another place in which to teach his grammar pupils. Leman naturally protested but his chances of winning the argument were doomed when a new and powerful town preacher [Samuel Ward] was appointed at All Saints-tide (1 November) 1605."

Apart from Christ's Hospital, there were three other charity schools in Ipswich at the beginning of the 18th century, all modestly endowed: the Redsleeve School for boys at its Master's house in Silent Street, and the boys'

Grey Coat School

with its sister foundation the girls'

Blue Coat School

nearby. See Curriers Lane for a plaque which once celebrated these schools. (Confusingly, Christ's Hospital pupils were known as

Blue Coat Boys

.) In 1818 the three had a total of 156 children between them. As at Christ's Hospital, they were prepared for apprenticeship, being taught practical skills in the morning with reading – and sometimes writing – in the afternoon. Some of the boys were apprenticed back to their fathers so they, at least, came from reasonably prosperous homes. Subscribers supplemented the schools' endowment income and £1 a year bought the right to nominate one pupil.

"Lists of those voting for each candidate in this hotly contested [Ipswich School] mastership election were recorded by that assiduous recorder of Borough events Devereux Edgar, in his commonplace book. Edgar was a prime mover in establishing another charity school in 1709 with high church and Tory support based on the Tower Church: Grey Coat Boys and Blue Coat Girls. Boys in blue coats belonging to Christ's Hospital school. The low church Whig equivalent based on St Lawrence followed eventually, for

Redsleeve Boys

and

Greensleeve Girls

. Supporters of the two schools insisted on the correct colours being worn in the town so that they could judge behaviour."

The newly-formed Charity Commissioners' new scheme for administration of schools in 1881 meant that all the old borough charities were combined and shared out between Ipswich School and the newly-formed Northgate Middle Schools for boys and girls. When the Endowed School governors were given control of the grammar school and Christ's Hospital in 1881 they therefore took over the town's various educational charities which they amalgamated into 12 parts: 3 parts for a new girls' secondary school, 4 for a new boys' secondary school and 5 for the grammar school. Christ's Hospital was closed down after 300 years of existence. (This would fit in with the F.L.S. naming of the above building in 1884.) The girls got its junior school in the southern half of the Blackfriars complex, and the boys its larger house in the Wherstead Road, on the site of the old St Leonard's leper hospital. Soon both were moved to more modern accommodation.

[Sources: Bishop, Peter:

The history of Ipswich

and quotations from Blatchly, John:

A Famous Antient Seed-plot of Learning: A History of Ipswich School

(see Reading list)]

Related pages:
For more on Wolsey and his ill-fated college (which, for about two years, was also Ipswich Grammar school) see our Wolsey's College page.
Tooley's and Smart's Almshouses,
Ipswich Workhouses.




Please email any comments and contributions by clicking here.
©2004 Copyright throughout the Ipswich Historic Lettering site: Borin Van Loon
No reproduction of text or images without express written permission