Purplett Street / Tyler Street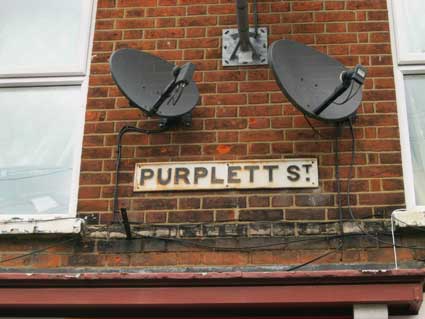 2013 images


'PURPLETT S

T

.'


The rather obscured name plaque shown below sits between numbers 17 and 19 Purplett Street: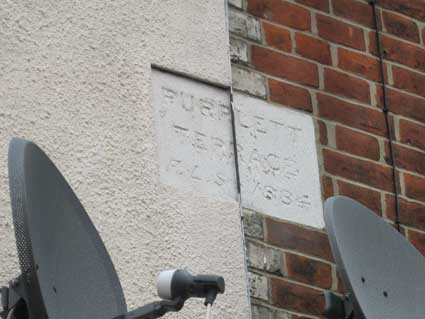 'PURPLETT
TERRACE
F.L.S 1884
'
'F.L.S'
Many house name plaques around Ipswich bear the letters F.L.S. It stands for Freehold Land Society.
The Ipswich and Suffolk Freehold Land Society
, formed in 1849, was the major driver in building Victorian housing developments around Ipswich (see our
Rosehill case study
for one of the most well known areas, 'California'). The name was truncated to Freehold Land Society and the organisation later became the Ipswich Building Society.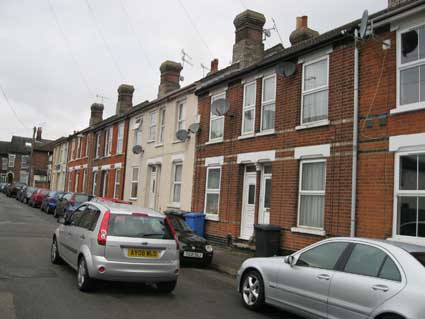 A view of Purplett Street from the Hawes Street end; the name plaque is sited above the blue bin.
See Street name derivations for the variants in the 'Puplett' family name and the relatively recent change to the current form.



Tyler Street


The photograph below left shows what is left of Tyler Street in 2014 – one terrace of houses and one corner property, the former corner shop – since the major reshaping of the road down to Bourne Bridge, bypassing the northern part of Wherstead Road. At one time this street would have been closely built on both sides and running down to Stoke Quay (later called New Cut West). Three thoroughfares used to run more-or-less parallel from Great Whip Street/Wherstead Road eastwards to the river, each named after benefactors of the town's charities: Richard Felaw (died 1483), Richard Purplett (more correctly 'Puplett', died c. 1720), and 'Tyler'...
[

UPDATE

5.8.2014: Here is a quotation about Tooley's and Smart's Almshouses from

White's Directory of Suffolk

1855:
"... SMART'S FOUNDATION produces about £480 p.a., arising from the following property, under the will of Wm. Smart, in 1598; viz., a farm of 372A.[acres], and a piece of water of 5-and-a-halfA. at Fakenham [

sic

; presumably 'Falkenham', rather than the Norfolk town] and Kirton, let for £420; a third part of a farm of 91A. at Creeting, let for £150; and a fifth-part of the above-named farm of 190A. at Whitton and Brandon. One-third of the farm at Creeting was purchased with £300, left by Wm. Tyler in 1643, for schooling, clothing, and apprenticing poor children." So

William Tyler

(died 1643) is the third benefactor of the town's charities commemorated in these street names.]
See Street name derivations. Looking at the maps of this area on our Felaw Street page, these names appear between the 1848 and the 1867 maps, so they are Victorian impositions when new housing and other developments occurred.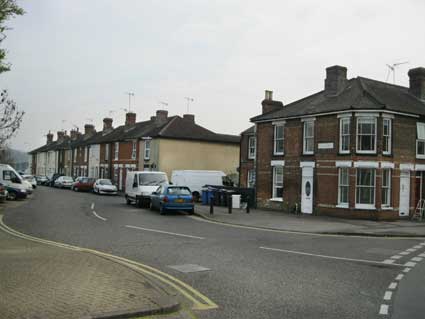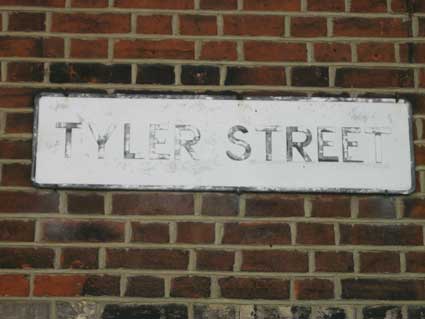 2014 images
The street namplate at this time is virtually unreadable from a distance.


Above numbers 14 and 16 is the terrace name plaque with an unusual use of italic caps:


'

TYLER

TERRACE

F.L.S + 1884'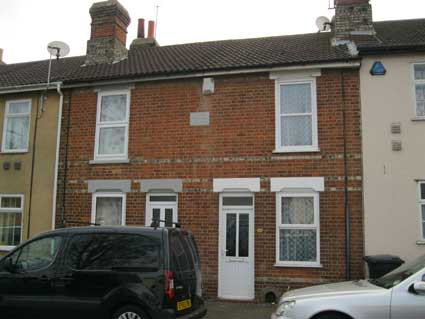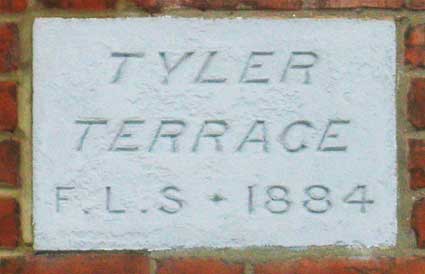 See above for the link to 'F.L.S.'
(Carolyn Saxon, contributor to this website from Florida, was born & raised at number 20.)





Home

Please email any comments and contributions by clicking here.
©2004 Copyright throughout the Ipswich Historic Lettering site: Borin Van Loon
No reproduction of text or images without express written permission