This town centre public house can be found at 13 Upper Brook Street, opposite the famous '
Symonds for Kodaks
' sign.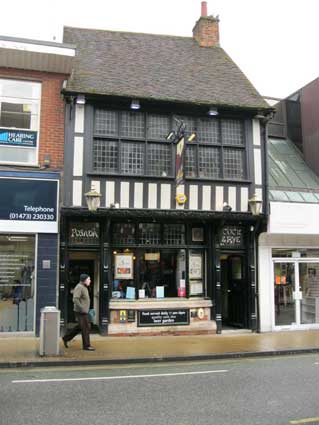 This is one of Ipswich's most ancient pubs; one of only 24 to appear on a town assessment of 1689. It seems that it was formerly far more extensive than the current building. The name apparently originates from an ancient oath 'by cock and pie' - an allusion to a gastronomical dish once created for banquets of chivalry: peacock pie included a guilded head at one end and a fanned tail at the other and marked solemn occasion when knights-errant would pledge themselves to hazardous undertakings or enterprises. As usual the Suffolk CAMRA (see
Links
) website gives interesting information about the pub.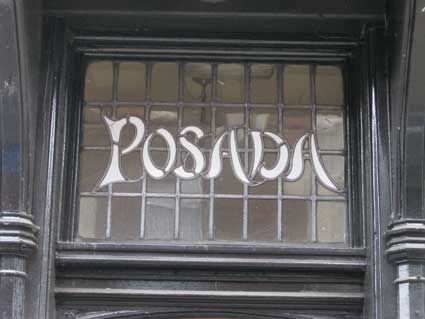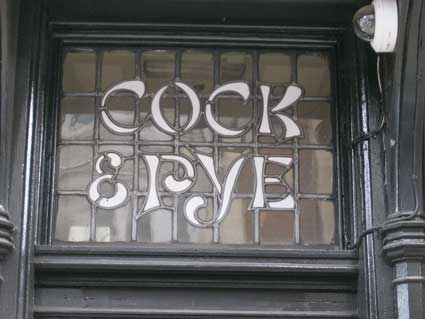 What's of most interest here are the leaded light windows above the doors bearing the lettering:
'POSADA'
'COCK
& PYE'
So why is the fine Mexican engraver and illustrator – Josť Guadalupe Posada (1852-1913) – celebrated by this public house? The CAMRA entry states that this pub was formerly known as 'Posada' and 'The Cock & Magpie'. According to the list of licencees the name Posada only appears in Kelly's Directory for 1932 and 1939. The word Posada seems to have roots in Sardinia, Romania, Poland as well as the more obvious Spain and Mexico. It is also the name of a Christmas celebration of the Knights of Columbus in America. A bit of a mystery, then.
Compare with the leaded light lettering on
The Golden Key
.
The Cock & Pye was quaintly refronted by architect John Shewell Corder (see also
Scarborow
) in 1903, including jettied upper storey and carved bressumer.
See also the
Pubs & Off-licences
page and the Tolly Cobbold
House
&
Brewery
pages.
Home
Please email any comments and contributions by clicking here.
©2004 Copyright throughout the Ipswich Historic Lettering site: Borin Van Loon
No reproduction of text or images without express written permission