East Bergholt & Stradbroke
East Bergholt
A small cottage called 'The Hatters' in The Street, opposite the Red Lion in East Bergholt, Suffolk commemorates the business which once occupied it. Carefully preserved and worked around with masonry paint by the modern owners, this 18th century lettering resembles that on the Woodbridge milestone. This and the two examples on this page are amongst the oldest extant lettering on this website. The idiosyncratic spelling presumably comes from the trade of 'hatter':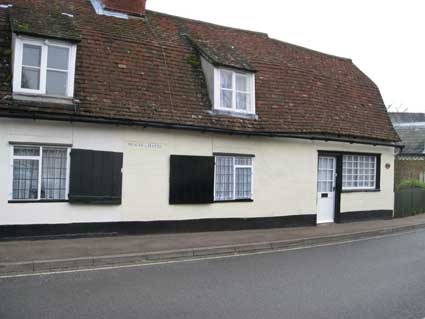 2013 images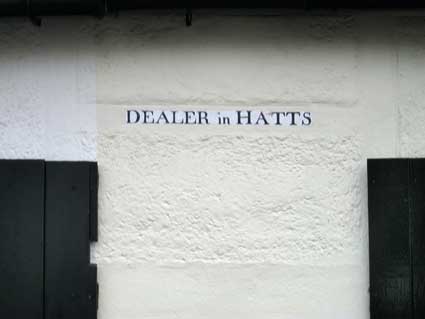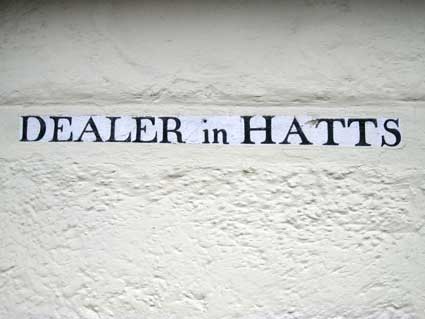 This information comes from an estate agency website in 2012:
"Grade II Listed semi-detached cottage in the sought after village of East Bergholt. Built around the 1780s this property offers a piece of East Bergholt history as it was originally a hat shop. The original lettering of "Dealer in Hatts " has been left on the outside wall in between the two cottages today, which is one of the oldest recorded lettering in the area. It has also been a bicycle repair shop and sweet shop in its past. The Hatters is filled with original features... The property has been constructed by a timber frame and render, under a pan tiled roof. "

Mercury, which we now know to be highly toxic, was used in the manufacture of hats in days of yore when everyone wore headgear of some sort. Hatters and milliners were much more comon trades. It is believed that hatters commonly suffered from 'hatter's shakes', a form of nerve damage which gave symptoms similar to Parkinson's Disease and which is still known today as 'Mad Hatter's Syndrome'. We should also mention the black and white feature film of A.J. Cronin's novel

Hatter's Castle

starring Robert Newton in a, frankly, terrifying portrayal of the title role. Gothic and seriously scary, but we digress...

Stradbroke
A photograph below of the ancient equine advertisement preserved on a wall opposite the church in Stradbroke, Suffolk:


'GOOD STABLING
LOOSE BOXE'S
HORSES AND TRAPS TO LET'


(curious use of the apostrophe ... )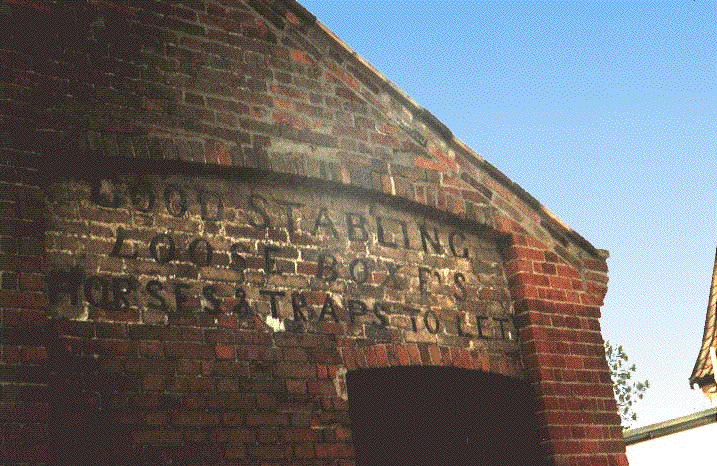 (Photo courtesy Don Mathew)


Compare with the 'Good Stabling' sign on Whitby's White Horse & Griffin.

Home
Return to Historic Lettering from outside Ipswich
Please email any comments and contributions by clicking here.
©2004 Copyright throughout the Ipswich Historic Lettering website: Borin Van Loon
No reproduction of text or images without express written permission