Hatter in Ann Street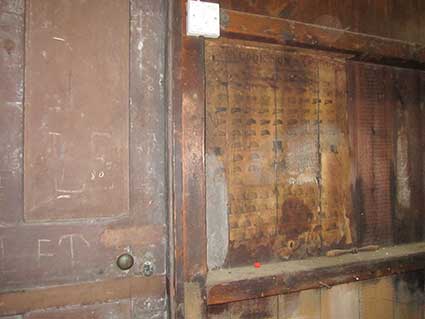 Photos courtesy Maureen Galvani
A partition wall at the rear of a former hat shop in Ann Street. It looks as if DIYers have cleaned off their varnish and paint brushes on the surface of an old poster...





'Season

COOK, SON & C

O

.

1892




MEN'S BOYS & GIRLS TWEED CLOTH & VELVET CAPS.'


As this is specifically entitled in this way, one can assume that the shop was definitely a 'hatter', whereas women's headgear would have been sold by a milliner. The assumption is that the specialism noted on the poster is carried over to the business of the shop.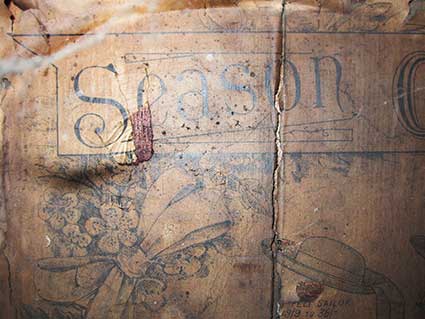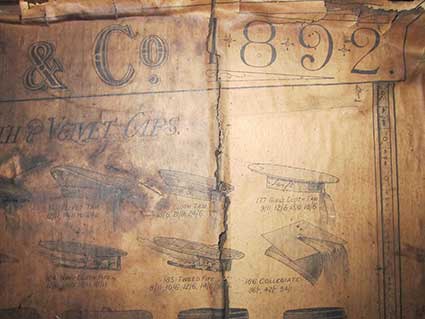 Products in the above details:
'Felt Sailor 18/9 to 36/-'
'military-style hats': 'Velvet Tam 12/11, 14/11 to 24/- ["PILOT" under an anchor on hatband]
Cloth Tam 18/6. 21/9, 24/6 ["ECLIPSE" on hatband]
Girl's Cloth Tam 9/11, 12/6, 15/6, 18/6
Navy Cloth Fife 12/6, 14/9, 16/11, 18/11 [both Fifes with bow and feather]
Tweed Fife 8/11, 10/6, 12/6, 14/6, 16/6'
'Collegiate 36/-, 42/-, 54/-'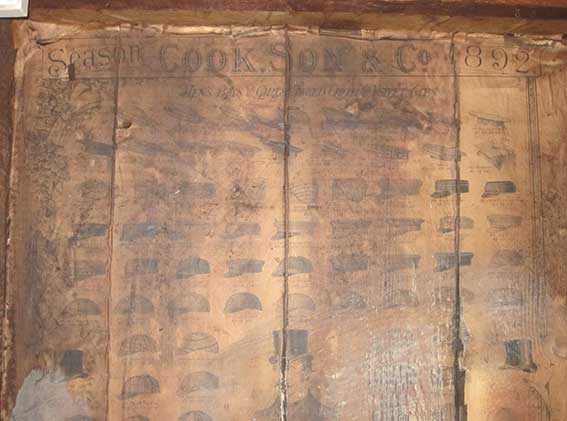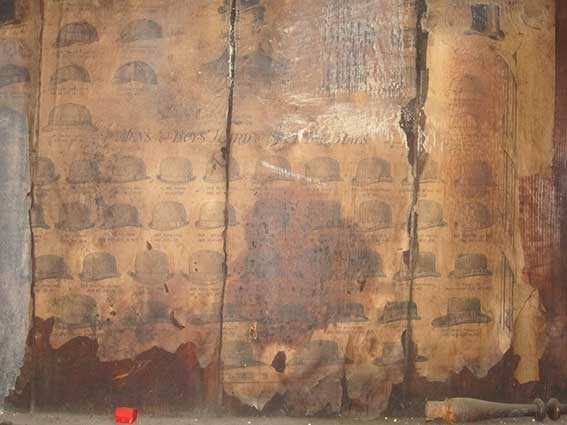 Halfway down: '

MEN'S BOYS HARD & SOFT FOX

[?]

HATS

'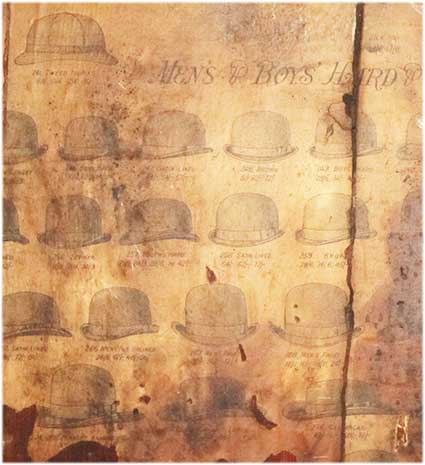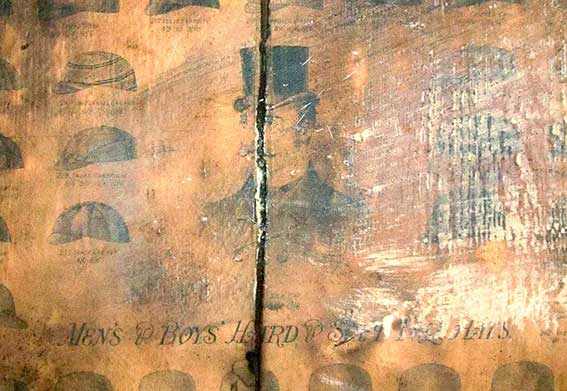 Some of the products advertised:-
'Tweed Tourist 8/6, 10/6, 12/6, 15/-'
Bowlers: 'Satin Lined 48/-, 54/-, 57/-
Brown 51/-, 62/-, 72/-
Youth's Hard 21/9, 24/9, 28/6 to 42/-
Men's Fur Lined 36/6, 42/-, 48/-, 56/-
Men's Paget 12/11, 16/11, 18/11, 24/-'
'Clerical 42/-, 51/-, 60/-, 72/-'
At fifty-six shillings (two pounds, sixteen shillings) for the largest size of the Men's Fur Lined in, say, 1900 – that's £307.69 in today's money – these hats were quite pricey. The cheapest of the same model is thirty-six shillings and sixpence (one pound, sixteen shillings and sixpence) – today that would be £200.55. However, at the end of the Victorian era it would be almost unthinkable to go out and about bare-headed. Unsuprisingly the quality of one's apparel said a great deal about one's wealth and social standing.

Cook, Son & Co. catalogue poster is almost certainly published by a hatter supplying wares to shops such as this. It is thought that hat-making and repairs may have been carried out on the premises, too.



Researching the trade directories:-


No entries found for 'Milliners', nor 'Hatters' for Ann Street (White's Directory of Suffolk, 1855).
45 Ann Street: Moffat, Andrew, travelling draper ('drpr') –
next entry is -Cumberland Street- which suggests that no. 45 predates the terrace of houses down to the corner pub (Stevens Directory, 1871-2).
45 Thompson, S. (Stevens Directory, 1881).
45 vacant (Stevens Directory, 1885).
45 vacant (Stevens Directory, 1894).

[Note - Miss E. Cook, milliner is at 13 Orford Street.]


45 Oliver, John draper (Kelly's Directory, 1906).
45 ditto (Kelly's Directory, 1909).
45 King, John
Oliver, John draper (Kelly's Directory, 1910).
45 King, John (Kelly's Directory, 1912).
45 ditto (Kelly's Directory, 1913).
45 ditto (Kelly's Directory, 1914).
45 ditto (Kelly's Directory, 1915).

The entries above suggest that the address was a residence, rather than a shop+residence. The current owner: "I believe there was a teacher and his family of wife, six children and a maid living here in approx 1870s so it's unlikely that the hat shop was operational at that time. We noted that there was a travelling draper living here in the early part of the 20th century."





Home

Please email any comments and contributions by clicking here.
©2004 Copyright throughout the Ipswich Historic Lettering site: Borin Van Loon
No reproduction of text or images without express written permission