Elm Street


4-6 Elm Street. This stuccoed, cream-white painted building glows in the winter sunshine. It is Listed Grade II. Interestingly, it began life as two separate houses.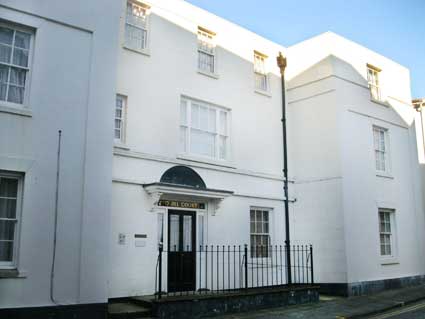 2013 images


'QUILL COURT'

is picked out in gold with mirror-image inkpots with (tiny-so they fit) quill pens. Elm Street is one of those thoroughfares with a lot of professional 'practices' living on it (accountants, lawyers etc.). One assumes that Quill Court was chosen as a name because of the proximity of lawyers and law courts, notably at the far end until the new law courts were built in the 21st century.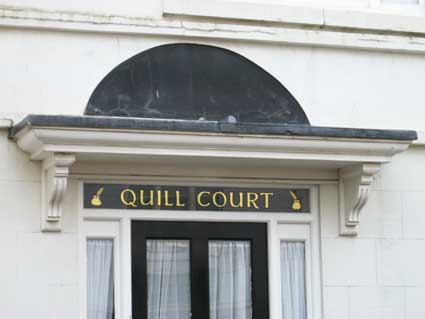 The listing text:
"An early C19 building originally 2 houses converted into an office block. Wings project to the east at the north and south ends. In circa 1920 the parapet was added and the front was stuccoed (probably originally it had a stuccoed front as other buildings in the street). In 1965 a single storey block was built between the wings, in Georgian style. 3 storeys. 1:3:1 window range of double-hung sashes with glazing bars (mostly original). The ground and first storey windows in the wings are set in slightly recessed panels. Rear modern extension is not of special interest."

See also our Lady Lane page (for St Mary-At-Elms) and our More almhouses page for Mrs Smith's Almshouses, both in Elm Street. The 'Ipswich Board School' lettering can be found on our More Schools page.
Lettering examples in Museum Street are not far away. The junction of Elm Street, Arcade Street, Lion Street and King Street is nearby .
Other dated rainwater hoppers can be seen in The Walk (shown on our Plaques page) and at Gatacre Road School.


Please email any comments and contributions by clicking here.
©2004 Copyright throughout the Ipswich Historic Lettering site: Borin Van Loon
No reproduction of text or images without express written permission