Swimming is Britain's most popular participation sport. Nearly one in five people swim at least once a month, with around 80 million visits to swimming pools recorded every year. But what of the pools themselves? Surprisingly, although public baths have formed a vital part of community life since an 1846 Act of Parliament, their story has never been told in popular form. See our
Reading List
for details of the book 'Great lengths' which documents it.
The book traces the social and architectural development of indoor public baths and pools, from the earliest subscription baths of the Georgian period to the current generation of leisure pools with their flumes and potted palms.
The golden era of pool design fell between the 1880s and 1914, when over 600 baths were constructed, many of them rich in architectural detail and technological innovation. In Manchester, the magnificent Victoria Baths, completed in 1906 - and in 2003 the winner of BBC Television's popular Restoration series - set new standards for opulence, with three separate First and Second class pools for men and women, Turkish Baths, gorgeous tiling and extensive laundry facilities. Birmingham's Moseley Road Baths (1907), London's Haggerston Baths (1906) and similar establishments in Hull, Nottingham and Glasgow equally reflected the civic pride of their creators, as greater awareness of hygiene and physical fitness brought safe swimming and recreation to the urban masses.
A further burst of activity between the wars saw a new generation of concrete and glass Art Deco baths built in London, Birmingham and Liverpool, as well as Northampton, Wakefield, Rochdale, Crewe and Blackpool. In the 1960s these were joined by classic Modern designs in Coventry, Crystal Palace and Edinburgh.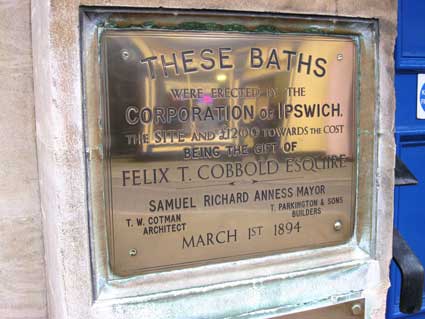 'THESE BATHS
WERE ERECTED BY THE
CORPORATION OF IPSWICH.
THE SITE AND £1200 TOWARDS THE COST
BEING THE GIFT OF
FELIX T. COBBOLD ESQUIRE
-
SAMUEL RICHARD ANNESS MAYOR
T.W. COTMAN
ARCHITECT
T. PARKINGTON & SONS
BUILDERS
MARCH 1ST 1894'
Felix Thornley Cobbold is one of the great names in the town. Fore Street Baths is one of several principle features of Ipswich for which he was responsible, not to mention Christchurch Mansion and Park. He became an extremely wealthy man, and in common with his forbears used his wealth generously to benefit the community. He donated to Ipswich, land for St Clement's Baths (Fore Street Baths); a clock and carillon for the nearby
St Clement Church
and 45 acres of Gippeswyk Park plus cash for fencing. In 1894 he purchased
Christchurch Mansion
from a syndicate which proposed to demolish it for redevelopment, and presented it to the Borough of Ipswich to establish a Museum and Art Gallery as long as the Borough purchased the surrounding park. In his will left a further £20,000 in Ipswich Stock, the interest of £600 per year accruing therefrom to be used for the purchase of artworks. His patronage of agriculture is continued by the Felix Thornley Cobbold Agricultural Trust through the award of grants for the betterment of farming practice in Suffolk and the adjoining counties. (See
Links
for the Cobbold Family History Trust.) We believe that he may be commemorated by
'Thornley Place'
facing onto Chevallier Street.
See our
Lost trade signs of Ipswich
page for the Grimwade & Ridley building which preceded Fore Street Baths.
From here it's a short walk to St Clement Church,
Martin & Newby
, the Meremayd, 'Palmer's Door Mats &c.' and The Unicorn.