Ipswich High School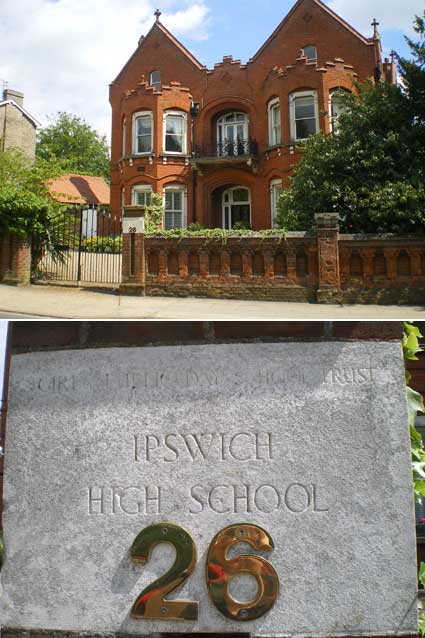 2010 images

The band of land running up Westerfield Road opposite the upper end of Christchurch Park as far as Constable Road was for many years a female only public school, accomodated in large 'houses', some rather impressive (like so many around the park area). The school stood in some kind of balance with the Ipswich School (for male students, now co-educational) which still stands on the opposite side of the park on Henley Road and Ivry Street. In 1992 the Ipswich High School site was sold for development as housing and the school moved to the Shotley peninsular.

The remnant which marks the site is a white block of stone built into the brick gatepost of No. 26 Westerfield Road:


'GIRLS PUBLIC DAY SCHOOL TRUST
IPSWICH
HIGH SCHOOL'


Photographed in May 2010, the shadow of the capstone on our image, not to mention the unexpectedly high position of the upper lettering, make it difficult to read. Now dominated by the brass '26' below, this discreet piece of lettering is easily missed in front of a fine, redbrick, gabled, double-bayed house.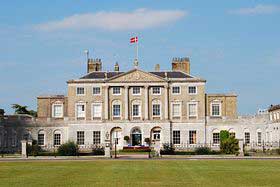 Woolverstone Hall is a large country house on the banks of the River Orwell and built in 1776 by William Berners. Since 1992 it has been the home of Ipswich High School.

For more school lettering try: Ipswich Ragged Schools (there's a contrast...), Smart Street School and More Schools.





Home

Please email any comments and contributions by clicking here.

Search Ipswich Historic Lettering


©2004 Copyright throughout the Ipswich Historic Lettering site: Borin Van Loon
No reproduction of text or images without express written permission