Knodishall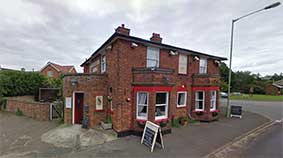 The Butchers Arms in Knodishall (Coldfair Green) – it was ignominiously called The Frog & Toad for a few years. Most of the village is now in Coldfair Green, with only a few houses remaining in the original village by the parish church of St Lawrence.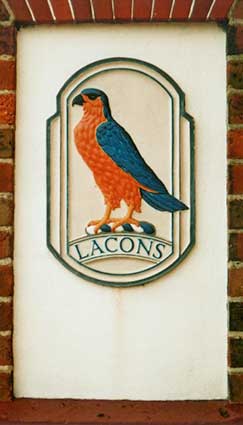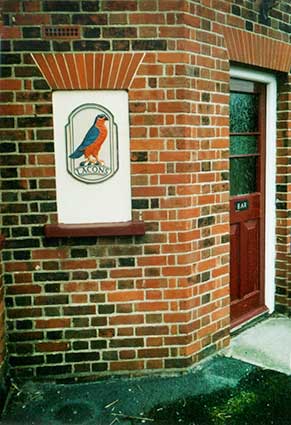 2004 images
Fortunately The Butchers Arms has reverted to its original name and boasts the brightly coloured ceramic eagle, set in relief and the orginal brewery owners: 'LACONS'. Above: the two versions of the Lacons eagle, positioned to face the entrance doors, that shown on the right is the angled door on the 'Leiston side'.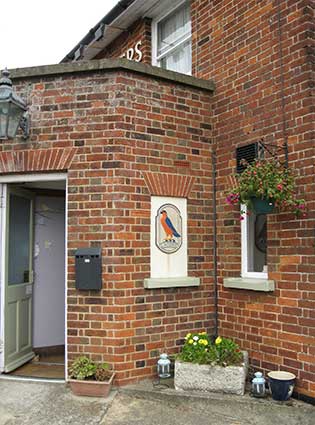 2016 images


And here is the door on the 'Snape side'.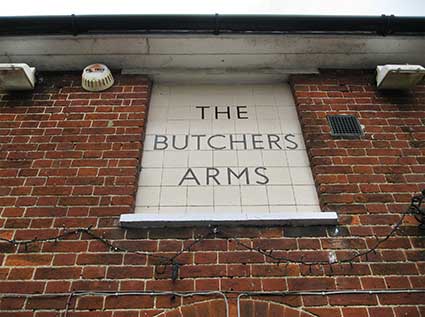 The central blind window is filled with ceramic pale grey tiles bearing the (possessive apostrophe-free) legend:


'THE
BUTCHERS
ARMS'


and whether the smart capitals, resembling Gill Sans, are fired onto the tiles before assembly, or painted onto the surface afterwards is a moot point.

Ceramic Lacons signs can also be seen at Westleton on The Crown. See the Bungay page for more on this long-defunct Great Yarmouth brewery. Another ceramic pub sign was for many years displayed on The Blooming Fuchsia in Ipswich. See Links for the Brewery History Society website and archive of signs.




Home
Return to Historic Lettering from outside Ipswich
Please email any comments and contributions by clicking here.
©2004 Copyright throughout the Ipswich Historic Lettering website: Borin Van Loon
No reproduction of text or images without express written permission