Bungay
Bungay on the Suffolk side of the Waveney valley is proud of its market-town charm as well as having at least two fine lettering specimens.

Upper Olland Street
Below we see the end wall of a public house which preserves name, date and brewery:


'1923
THE SHIP INN
LACONS FINE ALES'


in a shaped border; clearly a cared-for sign. The only part which now applies is the date of erection. The mixing of serif caps for the pub name and sans-serif caps for the date and brewery is rather effective.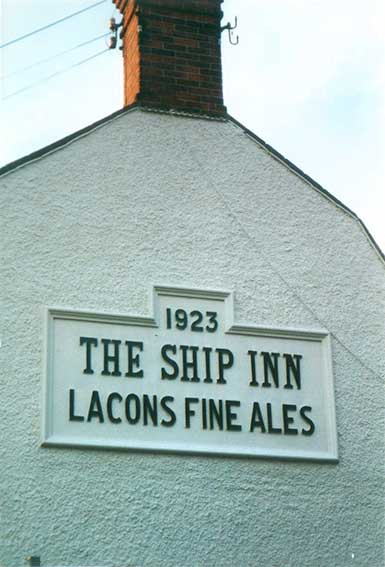 2001 images
Lacons Falcon Brewery in Great Yarmouth, Norfolk closed its doors in 1968 after a take-over by Whitbread (themselves no longer brewing these days) and the main buildings were soon demolised (the Whitbread depot on North Quay). Lacons was a name once associated with a long tradition of beer brewing in Norfolk. Drinkers could order a pint of Lacons mild and pale ale or Oatmeal stout in a pub around the corner or in a city centre alehouse as far away as London and Newcastle. Traces of the Lacons name and falcon motif can sometimes be found on the walls of old pubs once owned by them, for example on The Butchers Arms, Knodishall. Our Links page give the website of the Tiles and Architectural Ceramics Society, for more examples. See also the Links list for the Brewery History Society website and archive of signs. The Blooming Fuschia public house in Ipswich is now demolished, but its famous ceramic sign has been preserved.

Earsham Street
Earsham Street in Bungay could be called rather twee by the over-critical. Here are delicatessens, bistros, a real live Post Office (see Cornhill in Ipswich), ethnic crafts shops and bijou residences.



'LONDON & PROVINCIAL BANK LIMTD'


adorns a tiny, ornate former bank branch, now a residence. What a strange truncation of the word 'Limited' with its two stops beneath the 'T' and the 'D'– the sign-maker was probably trying to fill up the third panel.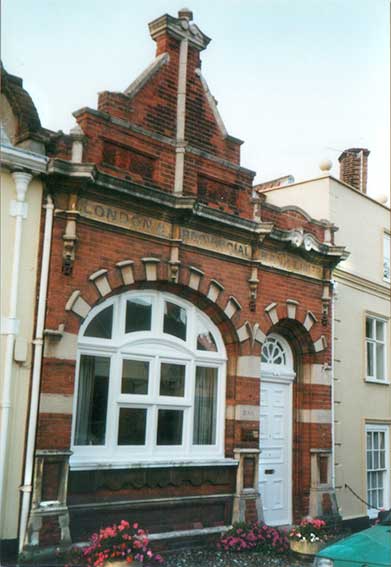 See Beccles, Ipswich Cornhill, Lowestoft and Felixstowe for more bank lettering examples (none as distinguished as this) and Halesworth (for a bank that nearly is).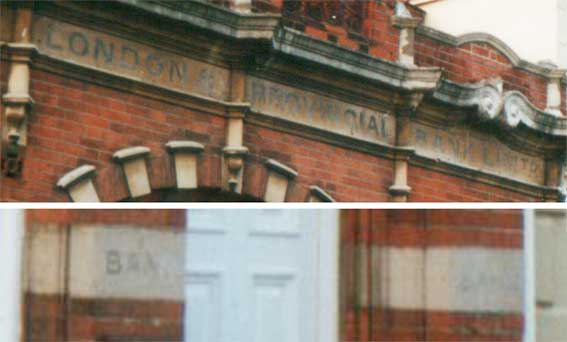 The word 'BANK', very degraded, appears on the stone pads either side of the entrance.

[

UPDATE

9.11.2017: After sixteen years (two years before this website was launched) we cast our mind back to pleasant Bungay, prompted by a tweet – something that definitely didn't exist in those days – from Historic England. Incidentally, HE is the public body which looks after England's historic environment, formerly English Heritage, when in 2015 the government moved the protection of the National Heritage Collection into the voluntary sector as the 'English Heritage Trust'.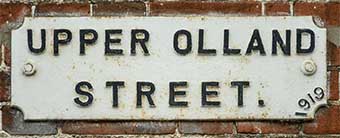 Historic England


The photograph of one of the street nameplates in Bungay drew our attention to the website 'Hidden Commemoration (Waveney valley) 2014-2018' (see Links) and the section

Bungay's Peace Year Street Signs

. Here Michael Atterwill presents a fine gallery of the cartouche-shaped cast namplates, most bearing the date '1919' curving round the lower right corner quadrant.
"If you've been to Bungay it's possible you may have noticed these. It's equally possible you may have not.
It was decided that Bungay would commemorate the end of the Great War in 1919 by installing specially commissioned street signs around the centre of the town. The signs were cast by Rumsby's Ironworks and Foundry just off Earsham Street, now no more... All the plates were the same shape, but for some reason some were more decorated than others. The winner here is Outney Street, leaving no doubt who was the boss:


'OUTNEY ROAD
A.W. COCKS TOWN REEVE' "


In addition to the '1919', the words 'PEACE YEAR' in an oval shape appear in the lower portion. That's quite a crammed street nameplate.]





Home
Return to Historic Lettering from outside Ipswich
Please email any comments and contributions by clicking here.


Search Ipswich Historic Lettering

©2004

Copyright throughout the Ipswich Historic Lettering website: Borin Van Loon No reproduction of text or images without express written permission