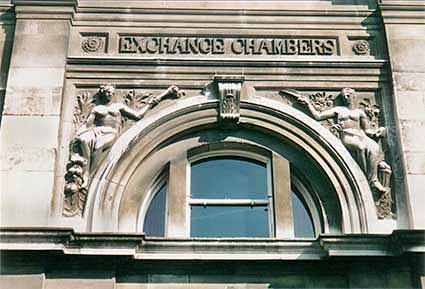 2004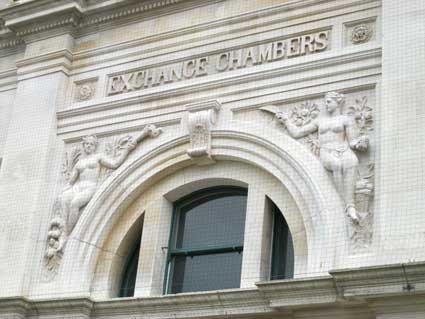 2012
Above left: the rather grimy state in June 2004. Above right: here it is after extensive cleaning and renovation of the exterior in 2012. The architect was Brightwen Binyon, whose name crops up on the
Nethaniah almshouses
on Luther Road, and the builders were Grimwood & Sons of Sudbury. The sculptor is uncredited. The building was opened in 1882 and is Listed Grade II. We don't suppose many people notice it these days. It's not even above the current main entrance to the Grand Hall and Film Theatre.
The Public sculpture of Norfolk & Suffolk (see
Links
) tells us:
"Two decorative stone panels frame the semi-circular window with Ceres to left with torch and cornucopia and Pomona with pruning knife and apples to right. The door, to separate offices, is to the left of the main entrance. Ceres was the Roman goddess of crops and Pomona of fruit. Both reflect the building's twin functions as a corn exchange and fruit and vegetable market, transferred here from Falcon Street in August 1888.
In Mediaeval times the Cornhill became the centre of trade and local government in Ipswich. In 1810 the first Corn Exchange was erected by the Corporation at a cost of £33,000. During the 1860s it was becoming crowded on market days and the Council began to consider various alternatives and in 1879 acquired the King Street site at the rear of the Town Hall for £12,000. They agreed on the design (one of 15) entered by Brightwen Binyon under the nom-de-plume "North Light". The Corn Exchange was remodeled as a centre for meetings and entertainment in the 1970s, re-opening in 1975."
The fruit and vegetable market remained until 1970 and the last Corn Market was held here on 29 June 1972.
Within The Great Hall
Meanwhile, inside the Corn Exchange at the top of the stairs into the Great Hall, we find this half-round relief which echoes the 'Exchange Chambers' feature above: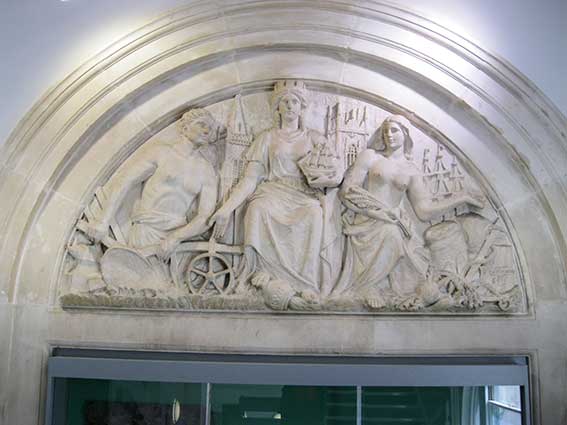 The central figure (of Britannia?) holds a ship in full sail, has a castle for a crown and her right foot rests on an upturned urn carved with the name 'ORWELL' from which the waters of the river flow. She is flanked by a male representing agricultural work and a female (Ceres) representing the harvest. In the background the towers of
St Mary-le-Tower Church
and
St Lawrence Church
(you can see the intials 'S' and 'L'), also the masts and rigging of a ship.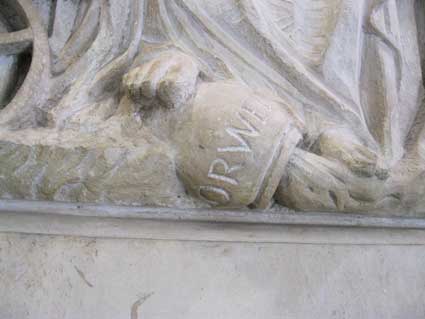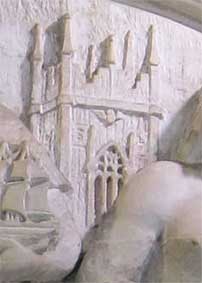 In the glass-fronted cabinet below this relief sculpture is a chunkily baroque carving of the Borough crest in wood with gold highlights: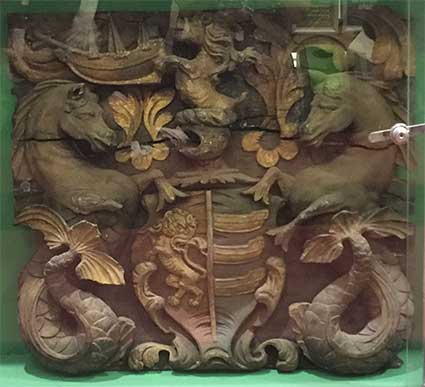 2017 image
See our page on the
Borough Coat of Arms
for further examples.
Delving even deeper into the main hall, many people miss the monograms in the gold-painted, pierced spandrels: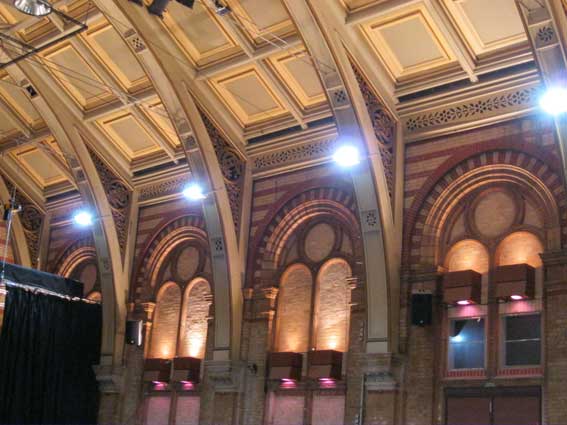 'ICE' [Ipswich Corn Exchange']
'1882' [dated of the Great Hall's opening]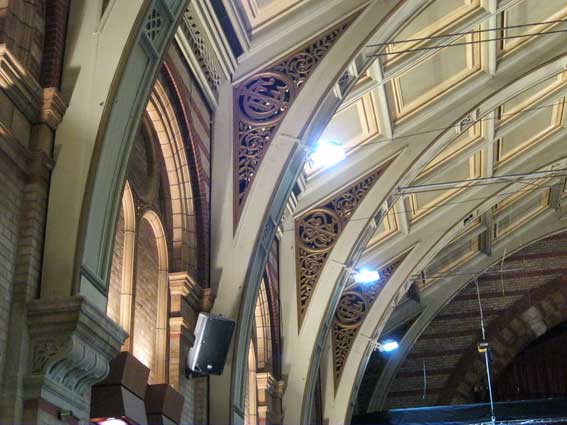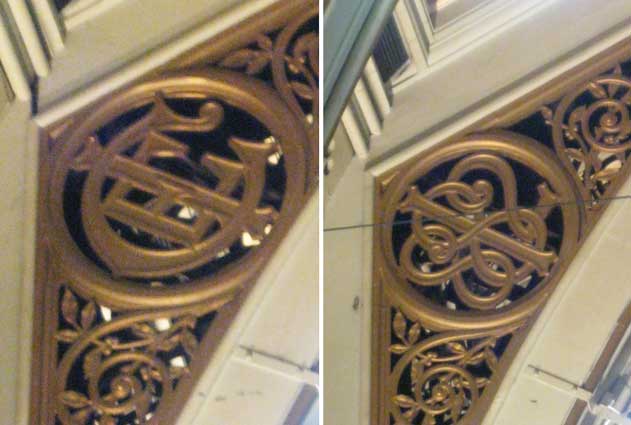 Below: the Corn Exchange in 1934 – a sea of trilby hats.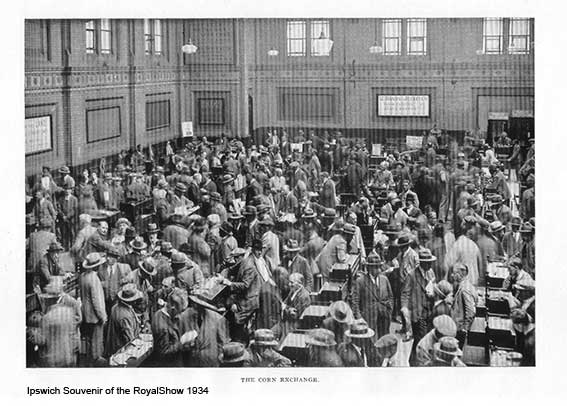 See also our
Lettered castings
index page.
See also our
King Street
page for historical maps of this vicinity.
See our
Cornhill 1
page for more on this area.
Other related pages:
Westgate Street
Tavern Street
King Street/Lion Street/Arcade Street
Princes Street
Giles sculpture