County Hall / County & Borough Gaols

The white brick and stone castellated building which dominates the town end of St Helens Street is called today 'County Hall'. It contains the law court which once granted the decree nisi in the divorce of the notorious Mrs Wallace Simpson from her first husband, freeing her to marry the future king, after his succession to and abdication from the throne as Edward VIII in 1936. The Suffolk link continued when Mrs Simpson laid low in a house on Undercliff Road, Felixstowe to avoid the media and public outcry surrounding her affair with the future Duke of Windsor, both of them destined for exile in Paris until their deaths. However, the Ipswich Gaols (see below) which stood behind County Hall have a longer history.

East Suffolk County Council, St Andrew House, St Helens Street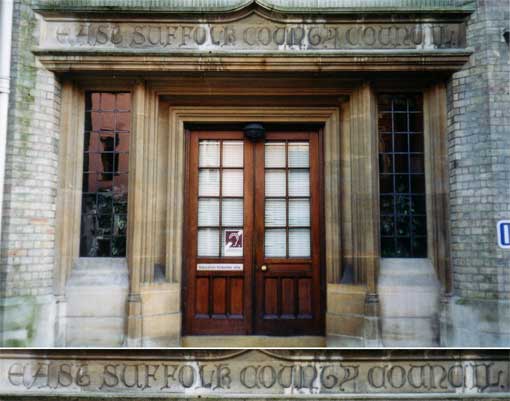 2004 image
St Andrew House, an unattractive 'add-on' block which runs behind the terrace of small shops in St Helens Street, with an entrance onto Grimwade Street has an entrance in keeping with its surroundings to the left of the archway leading into the County hall car park. Above the double doors is carved:


'EAST SUFFOLK COUNTY COUNCIL'


The old split in administrative areas of East and West Suffolk is commemorated here; they were amalgamated in 1974 to form one large shire county. Ipswich Corporation (County Borough) lost many of its responsibilities as a result.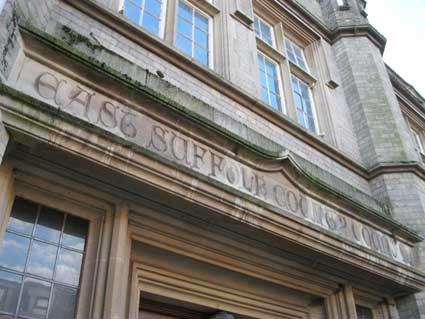 2014 image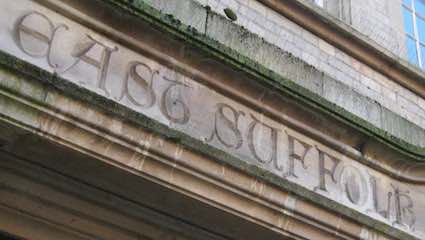 After years of closure, vandalism and neglect of County Hall, this forgotten entrance suffers only from moss and algae in 2014. By 2015 St Andrew House was converted to residential use and renamed Anton House.
[

UPDATE

21.10.2016: "I am a member of the Milestone Society with a particular interest in boundary markers. I know that your group mainly covers Ipswich (your website is fantastic and I can't wait to study your boundary marker page and then visit the town) but I wonder if you might know of the whereabouts of an East Suffolk boundary sign image please? This has become a frustrating quest for me although my enquiries did run a West Suffolk sign to earth. It came from Mildenhall last Friday. The owner's father worked for Suffolk Highways in 1974 and saved it from a skip. Mike Bardell"]
In January 2017, we discovered a set of 'East Suffolk County Council' signs on a bridge on the edge of Needham Market. Below are further examples provided by Mike Bardell (to whom our thanks) from Southwold and Mendham, all dated within a twelve year time bracket (1914, 1922, 1926).



Below: Mike's 'West Suffolk' sign.


Photographs courtesy Mike Bardell





Rope Walk


Before moving away from this end of County Hall, it's worth a look round the corner in Grimwade Street and Rope Walk. This area was developed as a sort of County Council campus with, in Rope Walk, St Edmund House (now residential), the NALGO Staff Club, St Paul House (Social Services HQ, now demolished) etc. In Grimwade Street is St Peter House, once a Labour Exchange, now the Register Office. Before the Staff Club was demolished in 2016/17, we took these photographs of the frontage showing the East Suffolk County Council coat of arms. East Suffolk, along with West Suffolk, was created in 1888 as an administrative county of England. The administrative county was based on the eastern quarter sessions division of Suffolk. East Suffolk County Council's headquarters were at East Suffolk County Hall in Ipswich, which was a county borough in its own right. In 1974, most of the county reunified with West Suffolk and the County Borough of Ipswich to form the non-metropolitan county of Suffolk. A small part of East Suffolk moved into Norfolk during the 1974 reorganisation.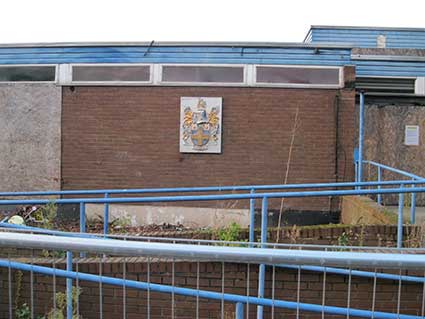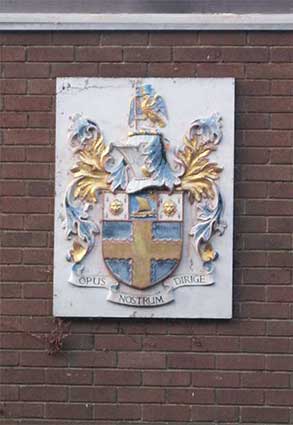 2016 images
Official blazon


Arms

: Sable a Cross engrailed Or on a Chief Ermine between two Leopard's Faces of the second a pale Azure thereon upon Waves of the Sea proper an ancient Galley to the sinister sail set and issuant from the sinister chief the Sun in Splendour also of the second.


Crest

: On a Wreath of the Colours upon a Rock proper a Falcon belled wings expanded Or the inside of the wings Azure supporting with the dexter claw a Staff erect also proper flying therefrom a Banner also Azure charged with a Garb Gold.


Motto

: 'OPUS NOSTRUM DIRIGE' - Direct our work


Origin/meaning


The arms were officially granted on December 14, 1935.
The cross is from the arms of the Uffords, ancient Earls of Suffolk, and the leopards' faces are from the arms of the de la Pole Earls and Dukes of Suffolk. The galley represents a Viking ship in token that the County is peopled largely by descendants of the Norsemen, and the rising sun denotes its easterly situation. The crest is a differenced form of the badge of Charles Brandon, Duke of Suffolk.
The motto is a contraction of the Vulgate text, "Opus manuum nostrarum dirige".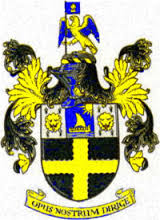 East Suffolk County Council coat of arms


See also our page on Ropewalks for an ancient industry in this part of Ipswich.



Grimwade Street


Many thanks to Tony Marsden for the photographs of St Peter House (and for spotting the lettering). The terra cotta plaque is set so low down to the left of the door onto Rope Walk, in the position normally occupied by a foundation stone, so is easily missed:


'GVR
1934'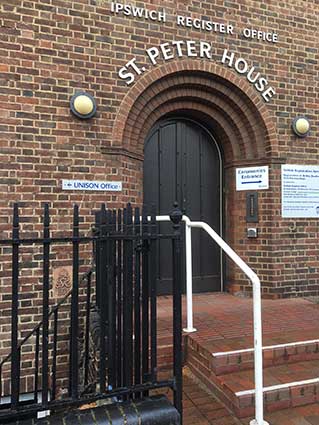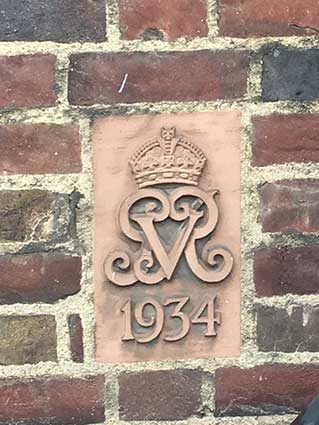 Courtesy Tony Marsden


George V (George Frederick Ernest Albert, 1865-1936) was King of the United Kingdom and the British Dominions, and Emperor of India, from 6 May 1910 until his death in 1936. In November 1891, George's elder brother Albert Victor had become engaged to his second cousin once removed, Princess Victoria Mary of Teck (known within the family as "May", nicknamed after her birth month). But Albert Victor died of pneumonia in 1892, leaving George second in line to the throne, and likely to succeed after his father, King Edward VII. Queen Victoria still regarded Princess May as a suitable match for her grandson, and George and May grew close during their shared period of mourning. A year after Albert Victor's death, George proposed to May and was accepted. They married on 6 July 1893 and the monogram may relate to their reign 'George, Victoria, Rex/Regina' which continued until two years after this building was dated. However, another explanation after all that complex royal succession research, is that it is

G

eorge

V

R

ex.

County Hall, St Helens Street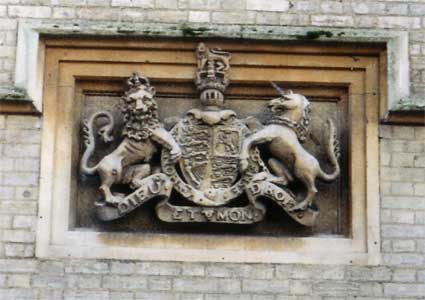 2004 images
Further down the street towards town is a crest in deep relief with lion and unicorn rampant; 'Dieu Et Mon Droit' ('God and my right') is carved on the lower scroll and, we think, 'Honi Soit Qui Mal Y Pense' ('Evil be to him who evil thinks') on the circular band surrounding the shield. This probably harks back to the building's legal past. Of course, the listed part of the building with its castellations and towers fronting onto St Helens Street is known as the home of Suffolk County Council. That is, until March 2004 (when these photographs were taken); starting from that date, most of the S.C.C. departmental headquarters were moved to Endeavour House in a large glass building between the football ground and the River Gipping. Built for the failing power company TXU-Energi, Endeavour House was snapped up by the County and a period of fitting out and logistical planning resulted in the evacuation of County Hall. Placed on the market, the huge fortress of municipal power once bore a small estate agent's 'For sale' board on the corner of Bond Street.

In 2012 it remains a sad sight, vandalised and redundant. From the BBC Suffolk website: 'A former jail in Ipswich has been put on the Victorian Society's list of 10 most endangered buildings. The organisation said County Hall had fallen into disrepair after being sold by Suffolk County Council in 2004. It said the Grade II listed building was "designed to instil awe" but now "inspires pity and anger" after being over-run by "drug users and squatters".'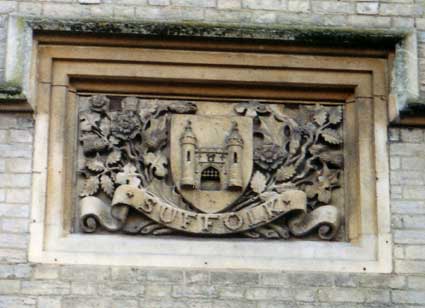 This attractive panel further down the facade is close to and opposite The County Hotel, extensively refurbished in March 2004 (see below). That landmark public house also carries a castle motif in the centre of its front gable. The example above proudly proclaims:


'SUFFOLK'


on its scroll and has the air of fairytale about the turrets and portcullis. Stone roses, tendrils and foliage surround the central shield.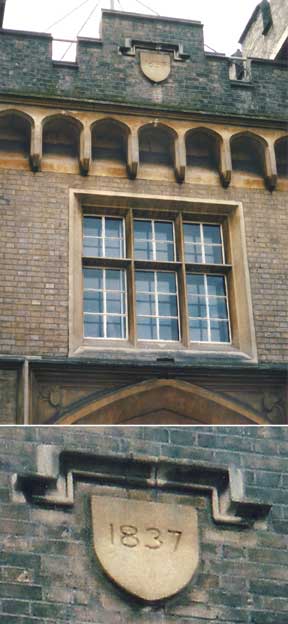 High up near the faux battlements of County Hall is a simple shield with it own sheltering stone moulding. It bears the date of '1837': probably a bit earlier than many of us would have guessed. The inset enlargement makes this clearer, but it's rather an insignificant announcement of the massive structure's date of building.

And just for completeness: the remaining decoration, here surrounding the former St Helens Street pedestrian entrance to County Hall. In the centre, another small castle. We have seen a cast iron bridge plate for 'E.S.C.C.' dated 1922 and it shows a castle entrance very similar to that shown below with two castellated towers, two windows and a central entrance with portcullis. This suggests that the whole of County Hall was really the home of East Suffolk County Council and became the main offices and chamber of Suffolk County Council once East Suffolk, West Suffolk and Ipswich County Borough were amalgamted in 1974.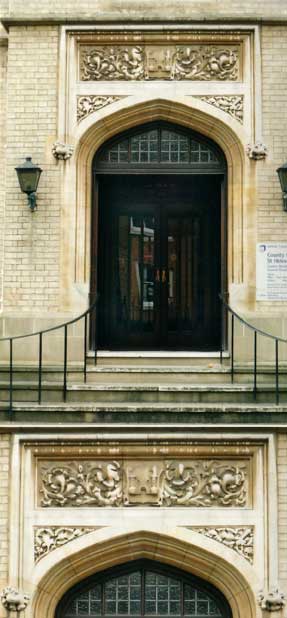 See our page on Public clocks in Ipswich for a 2018 view of the County Hall clock and tower.



County and Borough Gaols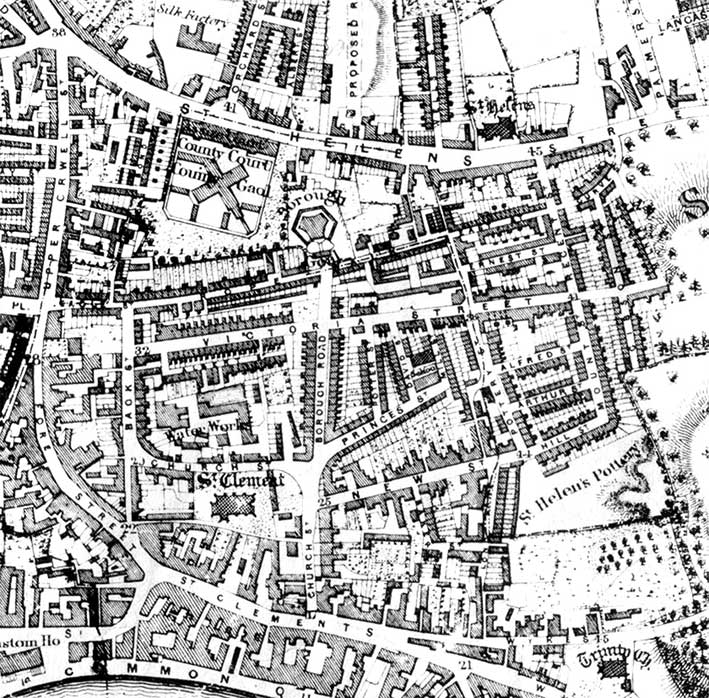 1867 map


Although the legends on the Edward White map of 1867 are rather cluttered and overprinted, we can decipher:-
1. On the row of buildings fronting St Helens Street: 'Assize Court'; this would be the structures we know today as 'County Hall' (dated 1837, thirty years earlier) sitting opposite the half-circle junction at Orchard Street, still to be seen outside The County Hotel. Just north-west of this is a 'Silk Factory', the site of today's modern development, Silk Street.
2. Immediately south of this, the X-shaped blocks have 'County Court' above and 'County Gaol' across the centre. This group of buildings appears to be walled with 45 degree-angled corners to the south.
3. East of the County Gaol is the 'Borough Gaol' boasting another unusually-shaped set of buildings including most of a hexagon; they appear to front Rope Walk with the jaws of Borough Road, later Grimwade Street, opposite.
4. North of this is labelled 'Proposed Road' which would become today's Argyle Street with its Ipswich Board School and 'Harry Seaman' sign. This would eventually run across St Helens Street and cut through the middle of the Borough Gaol site to link with Borough Road, forming today's Grimwade Street. To the east is Wells Street (the site today of Wells Court flats) which runs parallel with St Helens Church Lane, the narrow line of which, running north past the church to Woodbridge Road, is unchanged today.
5. The density of housing in 'The Potteries' is seen clearly with many roads unrecognisable today:-
Rope Walk continues into East Street and Curve Street (all now called Rope Walk) to join St Helens Street;
Dove Street doesn't appear at all, apart from a narrow alley which runs down into Pottery Street, leading in turn to "St Helen's Pottery";
Ernest Street, Alfred Street, Arthur Street and Hill Street are roughly parallel and run between Pottery Street and Mount Street / Regent Street (a small part is still visible today) with "St Helen's Pottery" clearly labelled with the clay hills edging the grounds of Upper Hill House (today's Alexandra Park) being dug into to produce tile and brick;
Milner Street is still there, dropping south from Curve Street, but Gibson Street has gone;
The long east-west Victoria Street, quite a thoroughfare by the look of things, has gone;
South of Victoria Street is, inevitably, the smaller Albert Street, Potter Street, David Street, Mills Street, Princes Street, New Street and Baker Street (all now gone);
Just readable is 'Long Lane' part of which today runs from the bottom of 'Wykes' (Wykes Ufford Hamlet, today's Back Hamlet) into the university site – the 'Long Street building' still stands behind the Congregational Church.
The east-west section of today's Fore Street (from about The Lord Nelson to Duke Street) is labelled 'St Clements' with Church Street running north on the line of today's Grimwade Street with the Captain's Houses, but curving round the churchyard to the west to turn north again and become Back Street. Today this is Star Lane and Waterworks Street respectively, indeed the 'Water Works' are clearly labelled with the reservoir visible above the legend.

See The Potteries page for a 1902 map of the same area extending west to Cox Lane.
See our Courts & yards page for more information.

K6 telephone kiosk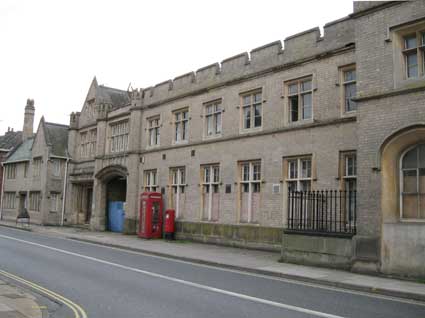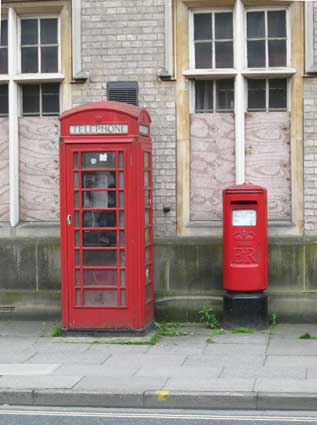 The classic pairing of a (ER II, modern) pillar box and a K6 telephone kiosk outside the County Hall entrance archway. As far as we know, this is the only K6 with a regularly working telephone in the town. See one from the past ouside The Greyhound pub on our Street furniture page (with a link to photographs of its removal); also a vandalised K6 next to Stoke bridge which sometimes has a working telephone, but no door.

The County Hotel
On the opposite side of St Helens Street The County Hotel underwent thorough renovation in May, 2004 at the hands of Suffolk brewers, Adnams (the castle motif repeated near the apex of the palladian-style frontage). This castle was resplendantly picked out in gold and the walls painted mouth-wateringly mid-blue with white details on the so-called 'Gastrobar' (ahem!). Again, after closures and reopenings, this building was boarded up in 2012.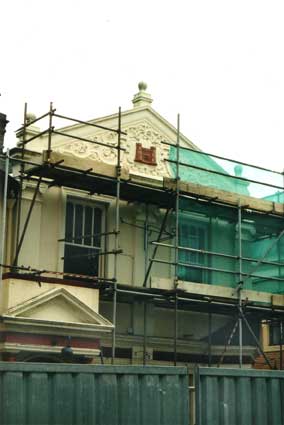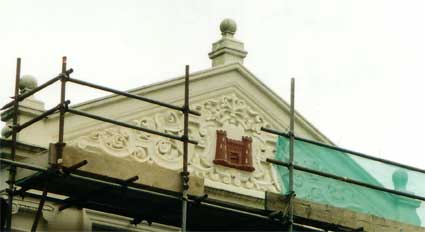 2004 images



[

UPDATE

17 October 2012. The Victorian Society website (see Links) featured this complex of buildings under the heading

A town's shame

:-
"Built in 1836-37 by W McIntosh Brooks, Ipswich's Grade II County Hall was once the area's gaol and law court. Following extensions for council offices in 1906 by JS Corder [

see also

his work at Scarborrow] and Henry Miller, it then became the headquarters of East Suffolk County Council.
A building initially designed to instil awe, then inspire with civic pride, it once boasted fine wood panelling and stained glass windows. It now inspires only pity and anger.
For years, following its sale to a private owner, it has been the haunt of vandals, thieves, drug-users and squatters. Copper and lead have been stripped, letting water flood in; much of the panelling has been vandalised. The glass on the clock tower has been kicked out leaving the clock mechanism to rust in the rain.
What went wrong?
'This is a case of a sloppily worded agreement that left the owner free to neglect a historic building,' said Chris Costelloe, the Society's Director. 'County Hall was sold to a private owner. In return for permission to build flats on adjacent land, the council was supposed to get the owner to develop and protect the historic building. This didn't happen. Security measures have clearly been inadequate.'
Chris adds, 'We see this situation too often; it's especially reprehensible when it occurs to a fine civic building in one of our major cities.'
Here is a case for far-reaching, draconian, and most of all, urgent action by Ipswich Council. Residents, taxpayers and elected representatives should demand that such action is taken now. The council should serve an urgent works notice to ensure the building is made secure and emergency repairs are done."]

[

UPDATE

March 2013: What a depressing part of the town this has become. The County Hotel struggles on with intermittent openings. County Hall may see a glimmering of a future use for the complex if the Ipswich Building Preservation Trust can take it on as their largest ever project. Add in the long-blighted Upper Orwell Street with its gaps, decaying empty shops and burn-out St Michael's Church (March 2011) and the nearby Carr Street Co-op complex and one wonders how, by the early twenty-first century, we ended up here...]
[

UPDATE

20.5.2014: "There used to be some nice modern aluminium lettering on both County Hall (St Helen's Court) and St Edmund House including a very fine version of the County Council's coat of arms. I know because I had them made and, when the council moved, had them taken down! I hope they are in store somewhere. I've got some photo somewhere I'm sure and will try to look them out. They were made by Bill* Clarke (the wife of Geoffrey Clarke the famous sculptor who's work still hangs high up at the corner of St Matt's St and Berners St). ... When the County Library (as it then was) in Northgate St was refurbished in the 90s I had her make cast lettering signs for the entrances - as required by the planning authorities. Someone took them down and (perhaps "illegally") replaced them with inferior quality signs. – Rev'd Alan Forsdike" Our thanks to Alan.] *N.B. Geoffrey married Ethelwynne Tyrer, known as Bill.

County Hall and St Helens Street memories
The following recollections are taken from the 'Kindred Spirits' column, in the Ipswich

Evening Star

, 1 September 2009 [http://www.ipswichstar.co.uk/news/grim_history_of_town_landmark_1_174934]
"Originally built as the county jail in the 1780s, it [County Hall] was never intended to be a thing of beauty. At one time it contained a treadmill, as a means of punishing [through long sessions of 'hard labour'] rather than providing exercise for the prisoners and when needed, a set of gallows was erected behind its castellated walls. As recently as 1926, well within my parents' lifetime, men were being hanged within its walls for committing murder and one could still detect a slightly dark and foreboding atmosphere around the place.

Overlooking County Hall was the County Hotel. Accommodation here would have been in great demand during local murder trials and also of course, during the famous divorce proceedings of Mrs Wallis Simpson, then a Felixstowe resident, and later the wife of King Edward VIII following his abdication. Between Grimwade Street and County Hall was another row of shops, including a greengrocer's and florist's, which had flowers in buckets standing outside on a low green wooden shelf; and a furniture shop displaying highly-polished antique tables and ornately upholstered chairs. There was also St Helen's post office, which become another victim of the rush to kill off local post offices. Opposite was a very large house, possibly a doctor's, which stood in its own grounds well back from the road and the May Bush public house. The latter closed in the mid 1960s and was taken over as a social club by the Royal Air Force Association."

Opposite the Gaumont is a sandwich bar. It was empty and in poor condition some years ago, but was refurbished and the original beams exposed. The date, 1636, had been carved on one of the upper beams and the numerals would appear to be original. A little bay protrudes from the first floor and above that is a tiny dormer window. We may be able to describe the changes to St Helen's Street during the last 50, 100 or even 150 years with some degree of accuracy, but anyone looking through that window 373 years ago would have encountered a very different scene. What they might see in 373 years time?"

Shops east of County Hall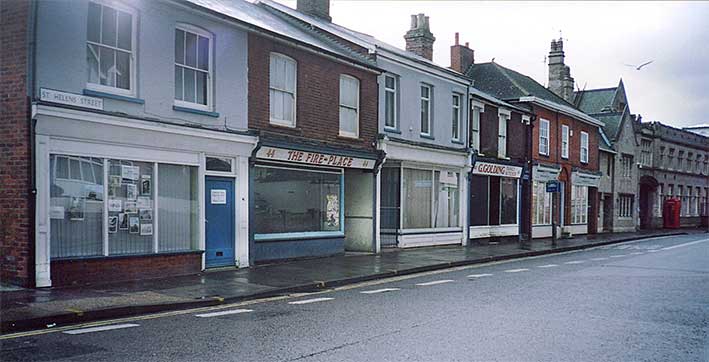 Courtesy John Bulow-Osborne


[

UPDATE

29.1.2018: from John Bulow-Osborne. County Hall 'East Suffolk County Council' offices at far right; Suffolk Connexions (sorry about that) and SCC road safety offices; G. Golding Family Butcher at no. 40 – empty; former St Helens Street Sub-Post Office (the red pillar box on the pavement outside stayed there for some time after closure); The Fire-Place at no. 44 – empty and, finally, number 46: an empty shop used as local authority offices. The Fire-Place and the shop to the left were demolished to make room for the corner apartment block.

Photograph: early to mid-1990s

.]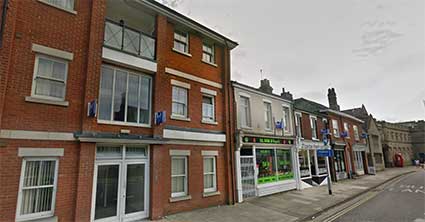 2016 image


Below – John Bulow-Osborne: '46 St Helen's Street: rough mono image of my grandfather and uncle, who ran a furniture shop there. My uncle took over later.' John's photograph also shows that further shops extended eastward in the early 20th century, before road widening at the St Helens Street/Grimwade Street/Spring Road/Argyle Street crossroads. For a period view of the corner Emeney's Newsagents see our H.W. Turner page.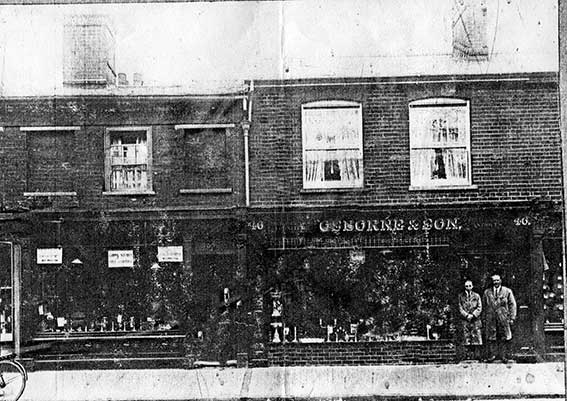 Courtesy John Bulow-Osborne



For more lettering examples in St Helens Street try Hales Chemist, IBH, H.W. Turner and Tramway Place. Also The Regent on our porticos page.



Home

Please email any comments and contributions by clicking here.

Search Ipswich Historic Lettering


©2004 Copyright throughout the Ipswich Historic Lettering site: Borin Van Loon
No reproduction of text or images without express written permission