Prince Obolensky



"A sporting icon, the Prince came from St Petersburg as a baby when his family fled the Russian Revolution in 1917. An Oxford graduate, Obolensky became a naturalised Englishman. He died near Ipswich at only 24." Thus runs the text on the plaque beneath the man's name carved in best chiselled characters in the stone.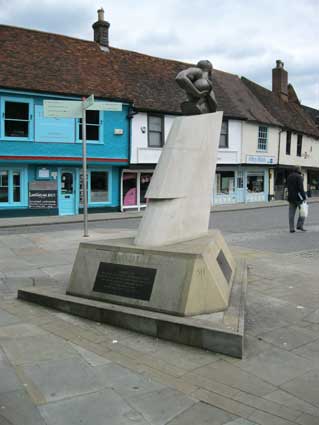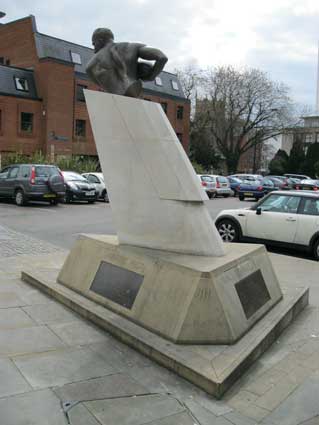 This stone and bronze sculpture by Harry Gray was placed in Cromwell Square in 2009. In the background of image 1 (above) are shops and restaurants in St Nicholas Street.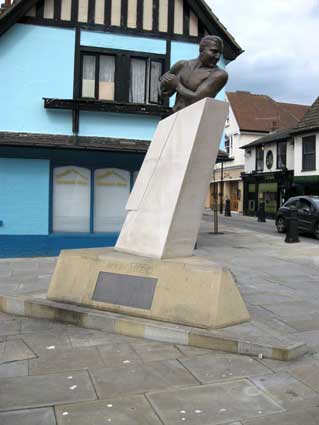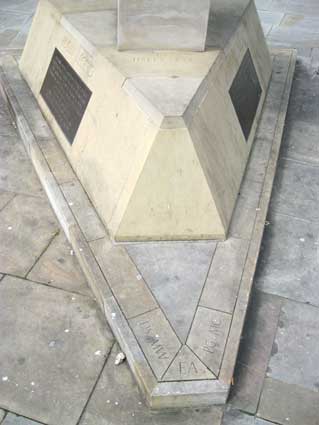 Prince Alexander studied at Oxford University where he played Rugby football, gained a 'blue' and went on to play for Leicester and England. He played for Leicester Tigers between 1934 and 1939 at wing three-quarter back. His selection for England caused a stir because he was not English but gained British citizenship in 1936. In 1936 he scored two tries in a 13 - 0 victory over the All Blacks. He only won four caps for England but his name entered into legend because of television coverage of his tries and the manner in which he was killed.
He was killed during the Battle of Britain when his Hawker Hurricane crashed on Martlesham Heath near Ipswich while training in 1940. He was 24 years old. He is buried in Ipswich Cemetery.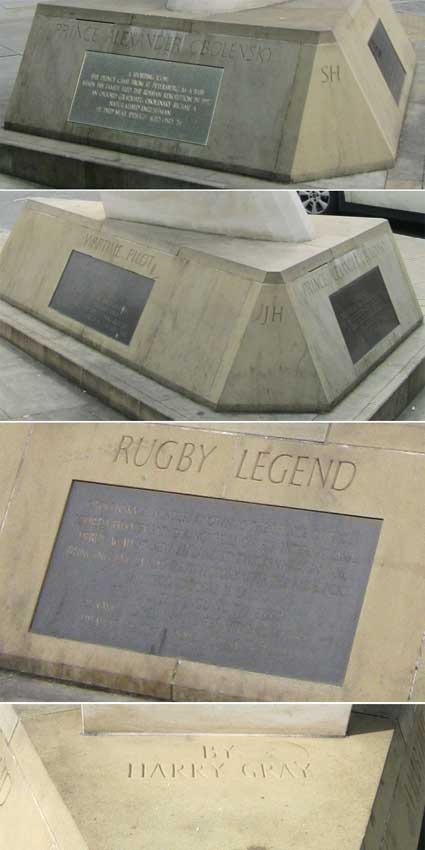 The details of the triangular plinth show that it embodies a variety of lettering cut into the stone. From top to bottom:

'PRINCE ALEXANDER OBOLENSKY'

'JH'

'WARTIME PILOT'

'RUGBY LEGEND'

'SH'

'BY
HARRY GRAY'

With around the point of the lower pavement:
'DS MW
EA
PG MC'

This is how the

Daily Telegraph's

Brendan Gallagher (18.2.2009) reported the unveiling of the sculpture:
'An unlikely, but entirely agreeable, collaboration between Daily Telegraph readers, Chelsea owner Roman Abramovich and the town of Ipswich came to fruition on Wednesday when a sculpture of Russian prince and England rugby great Alexander Obolensky was unveiled in the Suffolk town.

There is more than a touch of the "Heroic worker" in Harry Gray's iconic and ironic bust that now dominates Cromwell Square – as a 'white Russian', Prince Obolensky and his family fled the country to escape the revolution.
The Obolensky story is not new, but its retelling in The Daily Telegraph in 2006 struck a chord with a new generation, exactly 70 years after he scored two of the most stunning tries ever seen at Twickenham to help England defeat the All Blacks, although the 19-year-old Oxford undergraduate was famously not a British passport holder at that time.
In 1940, aged 24, he became the first rugby international to be killed in World War Two, losing his life to a bizarre training accident in his Hawker Hurricane at Martlesham Heath, just outside Ipswich, where he was based with 504 squadron.
As he taxied in his Hurricane, the wheels were caught in a rabbit warren and, not wearing a harness, as was the habit of Hurricane pilots when taxiing because of visibility issues, he was catapulted out and broke his neck.
James Hehir, the chief executive of the borough council, was surprised to learn that the Russian prince who had played and died for his naturalised country was buried in Ipswich cemetery and felt Obolensky should be honoured with a statue – as are other Ipswich notables such as cartoonist Giles, Sir Bobby Robson and Sir Alf Ramsey.
In no time Telegraph readers were sending in their donations, along with local businessman Graeme Kalbraier and, when he heard of the project, Chelsea's Russian owner, Abramovich.
Obolensky remains an enduringly exotic figure, part David Duckham with a title, part James Dean in rugby boots.
Rarely seen without a beautiful society girl on his arm – indeed a number of ladies of a certain age rushed to make donations to the project – he would down a dozen oysters and sip champagne before a big game and had a pair of lightweight boots specially made to maximise his speed.
He lived fast, died young and his memory lives on.'

The £50,000 statue was unveiled on 18 February 2009 by the Prince's niece, Princess Alexandra Obolensky.

The Public Sculpture of Norfolk & Suffolk website (see Links) tells us:-


The full inscriptions:


"RUGBY LEGEND; Obolensky, a winger, known as the Prince of Pace scored two 'breathtaking' tries on his international debut against New Zealand in 1936 bringing England's first victory over the All Blacks. His second score is called 'the greatest England try ever'. He once played in an international Rugby trial at Portman Road Football club.
WARTIME PILOT; A volunteer RAF pilot in the Second World War, Obolensky's life was cut short when his Hurricane fighter crash-landed at Martlesham Hearth in 1940. Obolensky is buried in Ipswich Cemetery. The tribute on the grave reads: 'His undaunted spirit and endearing qualities live forever in the hearts of all who knew him.'
PRINCE ALEXANDER OBOLENSKY A sporting Icon. The Prince came from St Petersburg as baby when his family fled the Russian Revolution in 1917. An Oxford Graduate, Obolensky became a naturalised Englishman. He died near Ipswich aged only 24.

What makes the sculpture remarkable is its success in combining a figurative memorial with telling design. The plinth is broken at the back to create an interesting rhythm and angled forward and up to suggest the sleek aerodynamic designs of the 1930s as well as the forward thrust of Obolensky's great Twickenham try, translated into heroic terms in the bronze, where bare-chested he holds the ball behind him, his profile and swept hair a heroic version of the man shown in contemporary photographs. The plinth has another function, in allowing for the bronze plaques which record a life and achievements not widely appreciated."














Home

Please email any comments and contributions by clicking here.


©2004 Copyright throughout the Ipswich Historic Lettering site: Borin Van Loon
No reproduction of text or images without express written permission