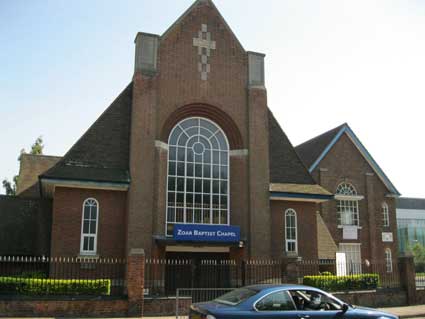 2013 images
The first Zoar Chapel, Ipswich opened for worship in David Street (now demolished) on the 7th January 1842 (see our page on the Primitive Methodist Chapel in Rope Walk to see the original chapel on the map). The present chapel situated in St. Helen's Street was opened for worship on Wednesday 18th March 1925. The first minister of Zoar Chapel was Pastor J. B. Bateman who was called to the pastorate on June 19th 1842. He was followed by Pastors W. Felton (1855-59), J. Wilkins (1862-66), S. Willis (1867-70), J. Morling (1872-79), S. Cozens (1882 - 1887), R.C. Bardens (1891-1907), P. Reynolds (1912-34), J.S. Smith (1941-58), R.G. Martin (1960-65), E.D. Eldridge (1968- 82), R.J. Howells (1984-89) and P.F. Hughes (1991-2005).
'ZOAR'
appears in stylish, raised capitals high up on the lofty gable of the front elevation.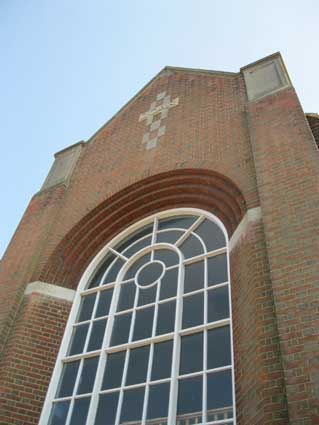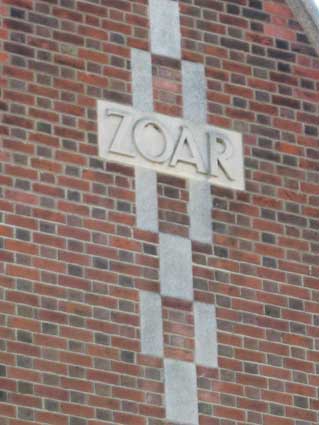 This religion is named after the biblical city of Zoar, now rendered 'Zoara'
. In Hebrew 'Zoar' means 'little' or 'insignificant'. It was one of the five (Pentapolis) cities of the plain of Jordan in the book of Genesis in the Old Testament, which escaped the "brimstone and fire" which destroyed Sodom and Gomorrah, as Zoar had sheltered Lot and his daughters.

Zoar was originally a Strict Baptist place of worship
founded
in the hamlet of Lower Dicker in East Sussex in 1837
.
The David Street chapel in Ipswich followed speedily, opening in 1842. Today there appear to be many such Baptist Chapels throughout the country split into factions and variants: 'Zoar', 'Bethel', 'Ebenezer', 'Hope', 'Providence', 'Zion', 'Salem' (see our Salem Chapel page)
etc.
The Borough's local list tells us:
"Zoar Baptist Church, St Helens Street. (1925). Church group at the junction of St Helens Street and Rope Walk. Gable roofed church with transepts and smaller gabled church hall set back and to one side. Red brick, blue headers, stone dressings, clay roof tiles. The main (north) church elevation facing St Helens Street is emphasised by a tall central bay set between buttresses with heavy stone finials, which project beyond the slope of the roof. The double leaf entrance door at its base has a flat canopy; above, a tall round-headed window with thin glazing bars, set within a brick arched recess which is expressed as multiple brick orders under the arch. Plain stone imposts. In the gable, a stone tablet carved with the word 'Zoar' in raised lettering, set within a chequer pattern of plain stone tablets. In the walls to either side of the central bay, narrow round headed window openings. The roof slope descends either side of the central bay, wrapping round the frontage as tile hanging above a shallow tiled canopy. Single storey flat roofed structure wraps the south end of the church. Gabled brick entrance porches on the west and east sides, round headed arches over the door. The hall elevation has flat brick buttresses framing a central window group; rectangular with thin glazing bars at ground floor level; at first floor level a similar window with a round headed window above a projecting lintel. Narrow round headed windows to either side. Brick pier and metal railing wall surrounds the site, the piers capped with stone."
Home
Please email any comments and contributions by clicking here.
©2004 Copyright throughout the Ipswich Historic Lettering site: Borin Van Loon
No reproduction of text or images without express written permission