Primitive Methodist Chapel, Rope Walk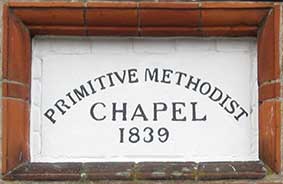 This building in 2013 is a church of the Seventh Day Adventists and it was only recently that we noticed a tablet set into the side wall, visible from the small car park.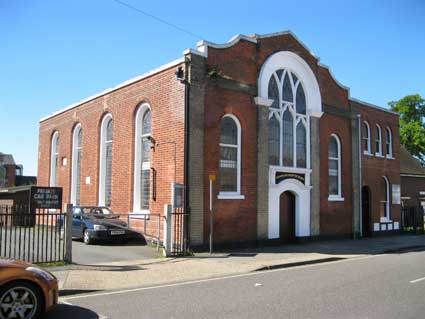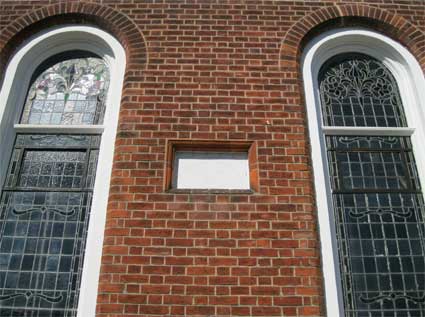 2013 images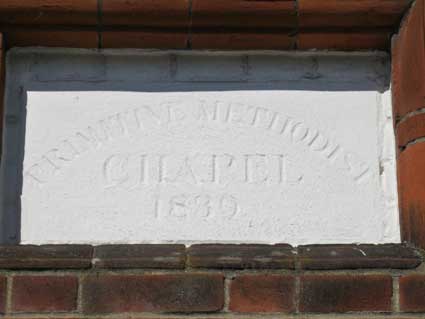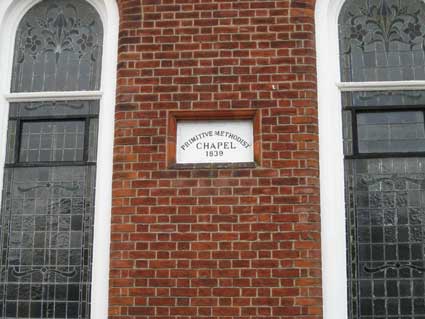 Retouched, summer 2013


'PRIMITIVE METHODIST

CHAPEL

1839'

The last numeral looks like a zero due to overpainting, but is in fact a '9'. Inside the brickwork frame, one can see that the tablet is set into another brick surround, now painted white.


This is one of over 4,000 Primitive Methodist Chapels still extant. Primitive Methodism was about 'back to basics' of the early church, and has its roots in John Wesley's open air preaching in the mid-18th century. In 1932 it united with other branches to become the Methodist Church of today. Whilst stationed at Yarmouth in 1833, George Tetley (1800-1877) and William Bowthorpe carried out effective open-air preaching and opened many new places of worship. This included establishing a mission at Ipswich; this marries up with the 1839 date on the tablet.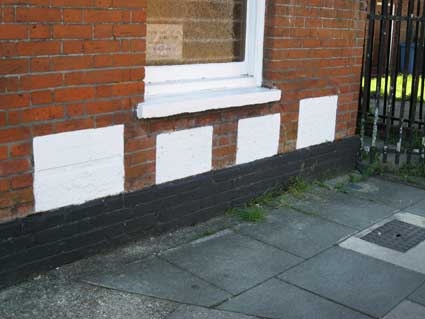 The front elevation bears four foundation stone plaques which have been made of poorer material to thos seen on the nearby Christ Church in Tacket Street, albeit that they are are seventy years older.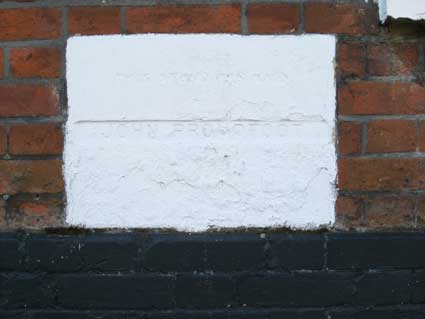 The first is the most easily readable, mainly due to the name apprently having been recarved/replaced (perhaps a spelling error on the original?):


'THIS STONE WAS LAID BY
JOHN PROUDFOOT'
[remainder eroded]


The other tablets are barely discernible: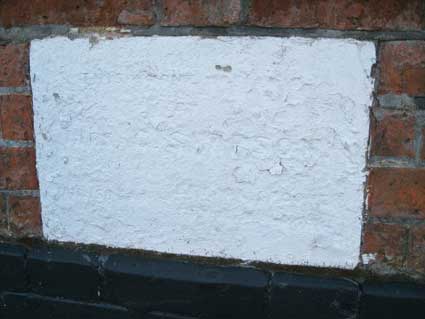 'THIS STONE WAS LAID BY
MRS C. SIMPSON[?]
MINISTER ... SPOONER'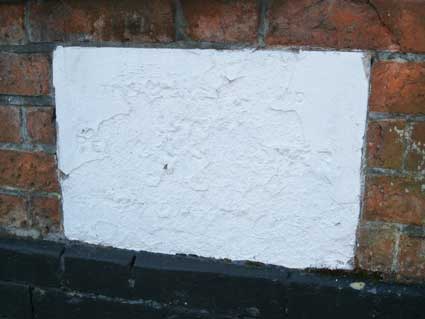 'THIS STONE WAS LAID BY
REV. W.L.[?] SPOONER'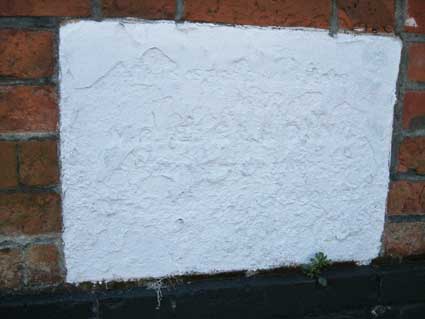 'THIS STONE WAS LAID BY
MR. E. GLADING[?]'


The 1881 map of the Rope Walk area shows the Methodist Chapel ('Primitive; Seats for 280') – here outlined in red – to be one of the few buildings still standing today.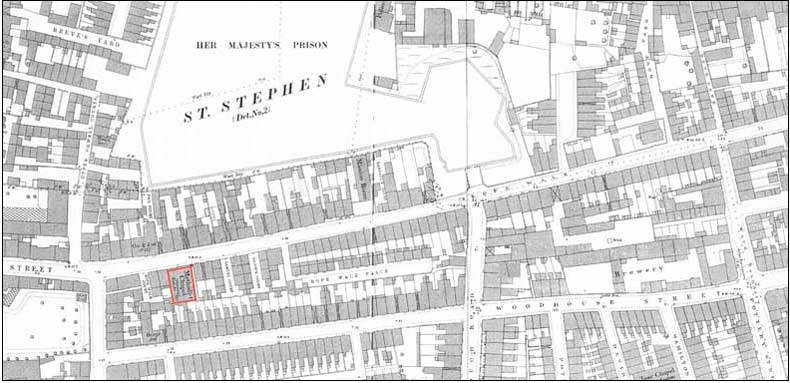 1881 map detail


County Hall at this time was Her Majesty's Prison (that's Queen Victoria, of course) and the southern boundaries can be seen. The prison was demolished in the 1920s. Rope Walk runs roughly horizontally across the map to flow into Eagle Street mid-left. South of and almost parallel with Rope Walk is Woodhouse Street, the name of which continues in the Woodhouse Square council housing. The narrow lane at top right is Dove Lane, which has since been widened into Dove Street. One or two interesting features are a brewery in Woodhouse Street, a public house opposite the Primitive Methodist Chapel called The Cow & Pail; behind it the tiny Pail Court, one of a number of courts: Osborn's Court, Randall's Court, Rope Walk Court, Samuel Court, Bacon's Court, Queen's Court, Prince's Court, St Helen's Court, St Helen's Place, Farman's Court, Regent Court and so on (see also our Courts & yards page). There are two Mission Rooms close to the Chapel in Rope Walk and, south of the brewery, the Zoar Chapel ('Particular Baptists; Seating for 500') in David Street: bottom right on the above map. When the whole area was cleared in the twentieth century, the Zoar Baptist Chapel relocated to new premises on the corner of St Helens Street and Rope Walk (in 1881 that end section was called 'Curve Street' for obvious reasons). Rope walks tend to be wide areas for the making of ropes to be stretched across the spaces. We are told that the middle section of Rope Walk to the east of the Primitive Methodist Chapel was once an open area but by 1881 had been infilled with housing.

Compare this building with another Primitive Methodist Chapel in Clarkson Street, with tablets dating to 1874; also Westleton Primitive Methodist Chapel.
See also our page on Ropewalks for an ancient industry in this part of Ipswich.





Home

Please email any comments and contributions by clicking here.
©2004 Copyright throughout the Ipswich Historic Lettering site: Borin Van Loon
No reproduction of text or images without express written permission