Christ Church, Tacket Street



Opened in January 1858, this stone building was originally the home of Tacket Street Congregational Church. It was not the first church on the site. Tacket Street is an ancient street: in medieval times it was home to the town house of the Wingfields, the last remnant of that building being shamefully demolished as recently as the 1990s. Congregationalists had established their first building on this site in the 1680s. It is now Christ Church United Reform Church/Baptist, combining the original congregation with Crown Street Congregational and Turret Green Baptist churches, both demolished. (Information from Simon's Suffolk Churches; see Links) This is really a collection of buildings, what was known in the 19th Century as 'an ecclesiastical village'. The church used to be obscured by closely-built shops fronting Tacket Street and since they have been demolished, the eye is drawn to the clean white stone church and the school situated to the west is easily ignored. (See Street name derivations for the change to and from 'Tankard Street').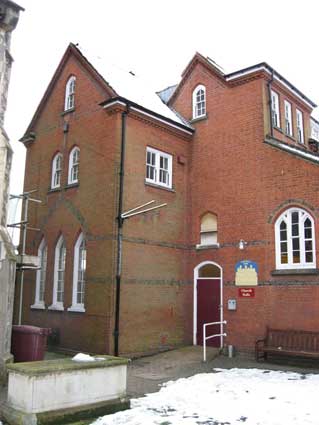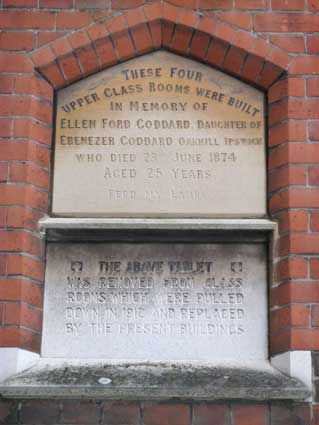 2013 images
The current Church Hall sits beside the church and it bears two tablets above the door:


'THESE FOUR

UPPER CLASS ROOMS WERE BUILT

IN MEMORY OF

ELLEN FORD GODDARD, DAUGHTER OF

EBENEEZER GODDARD, OAKHILL IPSWICH

WHO DIED 23

RD

JUNE 1874.

AGED 25 YEARS.

"FEED MY LAMBS." '

The use of two words for 'class rooms' almost suggest social class, particularly in the use of 'Upper Class Rooms' in the top tablet. There appear to be double inverted commas after the biblical quotation, but those before are missing or worn.

'THE ABOVE TABLET
WAS REMOVED FROM CLASS
ROOMSWHICH WERE PULLED
DOWN IN 1912 AND REPLACED
BY THE PRESENT BUILDINGS'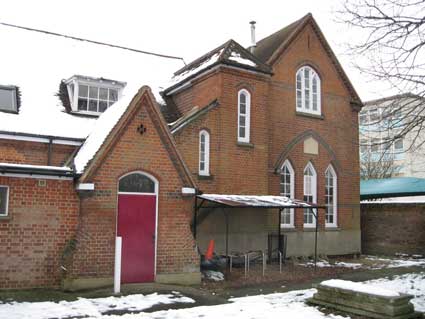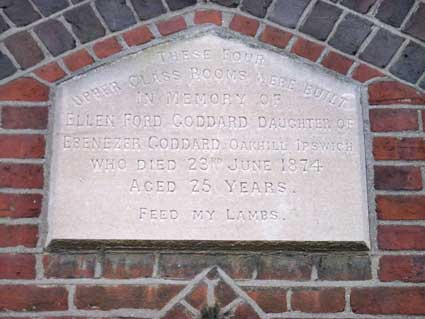 The view across that rare thing, an urban non-conformist graveyard. At the opposite end of the west range of structures is another tablet above the three pointed windows bearing an identical Goddard dedication and quotation to the first pointed tablet. The wording suggests, perhaps, that the upper storeys were added later.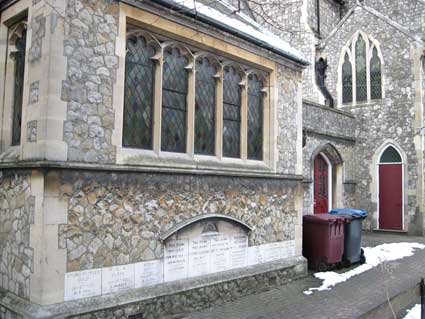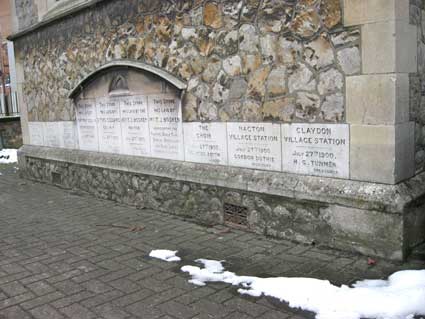 Turning back to the church, a series of tablets with their own curving roof come into view. The transcriptions are from the left to the right.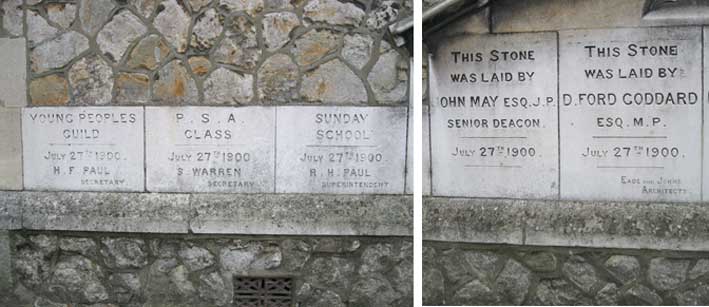 'YOUNG PEOPLE'S GUILD; JULY 27TH 1900; H.F. PAUL, SECRETARY'
P.S.A. CLASS; JULY 27TH 1900; S. WARREN, SECRETARY'
'SUNDAY SCHOOL; JULY 27TH 1900; R.H.PAUL, SUPERINTENDENT'
'THIS STONE WAS LAID BY JOHN MAY ESQ. J.P.; SENIOR DEACON; JULY 27TH 1900'
'THIS STONE WAS LAID BY D. FORD GODDARD ESQ. M.P.; JULY 27TH 1900.; EADE AND JOHNS ARCHITECTS'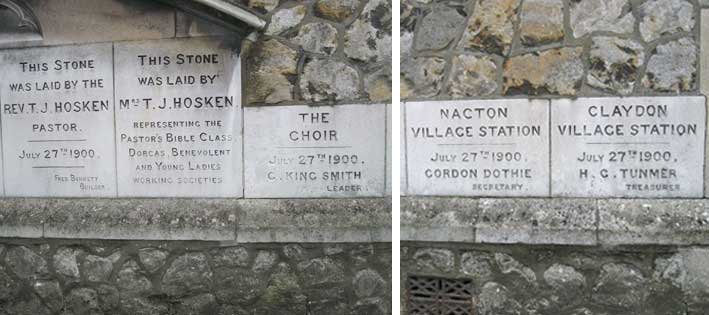 'THIS STONE WAS LAID BY THE REV. T.J. HOSKEN, PASTOR; JULY 27TH 1900; FRED BENNETT, BUILDER'
'THIS STONE WAS LAID BY MRS T.J. HOSKEN REPRESENTING THE PASTOR'S BIBLE CLASS, DORCAS, BENEVOLENT AND YOUNG LADIES WORKING SOCIETIES'
'THE CHOIR; JULY 27TH 1900. C. KING SMITH, LEADER'
'NACTON VILLAGE STATION; JULY 27TH 1900. GORDON DOTHIE, SECRETARY'
'CLAYDON VILLAGE STATION; JULY 27TH 1900. H.C. TUNMER, TREASURER'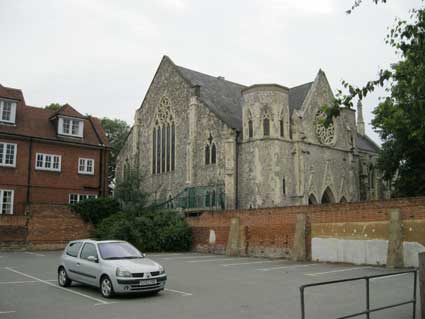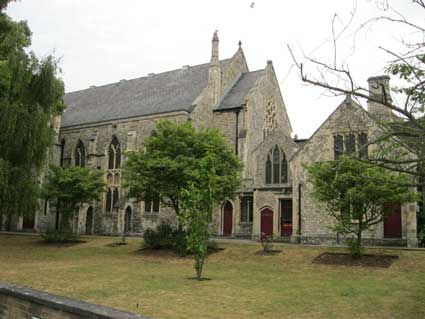 The main church building is Listed Grade II (See Links for British Listed Buildings): "Former Congregational Church, now United Reformed Church. 1857, designed by Frederick J. Barnes, built by John Wight, in the Gothic Revival style. Kentish rag stone with ashlar dressings, slate roofs with coped gables, kneelers and finials. Chamfered plinth, angle buttresses with set-offs. Nave and short chancel, with large south porch. South elevation has to the west a 2 storey gabled porch with attached octagonal stair towers, for spires that were never built. Central pointed archway flanked by narrower pointed archways, all with moulded arches and pillar responds, plus above flush gables with finials, and blind tracery. Central inner moulded and pointed arch doorway. Above a moulded band which continues around the stair towers, then a circular window with a moulded surround and elaborate symmetrical tracery. The flanking stair towers each have a pointed arch doorway with plain flush gable, and above 3 pointed lancets with tracery, and they are stopped by a moulded coped parapet. To the east, the nave facade has 3 very tall 2-light lancets with tracery each divided at gallery level by a pair of stone panels with blind tracery. The east gable wall has a single pointed arch 5-light window with tracery. INTERIOR has thin iron columned arcade, which supports the wooden gallery and then continues upward to support the roof. Ornately carved wooden roof. C19 wooden pulpit, pews, organ and other fittings."

However, the red brick building with dormer windows (show to the right in the above photograph) is of great interest, too. The Listing text reads:
"No 13 and rear wing of Nos 15 and 17 Tacket Street (Grade II)

No 13 was a house, converted to an inn in 1736. The front range was rebuilt in 1843. Three storey, 4 bay facade of painted brick with moulded lintels, sash windows with glazing bars, pilastered doorcase. Left hand of ground floor has rebuilt public house front. Slate roof with deep eaves and gabled ends. The rear is timber-framed, probably C17, partly faced in brick, and with Belgium tile roof and probably C17/18 chimney stacks on east side.

Adjoining rear of No 13 is the remaining rear wing of nos 15 and 17: two storey, timber framed, the ground floor rebuilt in brick; first floor has exposed timber framing, partly with close set studding, partly square panels with ogee braces; gabled-ended roof with pantiles. The wing is the remains of the C16 mansion of Sir Anthony Wingfield (1485? to 1552), Vice Chamberlain, Captain of the Guard and Privy Councillor in the
reign of Henry VIII, and Comptroller of the Household under Edward VI."
There is an additonal comment: "This building [no. 13] was in a very dilapidated state and a demolition order was granted in 1994, CDC of Woodbridge undertook the work on behalf of NCP. Source of this information was from The Evening Star, April 1994." But the "rear wing of Nos 15 and 17 Tacket Street" quoted above are still there as the group of buildings around Christ Church URC/Baptist. See our Courts & yards page for more on Sir Anthony Wingfield's mansion and the Tankard Inn (plus a photograph) which once stood in front of these buildings, fronting on Tacket Street.

Here's a view of the former school buildings from the car park which is behind the former Woolworth's store. A rather nice vent moulding up high.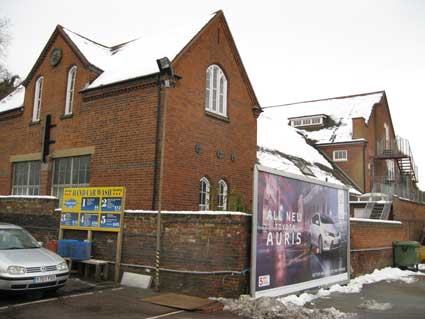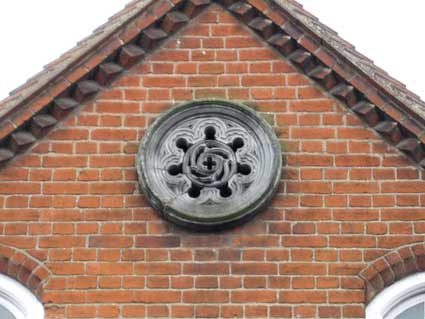 James Bettley's

Suffolk: east

Pevsner volume (see Reading list) tells us that the redbrick Caretaker's house, to the north-east, and School rooms are probably by the architect Edwin Thomas Johns, 1912, later of the practice Johns Slater & Haward, which still oprates in Ipswich.



Interior


A selection of photographs show Christ Church URC/Baptist to have a rather grand interior.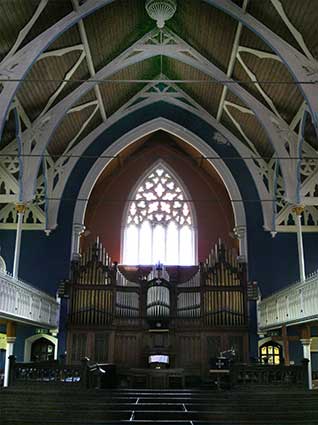 2016 images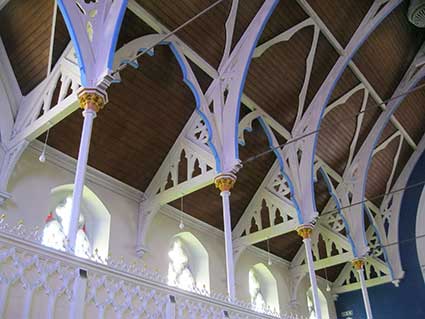 The ceiling features unusual, chandelier-like mouldings, presumably air-vents. The Art & Craft-style roof supports rest on decorative columns on the gallery.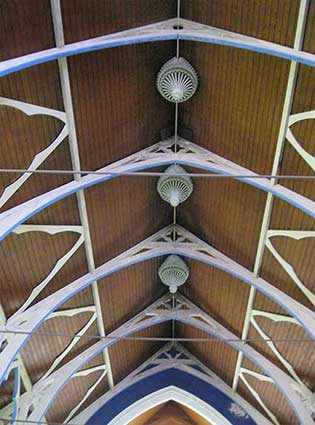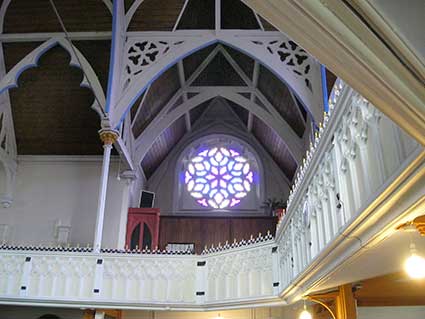 The organ and pulpit, below: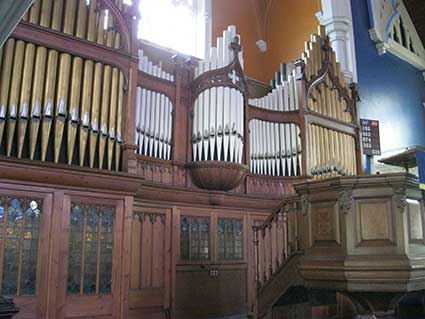 Turner's of Ipswich columns


Underneath the gallery is a series of cast iron columns. The slightly brutal (for such a well-appointed church interior) bolted upper part of the column bears the legend:


'E.R.& F. TURNER.IPSWICH.'

Compare this feature, repeated on the other pillars with the 'TURNERS' pillars in

Museum Street Methodist Chapel

. The architect of the churches was the same: Frederick J. Barnes.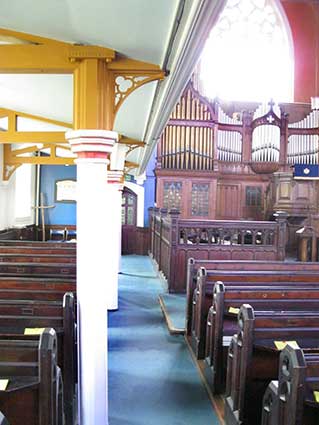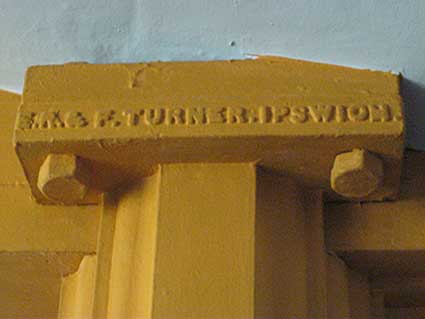 Memorials


Two wooden panels bear lists of previous pastors of Tacket Street Church and of Crown Street/Turret Green Street Churches. The former can be seen on our Lost trade signs page. The latter is shown on our Sailors Rest page.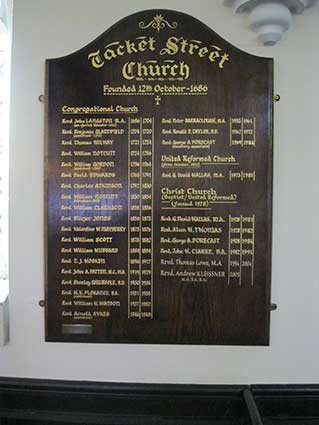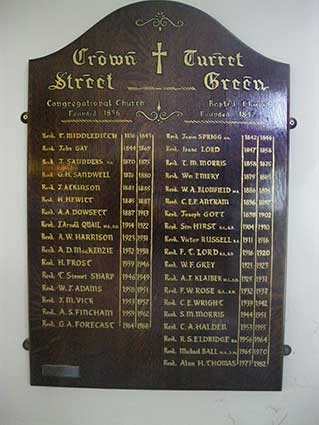 Also a large wooden memorial for those 'fallen in The Great War 1914-1918'.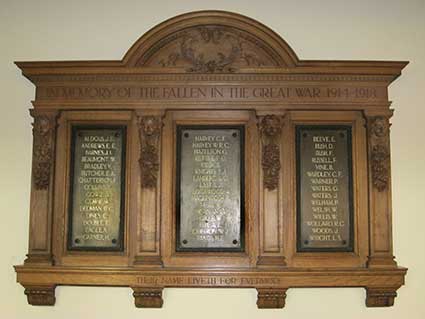 See also our Lettered castings index page.





Home

Please email any comments and contributions by clicking here.

Search Ipswich Historic Lettering


©2004 Copyright throughout the Ipswich Historic Lettering site: Borin Van Loon
No reproduction of text or images without express written permission