C.J. Hawes (Shoe repairs) & Wherstead Rd. Garage





49 Wherstead Road


The town end of Wherstead Road used to be the arterial road to Wherstead village (now cut in two by the A14 behemoth) and Shotley peninsula until it was by-passed by Vernon Street and Hawes Street. Inevitably the 'villagey' feel to this sort of High Street both benefits and suffers from such rerouting of traffic. On the plus side, pedestrians have better access to shops and on the minus side there is far less passing traffic. Small, specialist, 'old fashioned' shops which were long ago driven out of business in the main centre of Ipswich (probably due to high rates and rents) hang on in places like Wherstead Road and St Matthews Street/Norwich Road. At number 49 we find an echo of the 1940s and 50s in the shoe retailer and cobbler's: C.J. Hawes.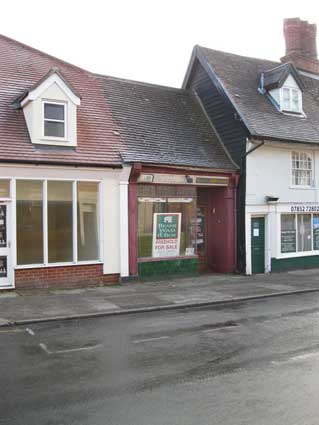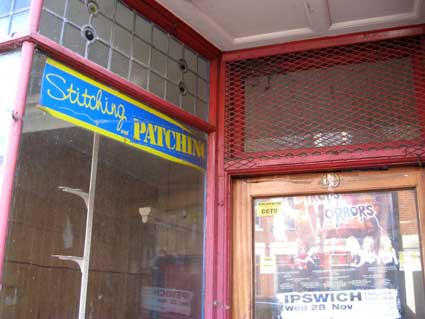 The shadows of the original shop sign capitals were still visible in December 2012:


'C.J. HAWES ... SHOE REPAIRS'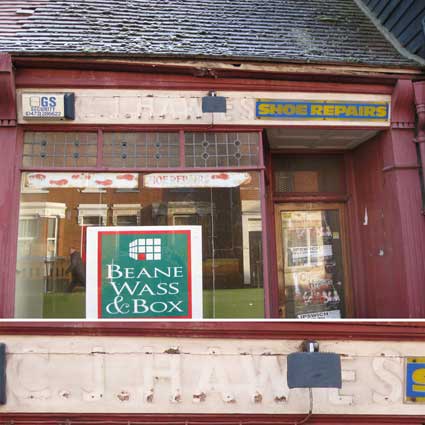 Below: the shop in happier times, probably 1980s.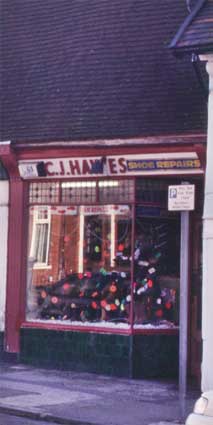 Photo courtesy The Ipswich Society

From The Evening Star 25 September 2008:


"Sole trader bows out of shoe industry




A LIFELONG shoe repairman from Ipswich is bowing out of the industry after 47 years. C J Hawes has been the heart and sole of Wherstead Road for nearly half a century but the shop's owner is hanging up his boots at the end of the week and taking a well deserved retirement. Colin Hawes entered the trade as a 15-year-old, taking over the business at the tender age of 20 after ill health forced the previous owner to leave. Mr Hawes, of Brunswick Road, has always applied the time-honoured techniques he was taught when he started out. As well as selling new footwear, the 67-year-old still uses traditional finishing and stitching machines for shoe and boot repair and conventional sewing machines for other repair jobs. And, as Mr Hawes explained, it's not just regular shoes he's accustomed to fixing. He said: "I've met people from all walks of life and my customers have become my friends. "I used to do build ups for people who had hip replacements and had lost a couple of inches in one leg." Mr Hawes also supplied 40 pairs of boots to army enthusiasts, Khaki Chums, who dedicate time to discovering the realities of being voluntary soldiers between 1899 and 1960. He admitted he was unable to sell the business on because there is nobody trained in the same skills.





Several regular customers have asked Mr Hawes to reconsider his retirement but the tradesman is unwavering and plans to enjoy his free time on holiday with wife, Doreen, and tending his two allotment plots. He said: "Anyone with a wife will know that they can find plenty for you to do." Mr Hawes started out in the shoe repair trade in 1956, achieving a City & Guilds qualification. He found work for a job for shoe repair service in the Cattle Market aged just 15. Five years later he was given the opportunity to start C J Hawes. This is the last of 2444 weeks Mr Hawes has spent in charge of the business in Wherstead Road."


By TOM POTTER

It's only a few hundred yards (towards the town) from the here to Christ's Hospital Buildings, Uncle Tom's Cabin, the Bake Office in Felaw Street, The Methodist Mission Room, The Old Bell and the Trinity House buoy.

For other shop proprietor signs, see Serjeants Wallpapers & Paints (including Stradbroke Bakery), Shortis Motorist Discount Store, Brunswick Road Post Office.

487 Wherstead Road
'I came across this photo I took some years ago, may be 10 years ago, when some work was being done on 487 Wherstead road, currently hidden. Des Pawson.' This fugitive piece of lettering is still there, but behind a framework which would, presumably, have borne a large sign. The signwriter has had to cope with painting drop-shadow characters on corrugated iron:


'WHERSTEAD RD. GARAGE

phone 473'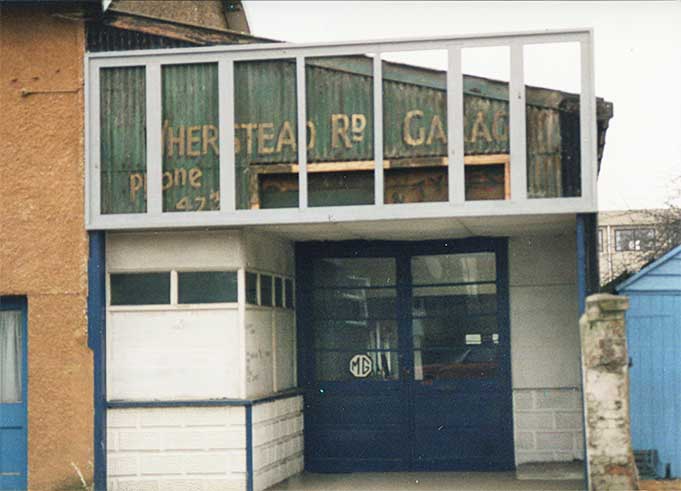 c.2008 photo courtesy Des Pawson
The corrugated iron-clad, lean-to structure is still there in 2018 and still the same colour. It stands in the vicinity of Des Pawson's Museum of Knots & Sailors' Ropework (see
Links
).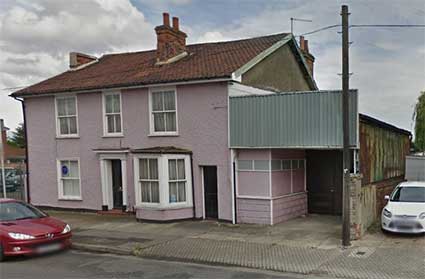 2018 image


See also our Whaling station page for the whereabouts of Halifax House.




Home

Please email any comments and contributions by clicking here.

Search Ipswich Historic Lettering


©2004 Copyright throughout the Ipswich Historic Lettering site: Borin Van Loon
No reproduction of text or images without express written permission