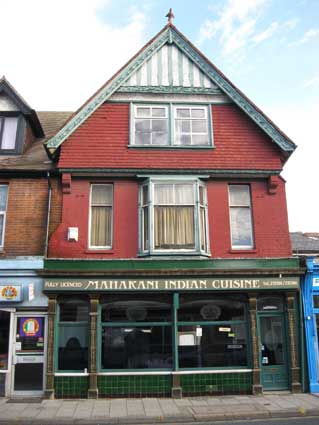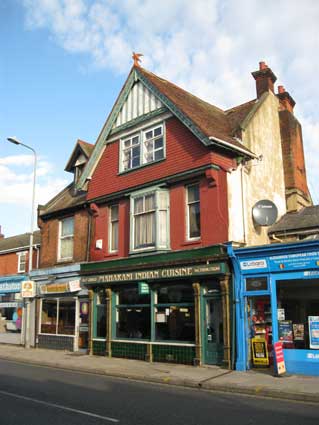 2014 images
This tall, rather striking building was known to us as once bearing a large decorative hand-painted game and butchery sign on its east wall. The text is given on our
Introduction
page. The photograph of this sign is framed and displayed inside the restaurant. A version of it can be found at the top of our
Lost trade signs
page.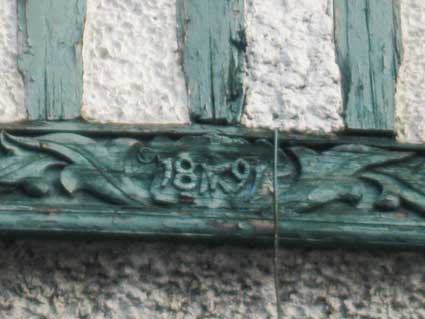 The bressummer near the top of the gable has a carved date in its centre:
'1891'
with what appears to be a carved merchant's mark in the centre. This late Victorian building doesn't seem right for a medieval merchant's mark; perhaps the 'Arts & Crafts' architectural style invited this archaic touch? It is interesting that Bettley/Pevsner (see
Reading list
) read this date as '1897'; who are we to argue? The building is further described: "[it] has a first-floor canted oriel and a jettied gable with carved bressumer and barge-boards ... as well as a good tiled shopfront. The tiles must be by Carter & Co. of Poole, who sign a large tiled mural of a hunting scene inside what was originally a fishmonger and game merchant's shop (two more murals have been lost).
The premises to the left boast a fine decorative plaster panel above the dormer window: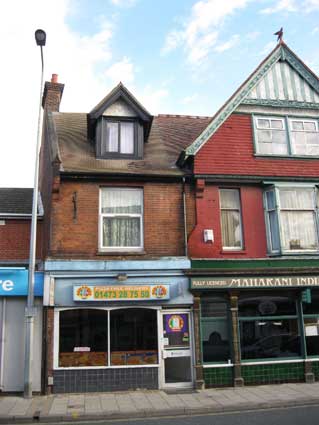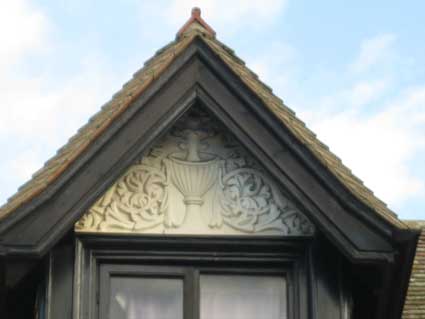 The whole is protected from evil spirits, perhaps unusually, by a terra cotta flying fish on the apex of the gable: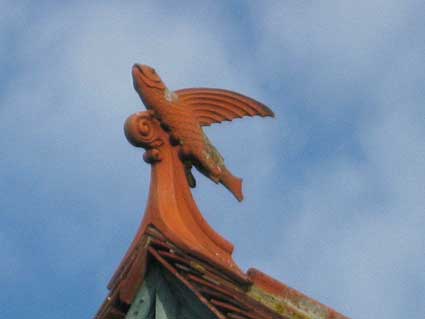 Directly opposite this restaurant is
Serjeants Paints & Wallpapers
shop sign.
Related pages:
Named buildings list
;
Named (and sometimes dated) buildings examples
Dated buildings list
;
Dated buildings
examples
Origins of street names
in Ipswich; Streets named after
slavery abolitionists
Street nameplates
Street index
Please email any comments and contributions by clicking here.
©2004 Copyright throughout the Ipswich Historic Lettering site: Borin Van Loon
No reproduction of text or images without express written permission