Waste bricks in walls



Gainsborough Road/Tuddenham Road

corner wall


Spotted in one of those higgledy-piggledy mixed brick walls round a garden on the corner of Gainsborough Road and Tuddenham Road, Ipswich. Many of the elements appear to be vitrified (over-fired) and/or mis-shapen material.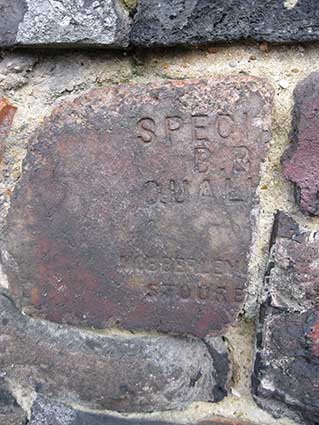 'SPECIA…

B.B…

QUALI…

MOBBERLEY &…

STOURB…'

The words on the first and third lines of the text must surely be 'Special' and 'Quality'. If anyone can complete this inscription, do contact us.

Mobberley & Bayley, Lye, Stourbridge
Samuel Mobberley and James Porter Bayley were a trading partnership prior to 1866 but not before 1859, at the Thorns Fireclay & Brickworks, Kingswinford, and at the Cradley Station colliery, Cradley Heath. They were producing Fireclay & Manufacturing / House Coal. Also listed was a Mobberley & Perry of Merry Hill, (the same Samuel Mobberley), in the list of Fireclay mines in South Staffordshire dated 1875. However, both Mobberley & Bayley filed for proceedings under the bankruptcy act in May 1879, when the company was wound up in liquidation, their creditors received 2 shillings & sixpence in the pound. Bayley had no assets, but Mobberley had (in partnership with Perry). Mobberley & Bayley do not appear in any trade directories after 1882, but Mobberley & Perry appear in the 1896 directory as owning:-

HAYES / LOWER HAYES LYE UNDERGROUND EMP[loying] 14 ABOVE GROUND EMP[loying] 6
MERRY HILL BRIERLEY HILL " " 11 " " " 3
THORNS (part) " " " " 17 " " " 6

These were producing RED, BLUE & FIRECLAY BRICKS, GLASS RETORTS & other refractory items from the Oldbury Marl seam.

They go on to take over the OLDNALL colliery by 1923, and BEECH TREE by 1933, Thorns being depleted by 1920. Only Beech Tree was in production in 1947, producing Fireclay, thick coal and brooch.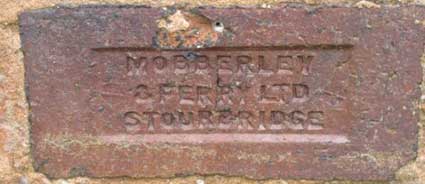 Photograph courtesy

Old Bricks

website




Mobberley & Perry Ltd, Stourbridge


Mobberley & Perry was at The Hayes, Lye, Stourbridge, West Midlands. The brickworks for building bricks was on the main Stourbridge Road in Wollacote and the Firebrick works was in Hayes Lane. George Attwood worked the brickworks untill 1840, then Fisher Bros. worked the brickworks until Mobberley & Perry took over the brickworks, the works closed in the late 1960s.
[Information from the excellent website

Old Bricks - history at your feet

(see Links); thanks to David Sallery for permission to use the 'Mobberley & Perry brick image.]



Rushmere Road/Colchester Road corner wall


On the north-eastern corner of this roundabout, is a typical example of such a garden wall as seen on the Gainsborough Road/Tuddenham Road corner. While there isn't any obvious lettering (we haven't looked on the inside of the wall), it is interesting to look at the variety of 'wasters' from the kiln, pieces of tile etc. use to make this patchwork contained within red brick walling.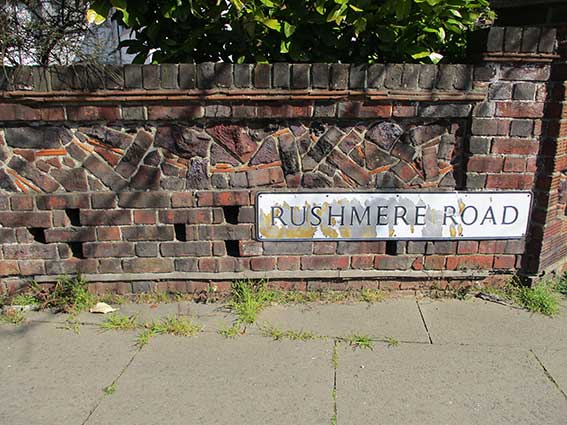 2020 images
The ultimate feature is frog face of the near-upright brick, overcooked and mishapen in the kiln.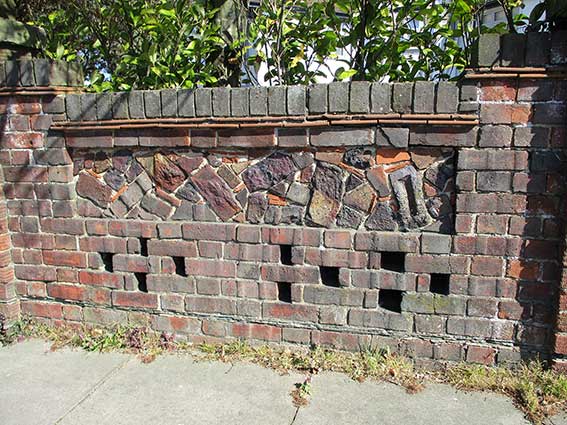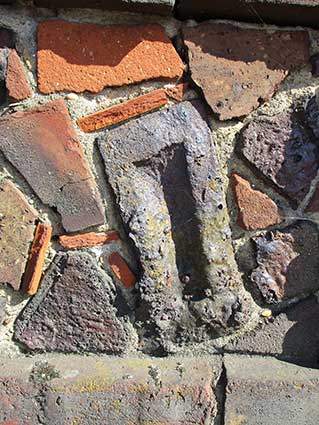 And let's just look at the way these modern, thin metal street nameplates degrade in the weather:



Compare this with the Victorian/Edwardian cast iron plates, as seen on Cutler Street, Dove Yard and elsewhere.

See also our page on Wherstead red bricks and Ipswich brickyards.





Home

Please email any comments and contributions by clicking here.

Search Ipswich Historic Lettering


©2004 Copyright throughout the Ipswich Historic Lettering site: Borin Van Loon
No reproduction of text or images without express written permission