Spitalfields



This page represents some of the examples of old lettering found by striking eastwards from Liverpool Street Station, London. This area is adjacent to that covered in our Shoreditch page.

Spitalfields takes its name from the hospital and priory, St. Mary's Spittel that was founded in 1197. Lying in the heart of the East End, it is an area known for its spirit and strong sense of community. It was in a field next to the priory where the now famous market first started in the thirteenth century. Historically it has played host to a transient community, primarily for new immigrants. Spitalfields had been relatively rural, until the Great Fire of London. By 1666, traders had begun operating beyond the city gates - on the site where today's market stands. The landmark Truman's Brewery opened in 1669. In 1682 after the Great Fire of London destroyed much of the city King Charles II granted John Balch a Royal Charter that gave him the right to hold a market on Thursdays and Saturdays in or near Spital Square. From 1880 to 1970s Spitalfields was overwhelmingly Jewish; it was probably the largest Jewish area in Europe receiving refugees from all over Europe, the Balkans and Russia, with over forty synagogues. As the area grew in popularity, Spitalfields became a parish in its own right in 1729 when Hawkesmoor's Christ Church was consecrated. Spitalfields fell into decline after the 1820s and gained a reputation as cheap area in which to live, proving a magnet to numerous waves of immigrants. During the 1840s the potato famine led to an influx of men from Ireland, bringing in workers to build the nearby docks. By the middle of the 20th century the Jewish community had mostly moved on. Since the 1970s a thriving Bangladeshi community has flourished. Today, the area boasts evidence of a Huguenot church, a Methodist chapel, a Jewish synagogue, and Muslim mosque. Its cultural traditions are steeped in silk weaving, leather ware, clock making, cigar making, barrow boys and a thriving fruit and vegetable market. Poor housing conditions, sweat shops, East End music hall and the legacy of Jack the Ripper, plus the immense variety of colours from the ever-vibrant Bangla Town all contribute to the rich tapestry that is Spitalfields today. It's ironic that historically one of the poorest, most overcrowded, disease-ridden parts of London now provides upmarket housing for the wealthier in society, many in refurbished 'period' lofts and houses.

Commercial Street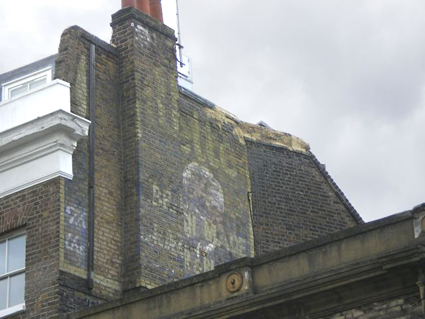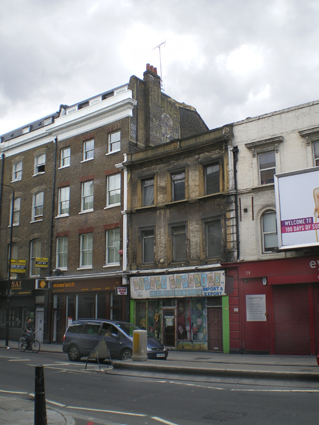 Most images c. 2011




Gillette

BRITISH MADE

RAZOR & BLADES
The...
the...


The above painted wall advertisement for Gillette products is on a wall high above No. 75 Commercial Street, E1; it shows the vestiges of an earlier version ('The... the...'). We can do no better than to quote Sebastien Ardouin's blog (see Links), where he goes into some detail on this and similar ads:

"I suspect the sign above on Commercial [Street] would originally have looked like the previous one but Gillette had it repainted at a later date using its more modern design. A couple of words (twice "The") and traces of letters from the earlier version can still be spotted in the lower left-hand corner. A few more letters belonging possibly to a third, intermediate, Gillette sign can also be seen here and there ("...ety" and "...or", making "Safety Razor")...
[The vestigial picture is probably the likeness of] King Camp Gillette, the head of the namesake company, whose portrait appeared on the packs of disposable razor blades."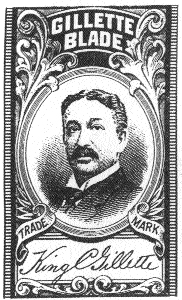 Crispin Street
Donovan Brothers, 46 Crispin Street, E1: a plethora of cartouches of out-of-date text!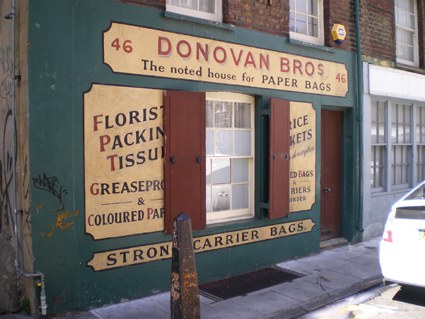 '46...
DONOVAN BRO
S
...46
The noted house for PAPER BAGS
FLORIST
PACKING
TISSUE
GREASEPROOF
-&-
COLOURED PAPER
PRICE
TICKETS
of every description
PRINTED BAGS
-&-
CARRIERS
TO ORDER
STRONG CARRIER BAGS'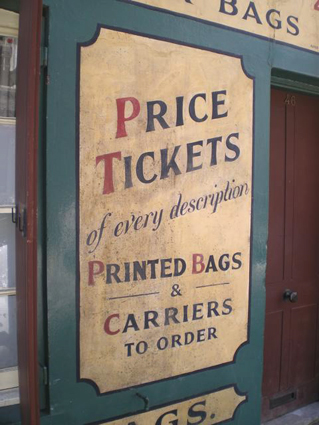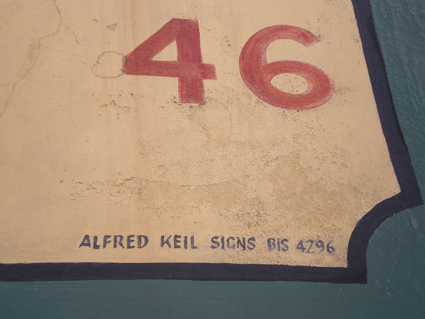 The above left image was achieved by surreptitiously pulling back one of the window shutters. The signwriter has justifiably credited himself in brush script on the top cartouche:


'ALFRED KEIL SIGNS BIS 4296'

'BIS' is the old London exchange triplet of letters for Bishopsgate in the City of London. All-numeral dialling codes were introduced around 1968.

[

UPDATE

March 2012

: "A. Keil was my father of Alfred Keil Signs (based at 5 Whites Row) though his name was Angel Keil - he did most of the sign writing in the East End and the City during the the 1930's to the 1950's. I think he did the Percy Dalton Sign too; he was quite friendly with him and I remember he did a sign with a peanut for him. I wandered up there today and was really pleased to see them still there. Regards, Connie Chesterman".

Many thanks to Connie for getting in touch; it must be a good feeling that so-called epehemeral advertising signs are still in place long after the companies have ceased. We think that the area would be a poorer place without them. See also her note on the next sign...

]

We noted in 2013 that this shop had been occupied by former 'Young British Artist', Tracey Emin; the signs remained intact.

[

UPDATE

25.2.2017: 'I stumbled across your site today whilst looking for background for some of my own photos of Spitalfields. I was particularly struck by the notes regarding the Donovan Brothers signage at 46 Crispin street and the additional comments from Connie Chesterman regarding her father - the original sign-writer. Lovely stuff.
The explanation regarding the BIS telephone number rather implied that the sign-writer must have done his work before 1968 after which the telephone numbers became all numeric. However my own photo of this shopfront, taken in 1985, shows the shop with it's previous red and yellow design, so the green and yellow design painted by Connie's father must be post 1985.
My own earliest photo showing the green frontage was taken in 1999 and shows it signage looking rather 'tired' and ready for a repaint. However the PERCY DALTON metal sign a couple of doors along, at that point looks fairly good with just a few places where the paint is beginning to peel.
By chance some of my early photos of Spitalfields were republished today by the gentle author of Spitalfields Life, see: http://spitalfieldslife.com/2017/02/24/philip-marriage-photographer/
and an earlier selection (one of which shows the Donovan Brs shopfront in 1985) can be found at http://spitalfieldslife.com/2012/06/15/philip-marriages-spitalfields/
Feel free to make use of this photo on your site if you think it will help. Meanwhile, may I say - as an old typographer - how much I enjoyed looking through your pages.
My best wishes, Phillip Marriage'

We are delighted to include the 1985 view of the Donovan Bros frontage and admiring of Phillip's documenting of these streets over fifty years or more.

]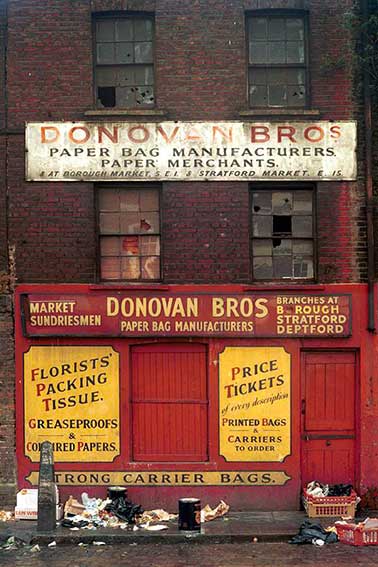 Crispin St, 1985, courtesy Phillip Marriage



High above the present 'English Restaurant / Oyster Bar' on the corner of Crispin Street and Brushfield Street, E1 we find a battered advertisement.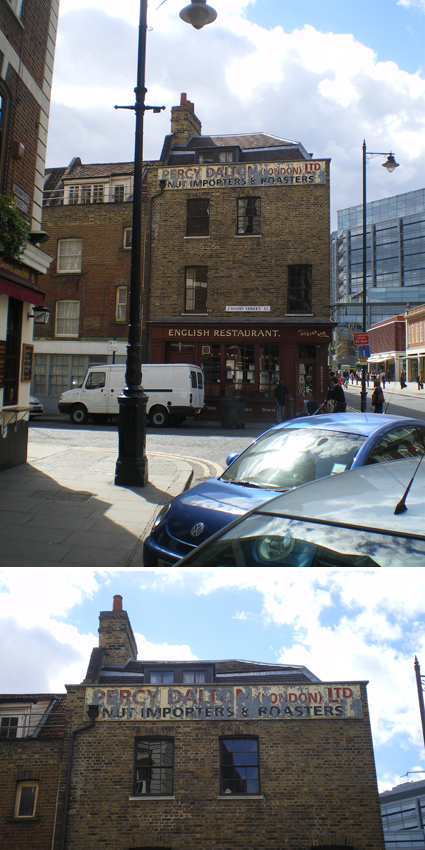 'PERCY DALTON

(LONDON)

L

TD

.

NUT IMPORTERS & ROASTERS'


Simple red and black caps agaist a cream background, now all hostage to the vagaries of the rain, wind and frosts. But what a great sign...

[

UPDATE

26.10.14: "Hi you might remember I wrote to you about the Donovans facia that my father painted. I have now spoken to my brother who lives in Canada and he assures me that he and my father also painted the Percy Dalton sign and that it is not painted on brickwork but on a metal sheet that is fixed up with hooks he remembers helping put it up. Kind regards, Connie Chesterman"


4 Wilkes Street, E1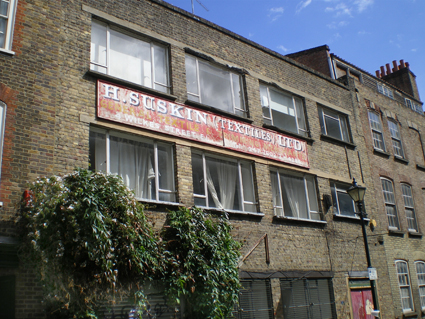 '

H. SUSKIN (TEXTILES) LTD.

GENERAL TEXTILE & TRIMMING MERCHANTS

4 WILKES STREET E1 TEL. 247 1602/3 4286'

The middle line of lettering is fugitive (orange-gold against the red background). Someone has tried to overpaint the lower part with white paint.

Fashion Street
Walking down Fashion Street, E1 from Brick Lane, we spotted this mysterious sign.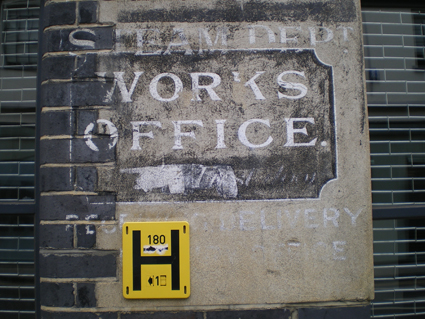 A double image of white lettering across this black-painted cartouche. In the centre of the panel is:
and a pointing, cuffed hand indicates the left entrance. This pointer overlays italic lettering ('Est.' standing for 'Established and an indecipherable date?). Above this and running over the white surround of the cartouche (so cannot originally have been part of it?) are the somewhat mystifying words:
Beneath and partially obscured by the yellow hydrant sign are the faint words which we think are:


'RECEIVING DELIVERY
OFFICE'



For further examples see our London Galleries page including some from nearby Shoreditch.