S. Wilson, cutler, Upper Orwell Street



When this thoroughfare, linking Majors Corner with the Spread Eagle crossroads, was in its heyday, it contained shops and businesses – and pedestrians. Known for many years as 'Upper Wash' (or just 'The Wash'), it was one of the key routes carrying springwater from the Cauldwell Hall and Albion Hill areas of east Ipswich into the town and out again to the River Orwell – and later the Wet Dock. In the later 20th century, these businesses included Fruits of the Earth (a wholefood shop), a sewing machine shop, Amberstone Bookshop, Peck's Ipswich Motorcycle Accessories, Pryke's barber shop, Ipswich Record & Tape Exchange, Barnes soft furnishings among others.

However, blighted by endless failed plans to create a shopping centre spreading across the area behind the central Co-operative store (to be called The Mint Quarter, The Cloisters among others), demolitions of empty, neglected buildings south of Upper Barclay Street eventually occurred and a number of businesses came and went, often selling fast food.

One of those long-standing shops occupying the now-demolished buildings was a well-known Ipswich business: S. Wilson, cutler at 50 Upper Orwell Street. It was only after completing this page that Des Pawsonwas able to tell us that 'S' stands for Sidney (see update below) .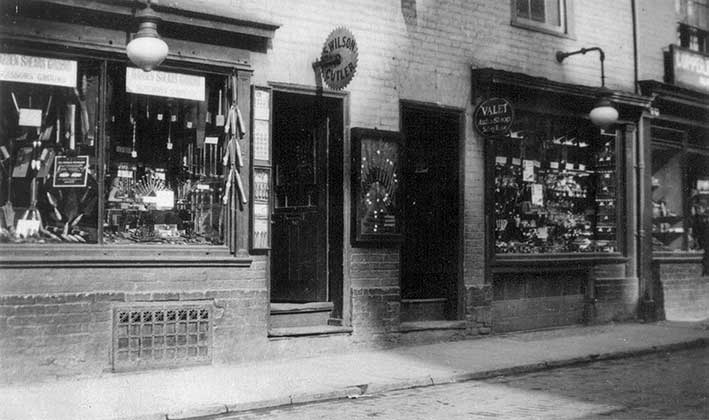 Photographs courtesy Paul Laughlin


Above: in this undated photograph the business occupies two small shops, each with a separate door and window display. Although the windows show arrays of bladed tools from garden shears on the left to woodworking planes on the right, a projecting sign reads: 'VALET Auto Shop'. The circular saw sign which reads 'S.WILSON CUTLER', remained a feature of the shop until its closure. The windows to the left show signs reading: 'GARDEN SHEARS GROUND, SCISSORS GROUND'. Removable glazed cases on either side of the left door contain displays of knives.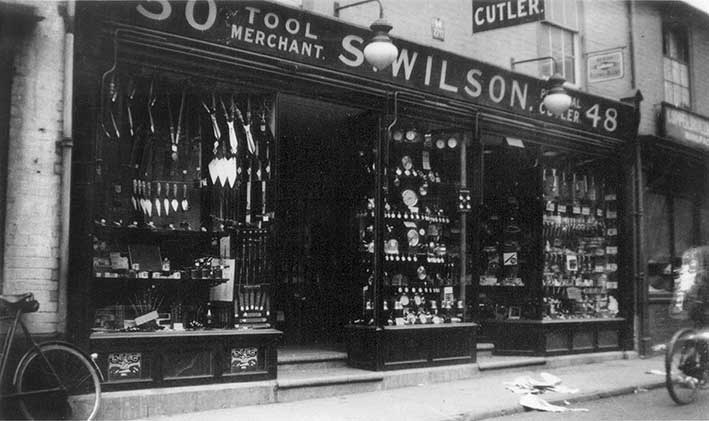 Above: a second undated photograph shows the business developing, a reshaping of the ground floor to unify numbers 48 and 50. The sign board reads:
'50 TOOL MERCHANT. S. WILSON. PROFESSIONAL CUTLER. 48'. The hanging sign reads: '[S. WILSON[?] CUTLER.' A smaller hanging sign reads: 'We sell Gillette razor blades'. The display in the centre includes clocks and watches.
Below, these two photographs were indicated on the cover as enlargements, however they measure only 88mm x 135mm. It illustrates how expensive early photographic prints were. These smallish prints would have been a deal larger than standard family snaps. The company which produced them is another old Ipswich firm, G.W. Hales F.S.M.C., 'Photographic Chemist'. The company, clearly having brances in a number of towns, till has a trace on a building in Tacket Street: 'G.W.H., 1934' – it is shown on our Lower Brook Street page.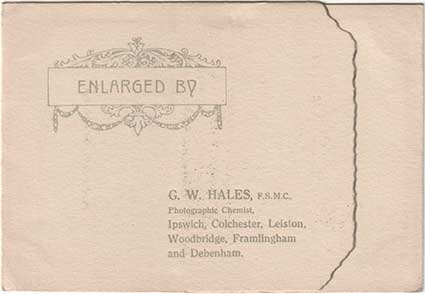 For a page about another 'Photographic Chemist' see our Wiggin Chemist page.



1950s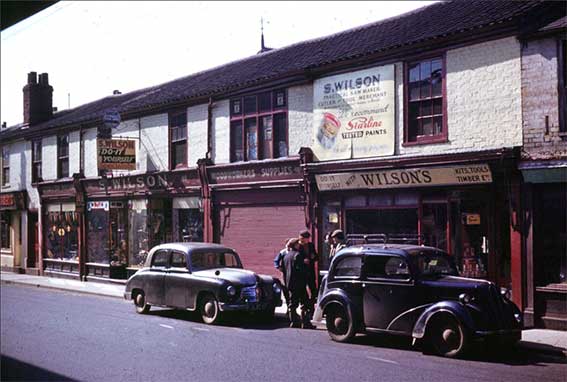 Photographs courtesy The Ipswich Society


Above: image from the Ipswich Society Image archive (see Links) shows that the upper circular saw sign reads; 'The SHOP for GRINDING' we think. Wilson's seems to be doing well and, on the hanging sign, calls itself:


'S.WILSON
"DO-IT
YOURSELF"
Specialists'


The signs above the varying shop fronts read (from left to right): 'CUTLER & TOOL MERCHANT ... S.WILSON ... WOODWORKER SUPPLIES ... DO IT YOURSELF WITH WILSON'S ... KITS, TOOLS, TIMBER ETC.' A large flat (sponsored) advertisement sign is screwed to the wall above the nearest shop unit:


'S. WILSON
PRACTICAL SAW MAKER
CUTLER and TOOL MERCHANT
WOOD TURNERS AND CABINET MAKERS SUNDRIES
We recommend
Starline
TESTED PAINTS
for all decorating puposes'





1960s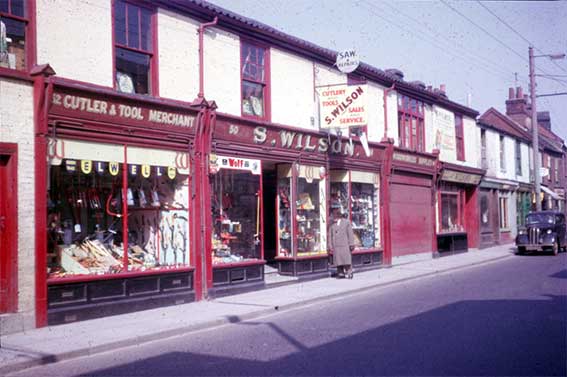 Above: this photograph from the 1960s shows that the same five small shop units were occupied by S. Wilson. Epitomising the local DIY shop of the past, Wilsons were just one of a number of similar businesses in the area which included Smyth Bros (numerous branches) and Martin and Newby (itself an amalgam of small shops linked together). There was obviously sufficient demand as all three traded successfully for many years alongside each other. The shop windows have magnificent displays of their products, even the open glazing of the first floor sash windows appears to carry product signs.

1980s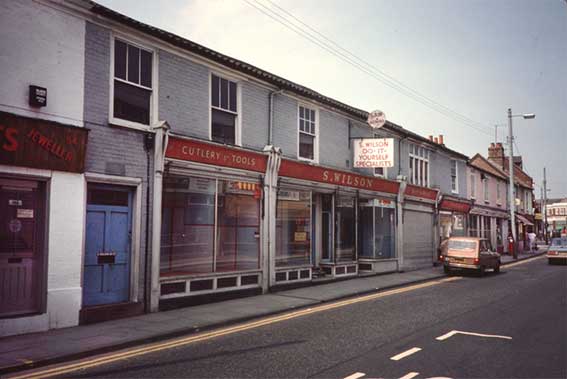 Above: this photograph of the S.Wilson shop (48-52 Upper Orwell Street) from the same source is dated May 1985, by which time the business had closed for good. However, the circular saw sign seen in the earliest photograph is still there at roof level and now reading: 'SAW repairs'.

Time will tell whether this relatively short street can find a new role in the 21st century.

[

UPDATE

2.6.2020: 'During my research [into Ipswich cutlers and or tool makers/dealers] I spotted in the 1925

Kellys Directory

Sidney Wilson Saw Maker 48-50 Upper Orwell Street & 16 Palmerston Road. I used to buy items from S Wilson's, Upper Orwell Street in the 1980s and for some reason saved this small envelope pinned up in my workshop.

Whites Suffolk Directory

1844 lists Saw Manufacturer John Roberts (and dealer in tools) in Upper Orwell Street, on wonders if there is any connection. I was also researching Smith & Daniels cutlers, first of St Matthews and then of Westgate Street. I have a razor marked 'Smith & Daniels Cutlers Ipswich' and Bob Malster has a table knife with their name on. Cheers, Des Pawson.'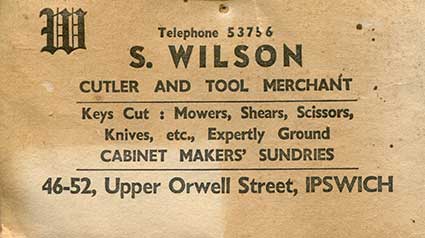 Many thanks to Des for the image and for the encouragement.

At last we find out what the 'S' stands for.

Related pages
Parliament Road page for street nameplates for this street and 'Upper Orwell Courts';
Martin & Newby page for that shop and the southern part of Upper Orwell Street ('Palmers Door Mats');
The Spread Eagle on the corner of Eagle Street and Fore Street;
The former Co-op Funeral Parlour '1903'; also the former Duke of Kent);
The former 'Barnes of Ipswich' shop.







Home

Please email any comments and contributions by clicking here.

Search Ipswich Historic Lettering


©2004 Copyright throughout the Ipswich Historic Lettering site: Borin Van Loon
No reproduction of text or images without express written permission