attached to the Suffolk whites by only three of the angled supports often used for such heavy signs. [*Bettley:
Suffolk East Pevsner
(see
Reading List
) tells us that this was built as The Jerusalem Church (Swedenborgian) in 1847. The monochrome photograph above was taken by Tom Godris in the 1990s, captioned 'Bretheren Meeting Hall', the religious hall had clearly been sold at the time; the door to the right has been blocked up and the building is now residential and heavily overgrown with vegetation. The photograph can be found on the Ipswich Society's Image Archive (see
Links
).]
Claude Street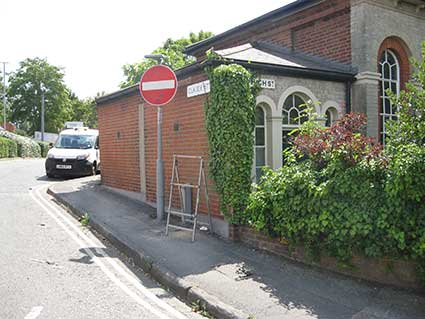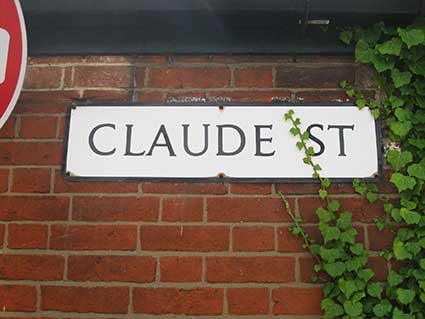 2018 images
The side wall of the former Bretheren Meeting Hall bears a street nameplate: 'CLAUDE STREET' which takes us back to a time when the 'Charles Street Car Park' area was residential. Claude Street was the tiny east-west road running (oddly) parallel with Charles Street linking High Street and the northern part of Fitzroy Street – it still qualifies to bear a street nameplate, shown on our
Museum
page. In fact, the road pattern and naming has changed radically here: Claude Street now runs behind the Crown House office block and northwards behind the gardens of houses on High Street, then follows its original course to High Street; Fitzroy Street is now a small north-south road making up the quadrilateral with Charles Street. See our
Street name derivations
page for the source of 'Claude'.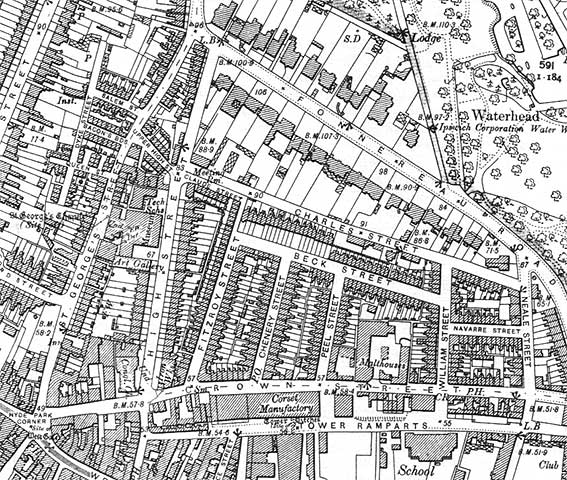 1902 map
Note that the roads leading off St Georges Street to the west after Bedford Street are Queen Street, Bacon's Buildings and Salem Street (named after the
Salem Chapel
). The second and third no longer exist and Salem Street is now an extension of Dykes Street. For more on Dykes Street see our
Lower Brook Street
page.
Fonnereau Road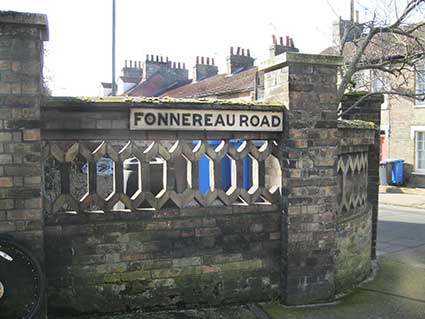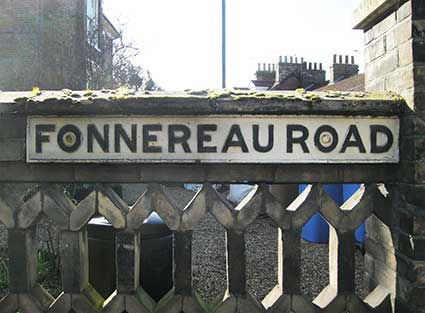 2019 images
At the top of High Street is the junction with Fonnereau Road, named after one of the wealthy families who owned Christchurch Mansion (see
Street name derivations
). This example of a cast street nameplate with curved, raised border sits under the capstones of the garden wall of number 65. Instead of the usual angled supports around the edge, two holes have been drilled through the centres of the letters 'O' with lage bolts fixing the sign; this is presumably because of the tight fit beneath the overhang. The characteristic stylish 'pierced' brickwork in Suffolk whites is seen on the front of a number of large houses in the area; see our
Street furniture
page for another example in Suffolk reds on the corner of Henley Road and St Edmunds Road, under 'Water valve markers'.
Ipswich Museum