Broom Hill Road



The area known as "Broom Hill" was owned by the Sherrington family. They sold the land to the Borough of Ipswich for park land in 1925. Prior to the construction of the pool in 1938 the same area of Broomhill Park was a bowling green. Local senior citizens reveal that the land was always a flat shelf around this area of the park. It therefore stands to reason that if this was the only naturally flat area on the "Broom Hill", then it is quite probable that it was also the site of the Broom Hill football pitch where Ipswich Town Amateur Football Club played their first games in 1878. One of the founders of ITAFC and first ever captain was George Stuart Sherrington, an "Old Boy" of Ipswich School, as were many of the club's founders. George Sherrington's elder brother was Sir Charles Scott Sherrington, who won the 1932 Nobel Prize for medicine; and became OM (Order of Merit, one of Britain's highest honours). He later lived in Valley Road. See our Blue plaques page. [

Information from the Friends of Broomhill Library website.

]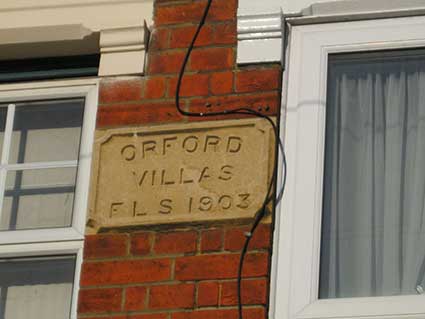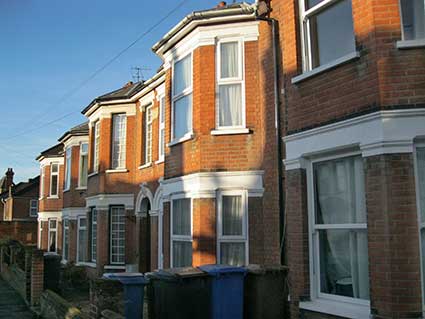 Above: 'ORFORD VILLAS FLS – 1903' (above nos. 5-7)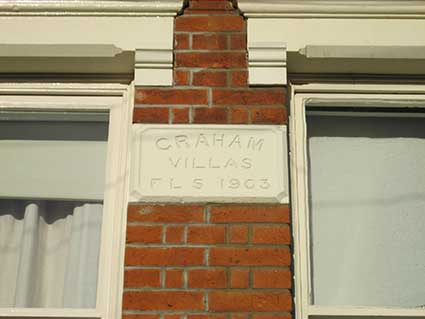 2016 images
Above: 'GRAHAM VILLAS FLS – 1903' (above nos. 17-19)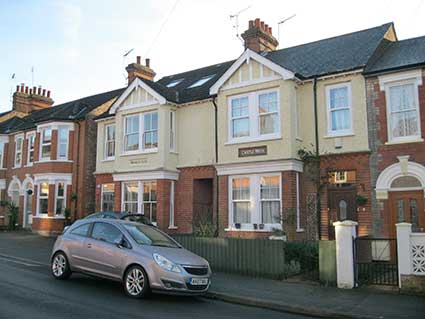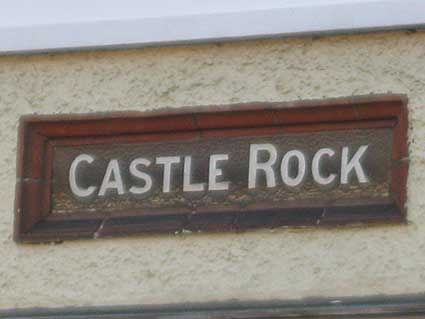 Above: 'WANNOCK GLEN'; 'CASTLE ROCK' (above nos. 20-22): these namings bear a striking resemblance to those on the houses in Marlborough Road.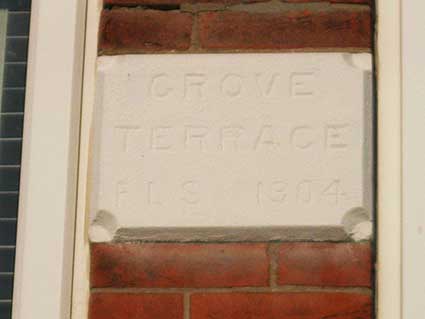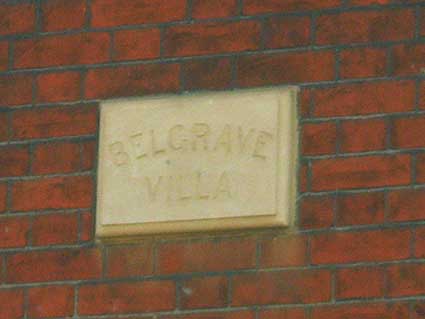 Above: 'GROVE TERRACE FLS 1904' (above nos. 29-31); 'BELGRAVE VILLA' (above no. 34)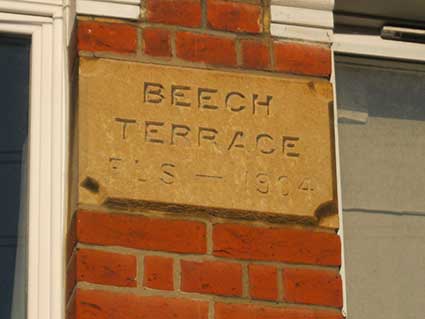 Above: 'BEECH TERRACE FLS – 1904' (above nos. 41-43); 'MAPLE TERRACE FLS 1905' (above nos. 53-55)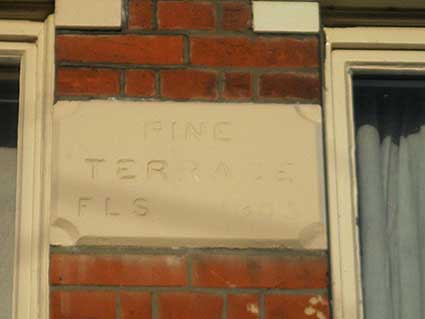 Above: 'PINE TERRACE FLS 1905[?]' (above nos. 65-67; lettering clogged with paint)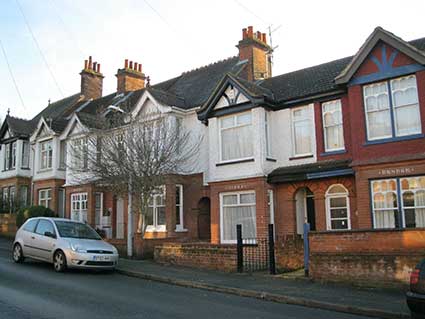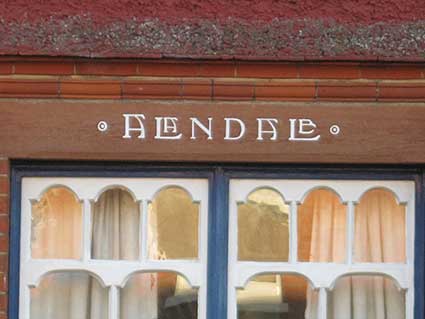 The last six houses on the east side of Broom Hill Road are of a somewhat different character, with lettering over the large ground floor windows to match. Above right: 'ALANDALE' (number 54; evoking one of Robin Hood's Merry Men, perhaps); the larger characters enclosing the smaller can cause one to pause to work out the full name.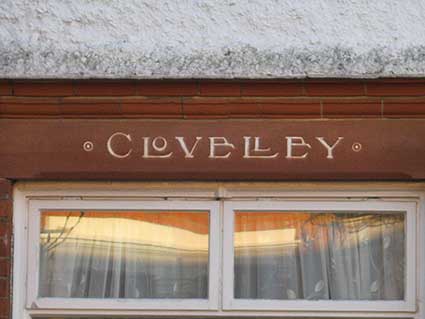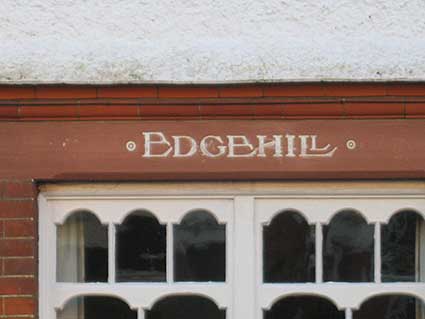 'CLOVELLEY' (number 56); 'EDGEHILL' (number 60; N.B.: 'Thurlow' at no. 58 does not have the same decorative characters).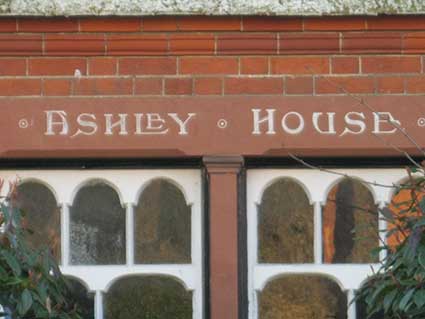 Above: 'ASHLEY HOUSE' (number 64; replaced lintel on no. 62?, no lettering).

In a list on our Freehold Land Society page Broom Hill Road was shown as being developed by the FLS from 1905-1910, Bernie Westren pointed out the date '1903' above his own house on the street, hence the inclusion of these examples and correction of the list.
Margaret Hancock, archivist of the Ipswich Building Society, tipped us off about Freehold Land Society documents at the Suffolk Record Office:-
FLS Minute Books
Meeting held 8th May 1903 - next ballot to be held 4th June 1903 at Old Museum Rooms to include land & houses in Schreiber Road, land in Broom Hill Road, houses in Henslow Road, and 10 houses in Gatacre Road at £190 each.
Meeting held 3rd June 1903 - 192 applications for Gatacre Rd (10 houses) 816 applications for Broom Hill Road (10 plots of land), 504 applications for Henslow Road (5 houses).



FLS Ballot notices




Oct 1902


3rd Ballot. 9 large building plots, Norwich Road, Brooks Hall Estate, Ipswich. (plots between Sherrington & Broom Hill Road.) Entered in Plan Book Index under Broom Hill.


May 1903


3rd Ballot. Ten building plots, Broom Hill Road, Norwich Road, Ipswich. (For location plan see related materials)


Oct 1903


3rd Ballot. Twelve houses Broom Hill Road, Norwich Road, Ipswich. (Front Elevation)


Apr 1904


3rd Ballot. Twenty two building plots Broom Hill Road, Norwich Road, Ipswich. (east side).


Oct 1904


5th Ballot. Six houses called Beech Terrace, Broom Hill Road, Norwich Road, Ipswich.

Related pages:
House name plaque examples: Rosehill area; Alston Road; Bramford Road; Burlington Road; Cauldwell Hall Road; Cavendish Street; Marlborough Road;
Ipswich & Suffolk Freehold Land Society (F.L.S.); California;

Street index; Origins of street names in Ipswich; Streets named after slavery abolitionists;
Dated buildings list; Dated buildings examples;
Named buildings list; Named (& sometimes dated) buildings examples;
Street nameplate examples; Brickyards.





Home

Please email any comments and contributions by clicking here.

Search Ipswich Historic Lettering


©2004 Copyright throughout the Ipswich Historic Lettering site: Borin Van Loon
No reproduction of text or images without express written permission