Cavendish Street house names



As with so many roads in the Rosehill area, Cavendish Street has housing from several eras. The Victorian houses display a range of styles and etymologies in their name plaques.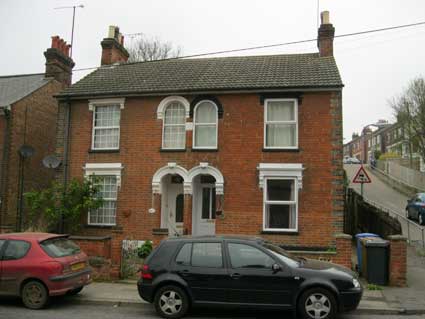 Nos. 117/119


'CLIFTON
1895
VILLAS'


The name block sits tightly between the upstairs windows. Devonshire Road can be seen running up the side of the property in the above photograph. Clifton is a suburb of Bristol, perhaps a pleasing name was simply chosen.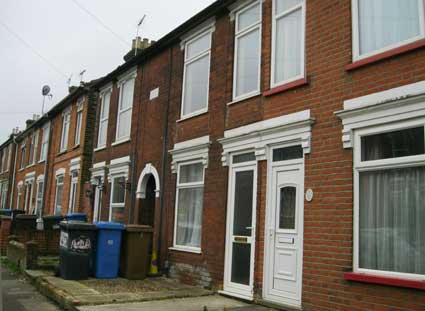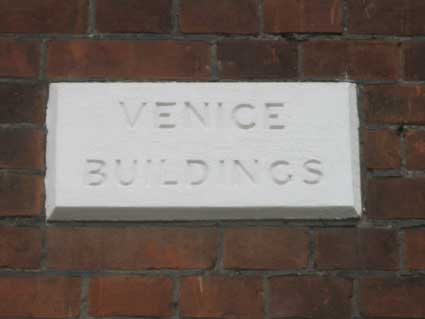 Nos. 124/126


'VENICE
BUILDINGS'


Let's hope that the street here isn't quite as wet as those in Venice. Perhaps the title was chosen, as so often in these cases, simply because it was a recognisable place name.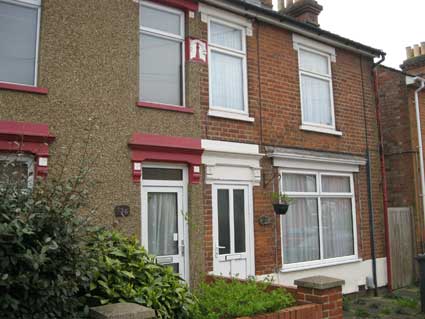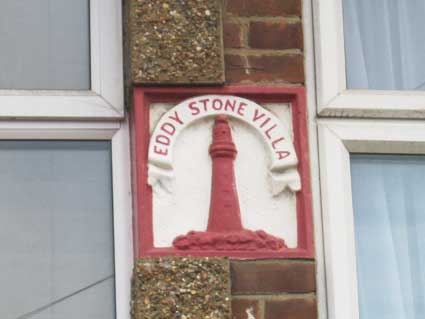 Nos. 134/136


'EDDY STONE VILLA'


The Eddystone Rocks are an extensive reef approximately 12 miles sou'-sou'-west of Plymouth Sound and feature a famous lighthouse which, happily features on this house name plaque with the name on a curving scroll above it. It looks magnificently like a studio ident in the opening of a feature film. One can only ponder on the separation of 'Eddy' and 'Stone' – dare one venture that the builder was Mr Edward Stone? Smeaton's lighthouse was the third incarnation of Eddystone Lighthouse (1759) and the relief modelling on the plaque is a reasonably accurate depiction. It was replaced in 1882 by Douglass's lighthouse, which is still in operation today, albeit with a modern helipad on top. Nice paint-job, to boot.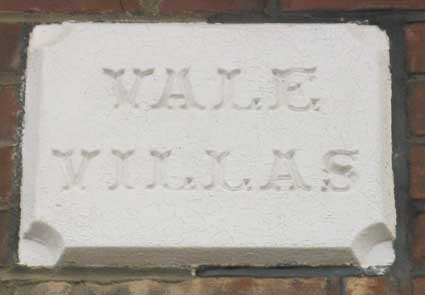 Nos. 138/140


'VALE
VILLAS'


... does what it says on the plaque. Glimpsed to the left of number 140 in the above left photograph, the 'vale' in question is the geographical feature through which Cavendish Road was built. You can see the land (including certain of the gardens) rising steeply on either side. At the top of the slope behind Vale Villas is the rear of the western end of Rosehill Road. The Freehold Land Society which developed much of the land around here referred to this area as 'The Vale Estate'.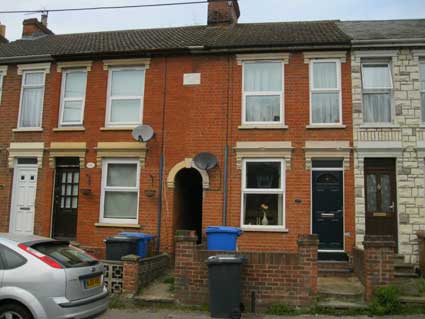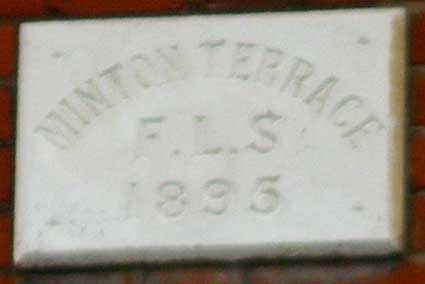 Nos. 175/177
Minton's Ltd, a major ceramics manufacturing company, originated with Thomas Minton (1765–1836), who established his pottery factory in Stoke-upon-Trent, Staffordshire, England, in 1793. They produced domestic, earthenware tableware including the famous Willow pattern. By 1895 the company had also moved into high quality, art nouveau ceramics for the larger pocket.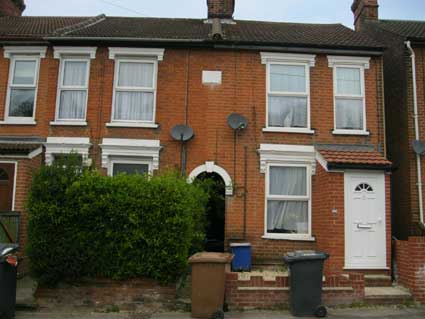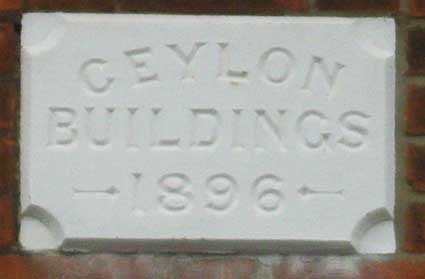 No.189


'CEYLON
BUILDINGS
1896'


Simon Knott suggests that the colonial name for present day Sri Lanka, Ceylon, which became a British possession in 1796, was an event commemorated by a terrace name a hundred years later.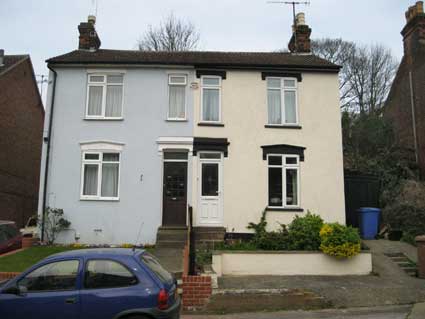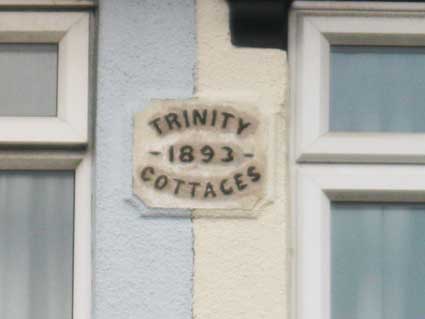 Nos. 237/239


'TRINITY
1893
COTTAGES'


One wonders whether these cottages take their name from Holy Trinity Church, not too far away between Back Hamlet and Fore Hamlet. Trinity Vicarage at the end of Rosehill Road features on our Rosehill case study page.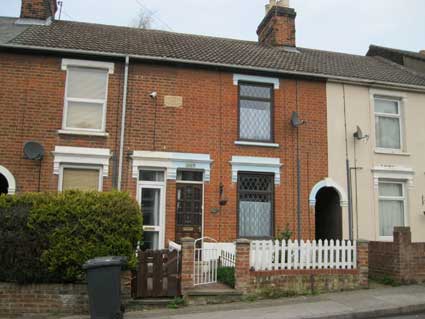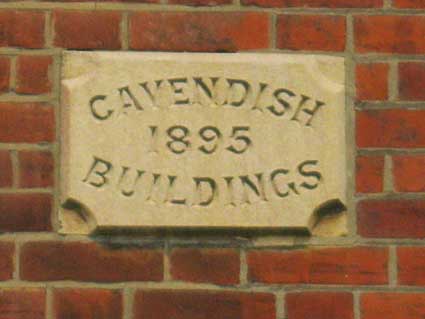 No. 265


'CAVENDISH
1885
BUILDINGS'


A double 'Cavendish'... It is quite endearing to see a row of Victorian houses called 'Buildings' on the name plaque. There are at least three in Cavendish Street.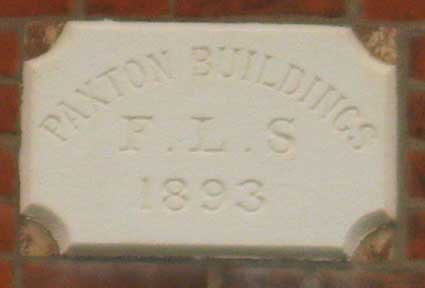 Nos. 273/275


'PAXTON BUILDINGS
F.L.S.
1893'


This one is one of the few in Cavendish Street carrying the 'F.L.S.' for 'Ipswich & Suffolk Freehold Land Society' (perhaps 'I.&S.F.L.S.' was a bit much for the plaque. Simon Knott points out that Joseph Paxton, designer of the Crystal Palace, died in 1865; although this is sometime before the terrace was built, throughout his life he was the head gardener of William Cavendish, Duke of Devonshire, after whom Cavendish Street is named.
"Paxton Buildings, at the upper end of Cavendish Street were not so large [as those FLS houses in Upland Road] and were to be sold for £107 10 shillings. They faced south, with large gardens at the rear extending to Foxhall Road. Drainage was into a sewer in Cavendish Street made up and taken over by the town. There were front and back 'keeping rooms', a kitchen, three bedrooms, w.c. and usual offices. Each house had a separate backway." (Clegg, M:

The way we went

, see Reading list).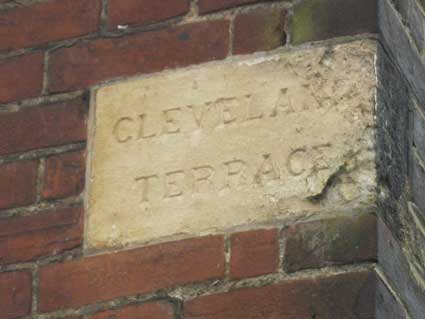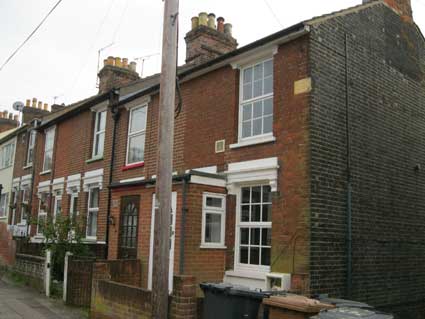 No. 274
'CLEVELAND
TERRACE'
is carved into a, now degraded, block on a level with the upper window and on the corner of the terrace.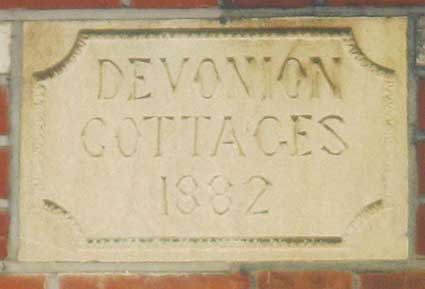 Nos. 269/271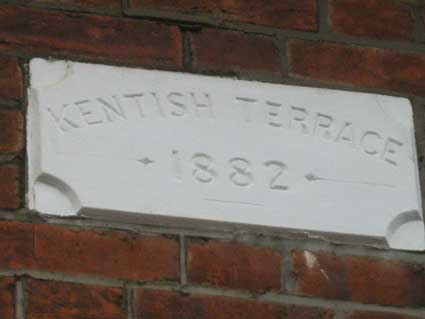 No. 294?


'DEVONION

COTTAGES

1882'

Once a word is enshrined in carved lettering, one imagines that the builder or developer will insist that it is used, even if it mis-spelt. So, not 'Devonian', as in pertaining to Devon; more relating to the allium family of bulbs coming from that county, as in 'onion'.


'KENTISH TERRACE

1882'

We Hertfordshirians (sadly, now we might be referred to as Greater Londonians), when we see the word 'Kentish', immediately think of the north London suburb of Kentish Town. Simon Knott (of Simon's Suffolk churches, see

Links

) reminds us that Kentish Town is a place, where the Dukes of Devonshire, for whom Cavendish Street is named, owned a great deal of land. The explanation of the name of Kentish Town may be a derivation from 'Ken-ditch' meaning the 'bed of a waterway'. It was was originally a settlement along the River Fleet which flowed through the area, and today runs underground. Kentish Town is first recorded during the reign of King John (1207) as 'kentisston'. By 1456 Kentish Town was recognised as a thriving hamlet, and in this period a chapel of ease is recorded as being built for the inhabitants. These days, Kentish Town is know to most people as a stop on the Northern Line (or a traffic queue on the road to central London) and a typical overbuilt, over-traffic'd, over-populated inner London suburb.

The additional layer of meaning comes from the difference between the appellations: 'A Man/Maid of Kent' and 'A Kentish Man/Maid'. The former would be born (broadly-speaking) east of the River Medway and the latter west of the Medway; needless to say, it's bit more complex than that and the distinction might go back to Anglo-Saxon times. However, the word 'Kentish' has resonance, perhaps suggesting the Garden of England and therefore appropriate for the many orchards and kitchen gardens which grew up around the FLS developments in east Ipswich.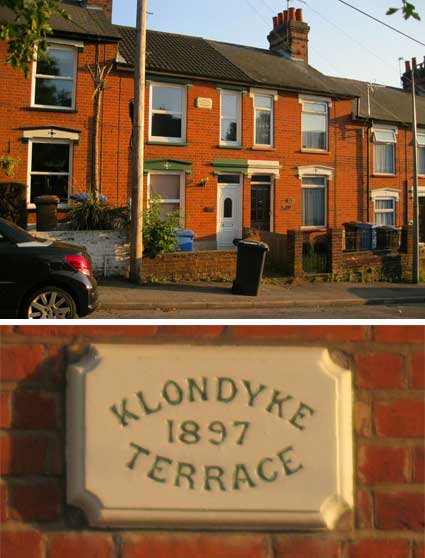 Nos. 304/306


'KLONDYKE
1897
TERRACE'


The Klondike (alternative spelling 'Klondyke') is a region of Yukon in northwest Canada, east of the Alaska border – no to be confused with other Klondykes in the USA. It lies around the Klondike River, a small river that enters Yukon from the east at Dawson. The Klondike is famed because of the Klondike Gold Rush, which started in 1897 and lasted until 1899. Gold has been mined continuously in that area except for a hiatus in the late 1960s and early 1970s. The name "Klondike" evolved from the Hšn word Tr'ondŽk, which means "hammerstone water". Early gold seekers found it difficult to pronounce the First Nations word, so "Klondike" was the result of this poor pronunciation.
Ironically, Klondyke Terrace is in a locale of Ipswich known as California or the St. John's area as it's now more often known; the development of housing here started in the early days of the Ipswich and Suffolk Freehold Land Society, formed in 1849, the year of the Californa gold rush - hence the nickname of the area. One wonders if the house-namer was aware of the association at this later date. For more on Ipswich's California (there's one in Woodbridge, too), see our Rosehill case study.



1867 map of the planned 'Cavendish Road' and 'St Helens Road' leading off Bishops Hill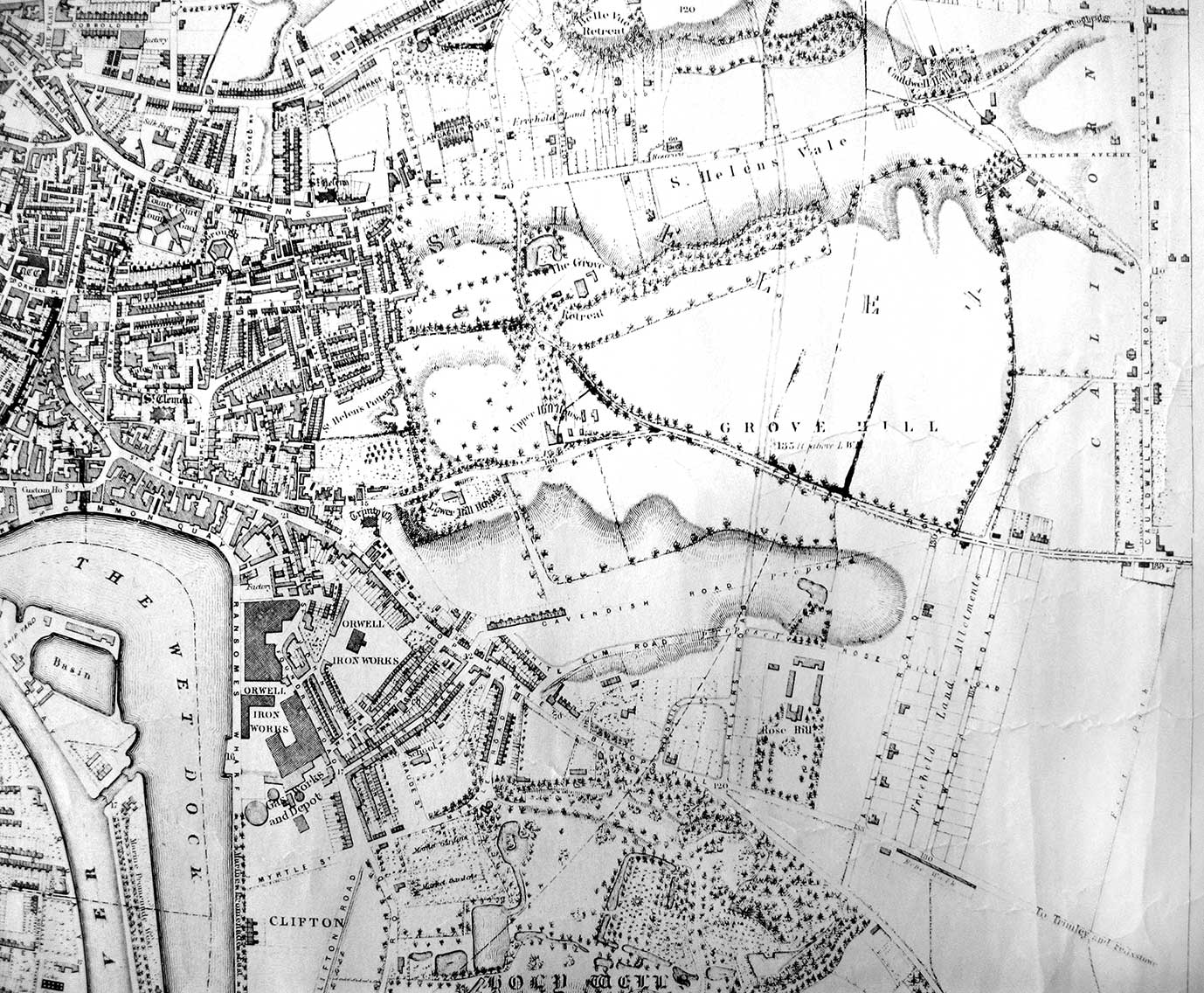 1867 map


Edward White's map of Ipswich 1867 shows the area between Bishops Hill/Felixstowe Road and Foxhall Road at a time of transition in east Ipswich. Street and road names shown here are the clue to this.
1. Today's Fore Hamlet is here labelled 'Wykes Bishop Hamlet' but Bishops Hill remains the same (see that page for an explanation of the 'Wykes' and 'Bishop' elements of the name).
2. Cavendish Street in 1867 has a single terrace of houses built on the north side (which don't exist today, as far as we can tell) and has its eastern end sketched out as

'Proposed'

. This is in a straight line which would have met Alan Road (here labelled 'Allan Road') and Foxhall Road on the site of Hope House. Today's Cavendish Street actually rises up to cross Alan Road, changes to Upper Cavendish Street coming out in Tomline Road, opposite Rosehill Library.
3. 'Rose Hill Road' itself, instead of turning at its western end to eventually meet the top of Bishops Hill is here shown (again, 'Proposed') as running over the steep slope of the vale of Cavendish Street to meet an extended White Elm Road. Today's White Elm Road is a curious, skewed trapezium shape coming off and returning to the western end of Cavendish Street, while the middle section is no more than a muddy, overgrown track. Also the 1867 map shows this middle section extending to a junction with Fore Hamlet – a right of way which exists today as a path through weeds and trees. The public house The White Elm stood on Bishops Hill close to this spot. A photograph of it is shown on our Bishops Hill page.
4. Perhaps more surprisingly are the original names given in 1867 for Rosehill Crescent ('Windmill Street') and what was to become the lower part of today's Rosehill Road as it meets Bishops Hill/Felixstowe Road ('St Helens Road'). We know from our Rosehill case study page that the whole area of Rosehill is named after a farmer called Owen Roe, whose lands included some of Bishops Hill; thus "Roe's Hill": the house ('Rose Hill') and, ultimately, the area.
5. But why is St Helens Road here, some distance from the Church of St Helen? The answer, shown on the 1867 map, is a proposed extension to St Helens Road (today's Rosehill Road) which, as dotted lines, runs north from the top of Bishops Hill, over the proposed junction with Cavendish Street. It passes northwards between the 'O' and the 'V' of the legend 'Grove Hill' and curves slightly westwards, crossing Spring Road at about the site of today's railway viaduct (the Felixstowe Branch Line would eventually open ten years later). On the full size 1867 map this St Helens Road continues to meet Woodbridge Road ('Albion Hill') directly opposite what would become Belvedere Road. It even continues past the site of the Napoleonic barracks and Parade Road to curve and meet the Victorian cemetery. All this is 'proposed', of course, and never happened. Given that the road would have leapt across two plunging vales at 'Cavendish Road' and Spring Road (marked 'St Helens Vale') – or followed the contours of the land all the way down and all the way back up on the other side – this road linking the vicinities of Holy Trinity and St Helen must have been wishful thinking.
See our Russell Villas page for a close-up of this map and commentary; also the Warwick Road page.

Related pages:
House name plaque examples: Alston Road; Bramford Road; Broom Hill Road; Burlington Road; Cauldwell Hall Road; Marlborough Road; Rosehill area;
Ipswich & Suffolk Freehold Land Society (F.L.S.); CaliforniaAlston Road; Bramford Road; Broom Hill Road; Burlington Road; Cauldwell Hall Road; Marlborough Road; Rosehill area;Alston Road; Bramford Road; Broom Hill Road; Burlington Road; Cauldwell Hall Road; Marlborough Road; Rosehill area;
Street index; Origins of street names in Ipswich; Streets named after slavery abolitionists.
Dated buildings list; Dated buildings examples;
Named buildings list; Named (& sometimes dated) buildings examples.
Street nameplate examples; Brickyards
Windmills in the Borough of Ipswich




Search Ipswich Historic Lettering

©2004

Copyright throughout the Ipswich Historic Lettering site: Borin Van Loon No reproduction of text or images without express written permission